It's easy to get in touch with Debitoor
Debitoor is headquartered in Copenhagen, Denmark, and represented with local offices all over the world. Get in touch with us through a channel of your choice.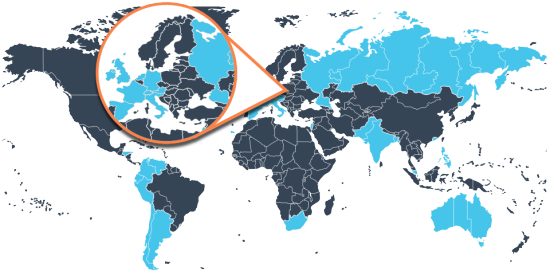 Denmark (headquarters)
Debitoor ApS
Ewaldsgade 3, 1th
DK - 2200 Copenhagen N
Denmark
Company reg. no.: 36730099
VAT no.: DK36730099
United Kingdom
Debitoor UK Ltd.
1st Floor, Healthaid House
Marlborough Hill, Harrow
Middlesex, HA1 1UD
United Kingdom
Company reg. no.: 06069947
VAT no.: GB909800224
Germany
Debitoor GmbH
Grunerstr. 13
10179 Berlin
Deutschland
Handelsregister: Amtsgericht Charlottenburg HRB 124651 B
Geschäftsführung: Alessandro Justesen Leoni
EU USt. Nr. DE271593359
Spain
Debitoor España S.L
Paseo de la Castellana, 166 - Esc. 3 - 7ºC
28046 Madrid
España
CIF: B65217259
Support

+34 91 18 68 845
France
Debitoor
70 Avenue de Clichy
75017 Paris
France
Code de la société : DE271593359
Italy
Debitoor
Ewaldsgade 3, 1th
DK - 2200 Copenhagen N
Danimarca
Codice della società: DE271593359
Netherlands
Debitoor
Ewaldsgade 3, 1th
DK - 2200 Copenhagen N
Denemarken
EU BTW-nummer: DE271593359