SME - What is an SME?
SME stands for small and medium-sized enterprises, which are businesses whose employee numbers and turnover fall under a specific threshold set by the government in your country.
SME's have a variety of different opportunities to gain funding, but you will need to ensure that you have the correct documentation to convince potential lenders. Read more on our blog: 'Get financial backing from a bank or investor'.
The acronym SME is a broad term used to describe a certain type of business for a variety of different purposes including financing, business loans, business tools, business awards, and government grants.
There are 3 different categories under the umbrella term SME. This includes medium-sized, small, and micro-businesses. The criteria for SME's vary per country or region in which your business operates.
SME criteria in the UK
In the UK, over 99% of businesses are classified as an SME. However, the SME criteria may vary depending on what you are defining the business for.
For example, HMRC may define an SME for tax purposes differently than the government would for grant purposes. It is best to look at the specific criteria of the program or scheme you are applying for.
However, in the majority of cases, the UK will align with the EU criteria of an SME, which I will outline in the next section. For UK businesses, it will be the same numbers but in GBP rather than EUR.
SME criteria in the EU
The European Union has set the following criteria for small and medium-sized enterprises: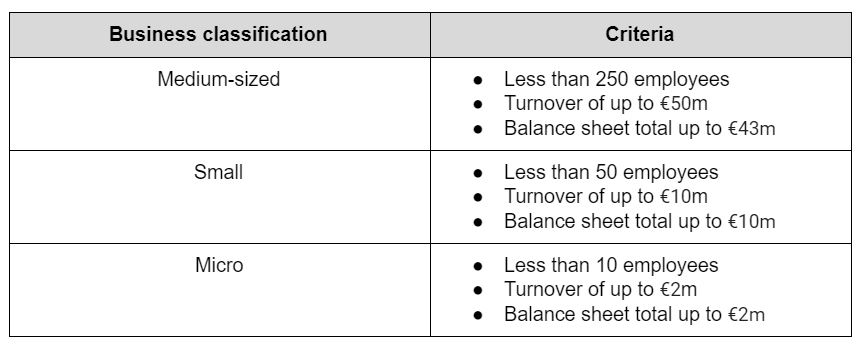 If your business falls within one of the 3 categories, your business is considered an SME for EU purposes. This criteria is for EU-wide programs, but each EU country may have different criteria for country-specific programs. You should check with your local government website to be certain.
SME examples
Any business that meets the eligibility criteria in your country is considered an SME. There is an endless list of what businesses can fall under the SME umbrella, including:
Self-employed workers
Consultants
Sole traders
Online stores
Contractors
Freelancers
As long as your business meets the employee and turnover threshold, you can identify as an SME and take advantage of any loans, grants, and funding for SME businesses.
Invoicing software for SME's
Invoicing software can greatly help SME's keep track of their business finances and accounting. Not only can you create and send professional invoices and quotes, but you can quickly record any business expenses, and automatically run accounting reports.
SME's require specific documents to submit their tax returns, year-end records and convince potential lenders that your business is stable.
With Debitoor, any time you add an invoice, expense, or payment, your reports are automatically updated. On one of our larger plans, you will have access to your balance sheet, profit and loss statement, and VAT Report. You can also submit your VAT Return to HMRC directly through Debitoor!
Feel free to give it a try with our 7-day trial. No credit card required, and no need to cancel.