Virtual terminal - What is a virtual terminal?
A virtual terminal is a secure link where you can process a payment remotely, for instance, over the phone.
Wondering how to accept payment with your invoicing software? Check out our blog on how to accept payment with Debitoor.
It works like a 'virtual card reader', where instead of having the customer insert or tap their card, you manually type the customer's card number, expiry date, and CVV into a secure web page to process a payment.
Several payment providers offer this feature along with a physical card reader so you are able to accept in-person and remote payments.
Due to the increased risk involved in this type of transaction, the fee is generally higher, and the maximum transaction limit is lower.
How does a virtual terminal work?
Luckily, using this payment method is quite simple. Let's say you have a customer who wishes to pay for a good or service over the phone:
Make sure you are connected to the internet
Log in to your virtual terminal (you must first create an account with a payment provider)
Enter the transaction amount, description, name, card number, expiry date, and CVV
Click 'Process Payment' while the customer is still on the phone
Wait a few seconds for the transaction to go through
If requested, you can issue a receipt to the customer via email or text
Here is an example of how the SumUp virtual terminal looks: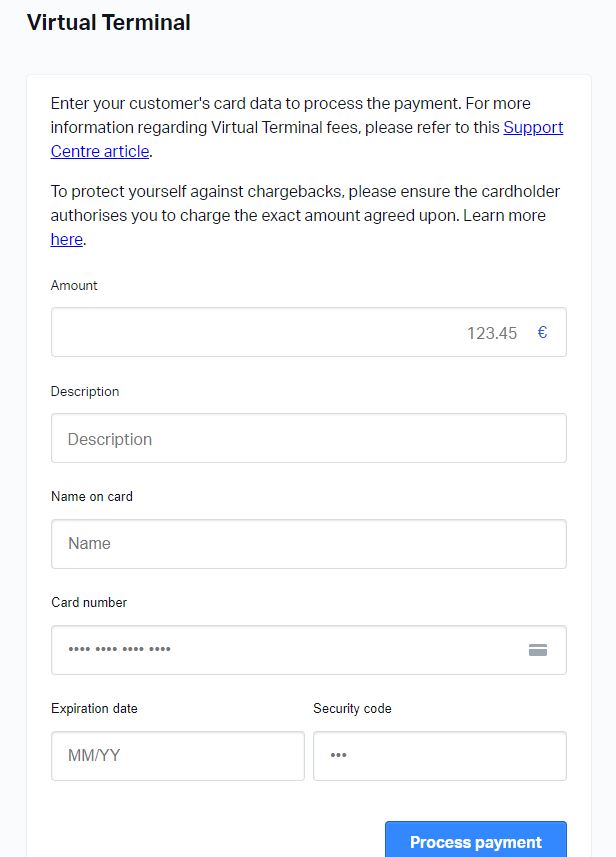 The advantages and disadvantages of using a virtual terminal
Different payment methods come with different advantages and disadvantages. If you are thinking about setting up a virtual terminal, it is important to understand the benefits and risks involved in remote transactions.
Here are some advantages of using a virtual terminal:
Accept payment quickly when the customer is not present
You do not need to invest in a card reader or POS system
Accept payments from anywhere, at any time, on any device
Accept payments from clients in other countries
Here are some disadvantages of using a virtual terminal:
You need to go through extra security checks to process remote payments
The transaction fee is usually higher than in-person payments
The maximum transaction amount is restricted
Virtual terminal payments take more time, effort, and attention to detail than card reader payments
There is a higher potential for chargebacks and fraud
Virtual terminal and Debitoor
With Debitoor, not only can you create and send invoices, but you can also receive payments from your customers! We have many payment providers that you can connect to Debitoor for quick and efficient payment processing and automatic invoice matching. For virtual terminal payments, you can connect a SumUp account.
SumUp offers a discount for Debitoor users which can be found on the Debitoor landing page.
Once you have created an account with SumUp, you may have to verify your identity and go through security checks to gain access to the virtual terminal. Follow the instructions that they outline for you.
Once your account is all set up, and you have access to the virtual terminal, you can connect your SumUp account with Debitoor for automatic invoice matching and to keep track of payments.
To connect your account, log in to Debitoor and go to 'Settings' > 'Receive Payment', and follow the instructions.