How to improve your business with an SEM strategy
With an SEM (Search Engine Marketing) strategy, you will gain visibility on Internet search engines, like Google and Bing.
We live in a digital world, where an online presence for a business is key. Whether you have an online business or not, having a website is recommended.
To gain traffic to your website, there are many different types of online marketing strategies that can positively affect your business.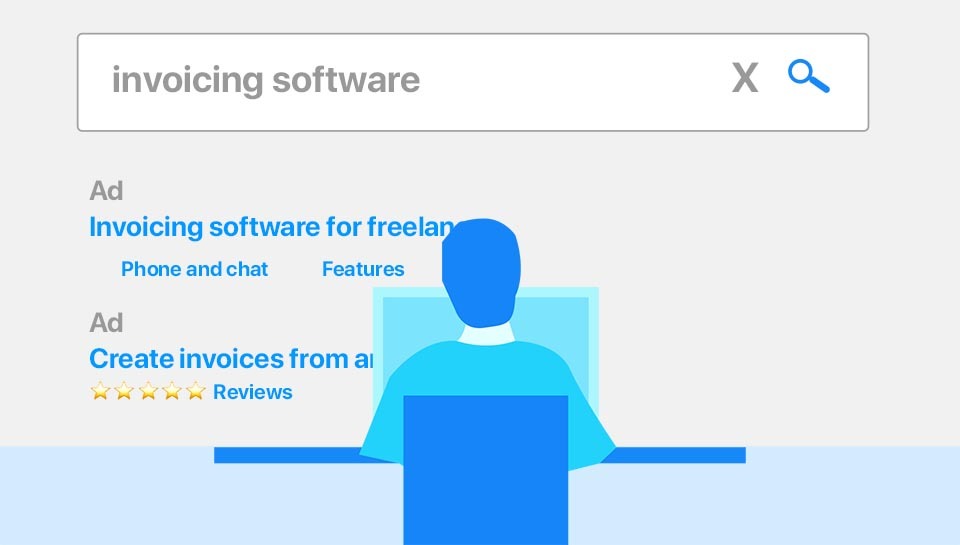 What is the difference between SEM and SEO?
You may hear a lot about SEM and SEO strategies, but you should not confuse them. Both search engine marketing (SEM) and search engine optimisation (SEO) are used to attract attention and grow your business through website traffic.
When someone does an internet search, in a search engine like Google, for example, several results appear that are related to what the user has searched for.
The links that appear at the top of the page are usually advertisements (sponsored links) that are identified as "ads". The rest of the links below the ads, are results from "organic traffic".
These ads are a result of an online marketing strategy by companies. This strategy is known as SEM or search engine marketing, which associates ads with user searches.
Through ads, the website will appear in the top results of the search engines, being visible above the organic results.
This SEM approach is to pay for certain keywords that are relevant to your company, and therefore appear in the top results.
However, the SEO (search engine optimisation) approach refers to the organic positioning of your link on search engines.
SEO includes creating relevant content on your website and optimising the page to ensure keywords are highlighted.
If you create a good piece of content, such as a blog, article, or comparison, and use a good SEO approach, then search engines will recognise this as informative and relevant content, and rank it higher in the results.
Part of the SEO strategy is copywriting, which is creating content that adds value to your website and your users, and also provides relevant information so that search engines rank it higher.
Another part of the SEO strategy is ensuring that your webpage is optimised for search. This includes using keyword optimisation, link building, and ensuring that the user experience, site speed, and security of the page is flawless.
SEM uses paid marketing techniques to rank in search results, whereas SEO uses organic (free) marketing techniques to rank in search results. Another difference is that SEM creates immediate results, whereas SEO is a content strategy that takes some time to see results.
Although SEM involves SEO and advertising, the term SEM is used to specifically refer to paid advertising to increase search engine rankings.
If you want to gain more visibility on search engines, we have outlined some tips to start an SEM strategy. If you want to learn more about SEO, you can read our article on 10 SEO basics for your business.
Define the goals of your strategy
You should always think about what you want to achieve from a certain campaign. Set realistic goals that will help you outline your strategy for creating ads.
Do you want to increase sales, awareness, or promote a new discount? Whatever your goal may be, you can use the acronym SMART to create your approach. The goals must be specific, measurable, achievable, realistic, and time-limited.
Your strategy does not need to have many objectives, in fact, the less and more specific, the better.
Write down your objectives, and assess how you are going to achieve them, and what metrics you will use to measure their reach.
Once your campaign is active, you can use these metrics to assess the effectiveness of your ad, and make changes accordingly.
Some metrics you can use to measure the effectiveness of an ad are customer lifetime value, average revenue per user, return on investment, and customer acquisition cost. You can find more metrics in our accounting dictionary.
Keywords: the main ingredient of your SEM strategy
Search results are all about keywords. Choosing the right keywords relevant to your business will help boost your ad results.
Think about what your customers will be searching for and how your business is defined to come up with a list of keywords to use in your SEM campaign.
A great tool for this is the keyword planner offered by Google, which will help you choose the right keywords, give you information on how those keywords rank, offer you bid estimates (cost-per-click) to create a budget, and help define your audience.
Once you have chosen which keywords you want to bid on, you can add more, or modify them to optimize and expand your campaign.
Negative keywords: excluding irrelevant searches
Once your campaign is active, you can exclude certain irrelevant keywords from your campaign to ensure your campaign is targeting the correct audience.
Since search engines use an infinite variation of keywords, some may not be relevant for your business and may negatively affect your campaign and add unnecessary costs.
Google defines negative keywords as "words that allow you to exclude search terms from your campaigns and help focus only on the keywords relevant to your customers."
Therefore, you can exclude certain irrelevant keywords that cause low-quality traffic and useless campaign spend. On the other hand, you can also find new keywords that are relevant and add them to the campaign to expand its reach.
How to improve ad content
When it comes time to create your ad, it is important to make it clear, interesting, and use relevant keywords. The keywords are associated with the ad, so make sure that the text content is relevant to the keywords you choose!
Search engines will consider the ad relevant and of good quality if all of the content matches up. Therefore, the text, keywords, and web page it links to should all be related and make sense.
Consider writing two or three variations of ads in the same group of words. This will help you see which one has the most traffic, and help you to optimise them in the future.
It is also a good idea to optimise your landing pages to make them user friendly, load quickly, and feature a good call-to-action. If you optimise your landing pages, you will likely see a higher return on investment.
Another way to improve your campaign is to use ad groups and ad extensions which I'll explain in detail below.
Use ad extensions in your campaigns
Ads will have extensions (or plugins) in addition to the text to include additional information to increase the ad's effectiveness and give users more reasons to click on your ad.
Showing extensions will offer your ad greater visibility and provide more value from the ad, because it will personalise information on each search.
Google Ads will select which extensions to include based on what an individual has searched for. Google will also give importance to the use of these extensions to complement the ads. Therefore, you should include all of the extensions that are relevant to your business.
There are several different types of extensions including business location, phone number (or click to call), price, reviews, links to webpages, messaging option, and social information.
Google ad extensions are free to include, so any clicks on extensions will be charged as a normal ad click.
Use ad groups in your campaigns
Within your campaign, you can create different ad groups which can link to different landing pages. If you are promoting several different items, you can create a more tailored experience with ad groups. Each specific item should be a different ad group.
For example, let's say a company has an online store that sells hats and gloves. The hat campaign will have 3 different ad groups, one for baseball hats, one for woolly hats, and one for fedora hats. The glove campaign will have 2 different ad groups, one for black gloves, and one for blue gloves.
Using different ad groups will help you target a specific audience who is more likely to click on your ad.
How to record SEM ad expenses on your invoicing software
With invoicing software, not only can you record your sales, but you can also easily record your SEM campaign expenses.
If you create an SEM campaign through Google Ads, there are a few things to keep in mind regarding VAT. Google Ads headquarters is based in the Republic of Ireland, so you will be billed from Ireland.
If you are not a VAT registered business in the UK, you should create a business Google Ads account, instead of an individual account to ensure that you are not charged VAT. Keep in mind that Google services will count towards your annual turnover and may have you reach the threshold to register for VAT.
If you are a VAT registered business in the UK, you will need to use the reverse-charge system, which is used for intra-community EU transactions to simplify VAT.
If you set up a business Google Ads account, and input your VAT number during the set up, Google will not charge you the VAT, and make a note on the invoice that they are using the reverse charge system. You will then be able to enter the expense as a reverse charge on your invoicing software.
On your invoicing software, when you record an intra EU expense, the system will automatically input the 20% VAT reverse charge, ultimately cancelling out the VAT.
To record your SEM campaign expense on Debitoor (UK), follow these steps:
Log in to your account and go to the 'Expenses' tab
Click on 'New Expense' and change the country to IE, which will alert you that this is an intra EU expense
Enter the details of the expense
Add the category 'Advertising Costs'
Enter the price
Upload a document such as a receipt or invoice (optional)
Click 'Save'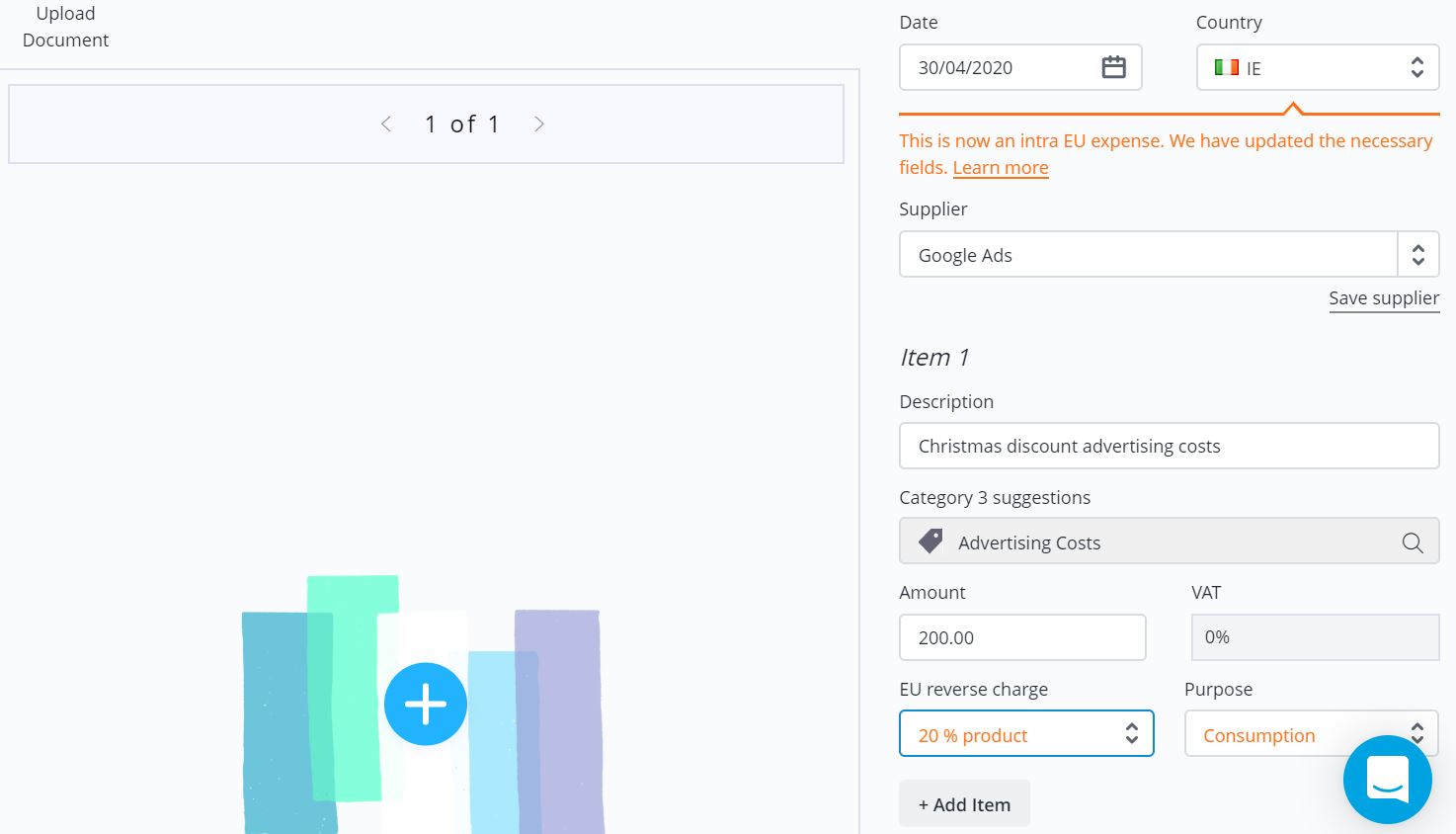 Debitoor invoicing software is an easy to use and intuitive program geared towards freelancers and small businesses. It is available on both a mobile app and computer browser so you can keep track of your company's expenses from anywhere! Feel free to give it a try for free.