How to export your data
Export your data in just a few clicks
Cloud-based accounting is a useful and easy way to keep track of and access your data from anywhere at any time. But it can also be helpful to have hard copies of your documents and data available to print or on your hard drive.
With Debitoor, you can easily download all of your data to your computer with just a few clicks. This function is also available to your accountant if you choose to collaborate - allow them to quickly access and download the information necessary for them to help you with your business finances.
Here's how:
1. In your Debitoor account, click on 'Settings' in the upper right corner
2. Select 'Settings' from the dropdown menu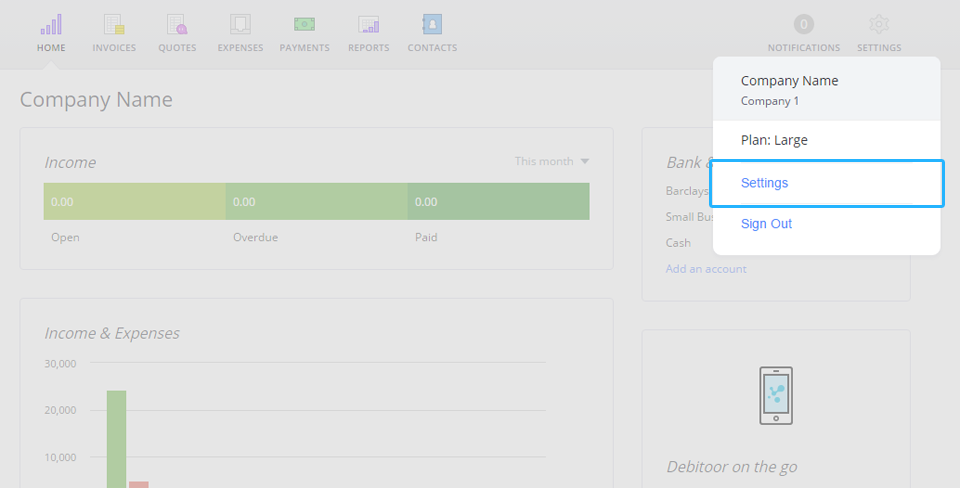 3. Click on the 'Account' tab

4. Scroll down the page until you see the 'Export Data' section.
5. Here, you can select the documents and data you wish to download from the dropdown menu:

6. You can select the format to download your data and the date range for selected categories.
You can invite your accountant directly from this data export section.
If you wish to download PDFs of your invoices, ensure that the box next to 'Include attachments' is selected:

7. Click 'Download' and you're set. Your download will begin automatically to your computer. You will be able to open and print your documents as well.
Still have questions? Don't hesitate to get in touch! Send us an email at [email protected] or chat with us in the application.