How to create recurring invoices
Create a recurring invoice in just a few clicks!
Invoicing is an essential part of any business. With Debitoor, we've made it easy for you to invoice customers from anywhere, and whenever you want.
To make it even easier, you can also set up recurring invoices, so you can invoice customers can be sent to your customers automatically, and on a regular schedule.
If you have repeat customers with the same and regular order, then you can save yourself the time of creating a new invoice each time by setting up recurring invoices once, and we will do the rest for you.
Here's how to set up recurring invoicing in Debitoor:
In your Debitoor account, click on 'Invoices' at the top of the page
In the tab below, click 'Recurring'

Click the blue 'New Recurring Invoice' button

Fill out all the necessary information of the invoice for that customer - including email and product or service description.
Here you can also set the recurring schedule by choosing the start date, frequency, number of occurrences, and sending options.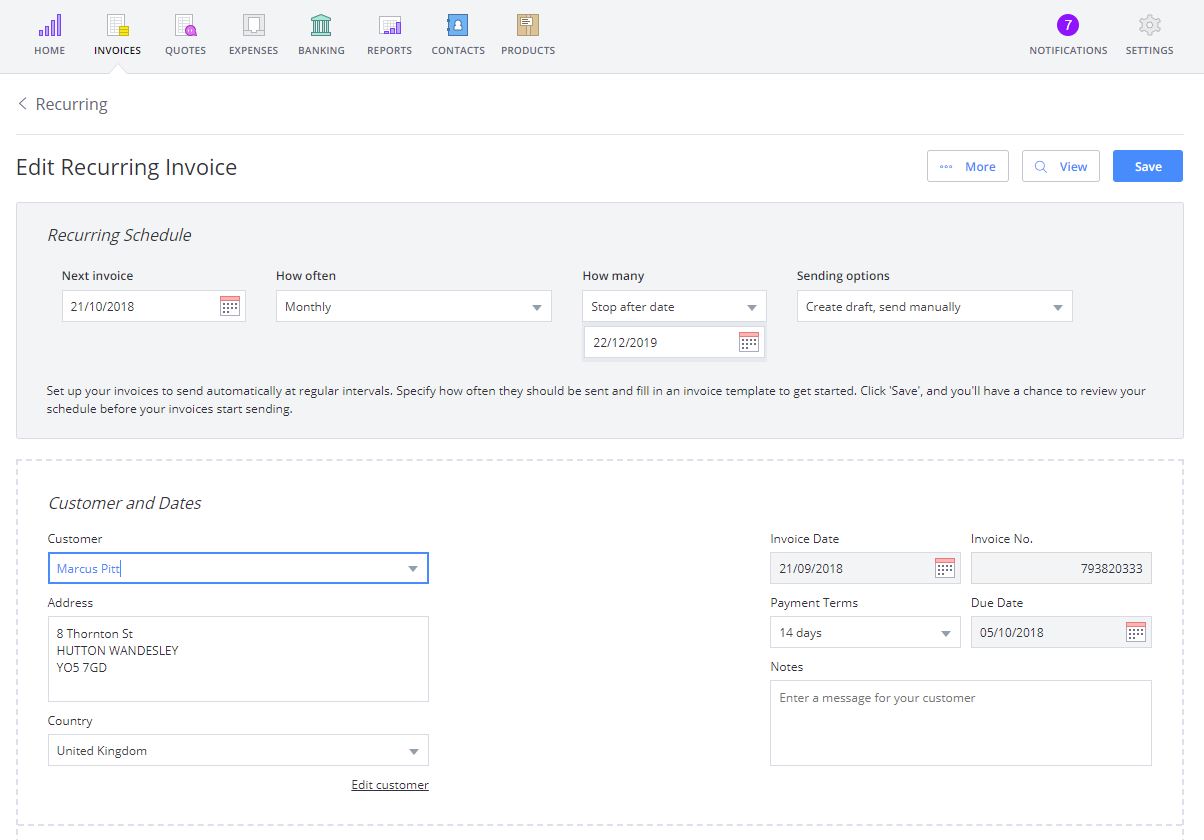 Once you are ready, click the blue 'Save' button in the top right corner. And when you are ready to start your recurring invoices, click 'Start'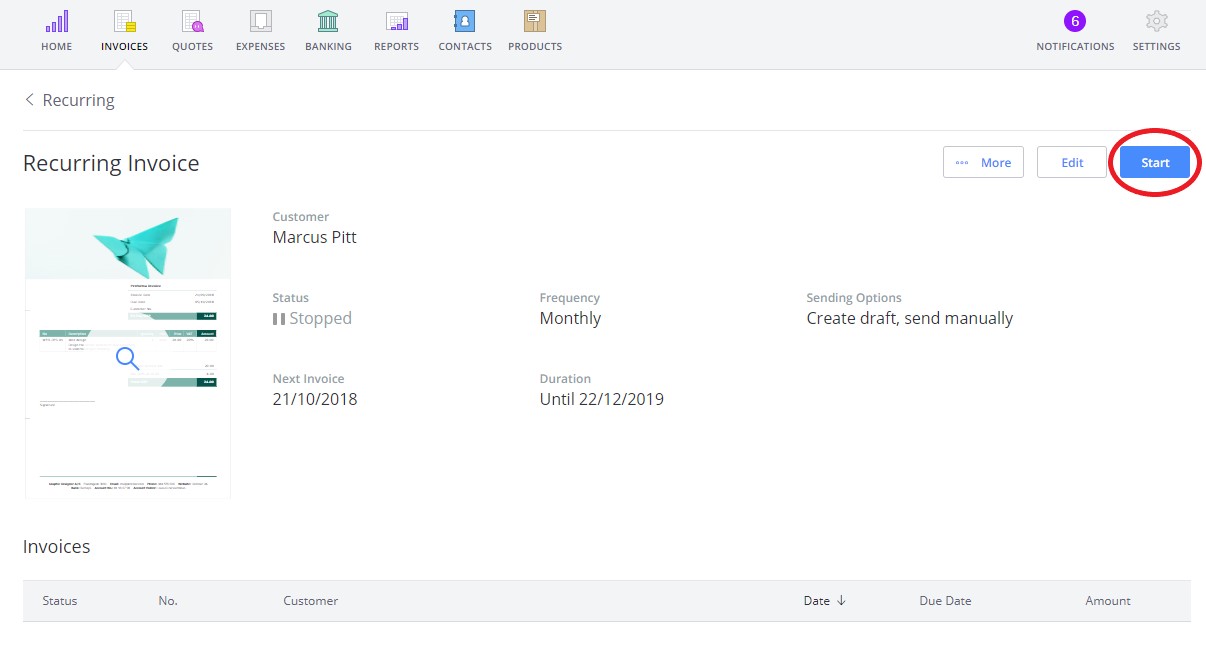 Once you have started your recurring invoice, then the invoice status will also change to 'Active'.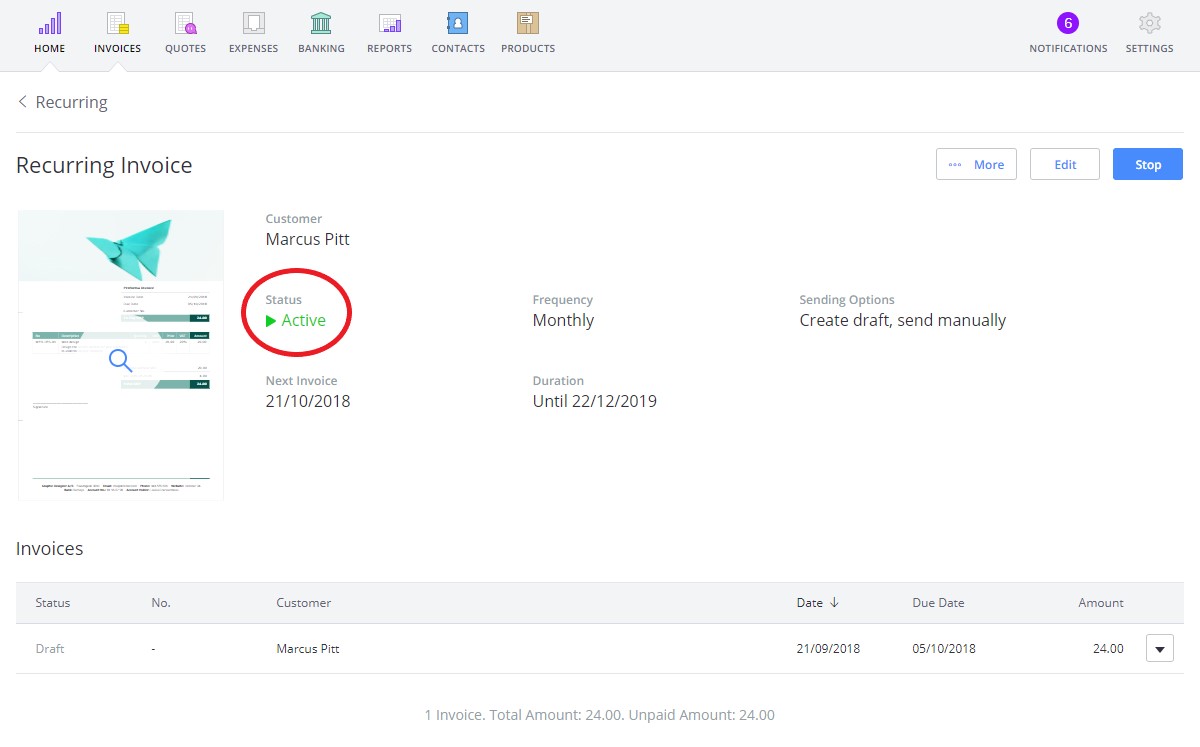 By default, your invoice sending options will be set to 'Create draft, send manually'. This means that once you have saved and started your recurring invoice, they will all be set up as a draft and you will still need to send them manually.
If you would like to send recurring invoices automatically, then you can change the sending options by editing the recurring invoice.
At all points, you can edit, pause, and stop recurring invoices. You might find that an order changes over time (for example change in price or order quantity), and if this is the case you will need edit the recurring invoice to update it.
You can easily edit a recurring invoice by clicking on the invoice under 'Recurring Invoices', and then clicking 'Edit'.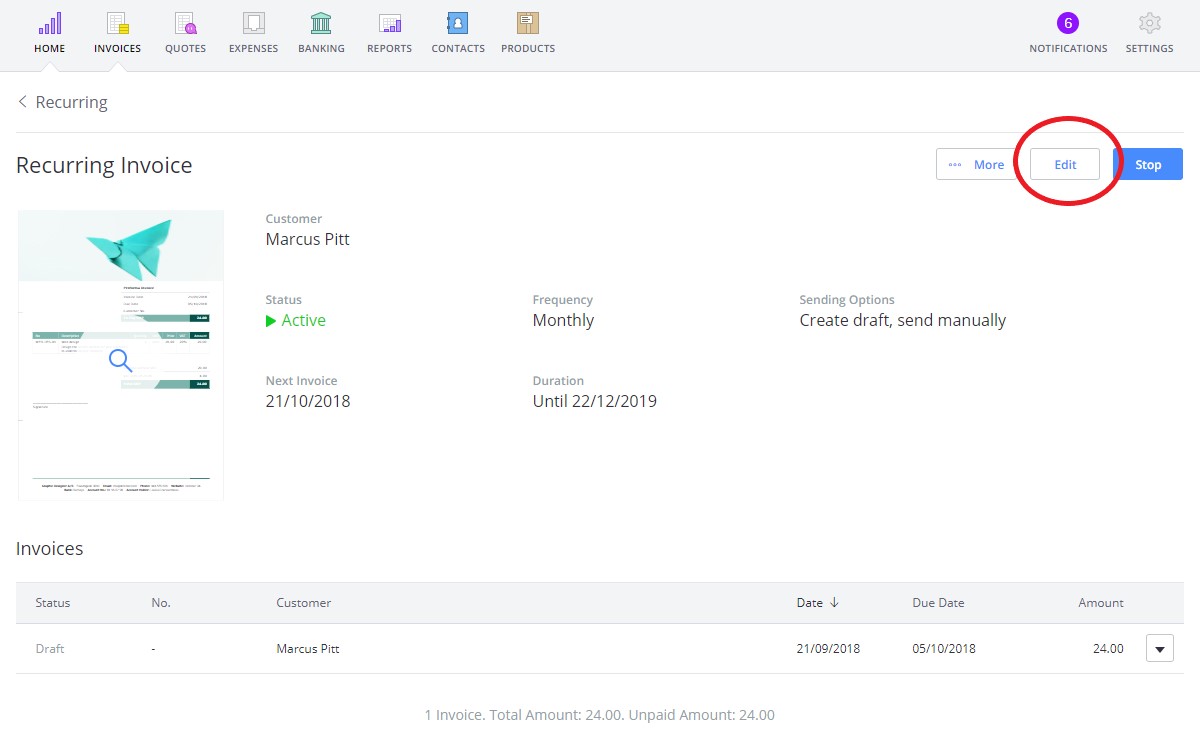 You can also 'Pause' and 'Stop' recurring invoices at anytime.
If you wish to delete a recurring invoices, you can also do so by clicking on arrow on the recurring invoice list, and click on 'Delete'.

If you delete a recurring invoice you will only delete the invoice from the recurring set up. This does not delete any invoices already sent (recurring or non-recurring), so no need to worry about losing any invoices!
Still have questions about recurring invoices? Don't hesitate to get in touch! Send us an email at [email protected] or chat with us in the application.