What is an invoice template?
An invoice template is a document layout that makes it simple to create, edit, and customise your invoices. With a premade invoice template, you simply need to enter the details of the sale. The layout and required fields are already created for you.
Want to create beautiful, customised invoices? Learn more about how to use invoicing software to customise the design of your invoices.
Invoice templates come in a variety of different formats. You can find invoice templates for Word and Excel, or use invoicing software to create your sales documents.
This article explains what invoice templates are, how they can help your business, and how to get started creating your own invoice template.
Create a custom invoice for free
What details need to be on an invoice template?
Invoices are a legally binding request for payment that is sent from a business to its customer when payment is due. In the UK, invoices require certain information to be considered valid.
Your invoice template should include fields for all of the mandatory invoice information, such as:
The title "Invoice"
Your business name and address
The customer's name and address
The invoice issue date
The invoice due date
The invoice number
The products/services sold and their prices
The total amount due
Any VAT (if your business is registered for VAT)
Additional optional fields may include your bank account information, terms and conditions of the sale, and any discounts applied.
The advantages of using an invoice template
While some businesses prefer to create their custom invoices from scratch, using a premade template offers several advantages.
Ease of use: You won't need an instruction manual to create an invoice. Simply plug in the fields and you're good to go. Invoicing software will automatically generate most of the fields for you, like the invoice number and date.
Save time and money: Using an invoice template can save you time manually creating documents. You can also save money on having to employ people to check or correct them.
Market your business: Showcase your work, or market your business by customising your invoice template. As long as the required fields are included, the document can be as colourful and creative as you'd like.
Invoice on the go: If you use invoicing software with premade templates, you can invoice from anywhere, and from any device with an internet connection. Some software offer mobile apps so you can create invoices quickly while away from your desk.
Compliant & professional: Invoice templates reduce the risk of costly invoice mistakes. If you use invoicing software, the required fields will automatically be updated if there are any changes in regulations (for instance, VAT rates).
Never lose your documents: Using cloud-based invoicing software will ensure that you never misplace your important documents, even if your computer crashes.
Get paid faster: The faster you can create and issue an invoice, the faster you will get paid. If you use invoice templates within invoicing software, you can even include a payment link directly to your invoices so your customer can pay instantly online.
Use free invoice templates now
Word and Excel templates vs. invoicing software
Word and Excel are simple programs that offer invoice templates. Many freelancers and business owners opt to use them instead of invoicing software.
Word and Excel are great if you only need to write a couple of invoices. However, if you're looking for a more professional, fast, and easy solution, invoicing software offers many advantages.
Word and Excel are not specifically designed for creating invoices. They are also not updated if there are any changes in invoicing requirements or VAT rates, so you would need to keep track of this yourself. In addition, your invoices will be saved to your devices hard drive, and could easily be lost if your computer crashes.
On the other hand, invoicing software is updated on a regular basis to ensure that the documents are compliant. Most invoicing software saves your data to the cloud so you can rest assured that your data is safe. Invoicing software also offers additional features like customising your invoice template, access to accounting reports, and automatic payment links.
How to create your own invoice template
Debitoor is a simple invoicing and accounting software designed to help small businesses thrive!
We offer several different invoice templates that you can customise with your own logo, images, colour scheme and fonts.
Below, you'll find a sample customised photography invoice created using a Debitoor invoice template: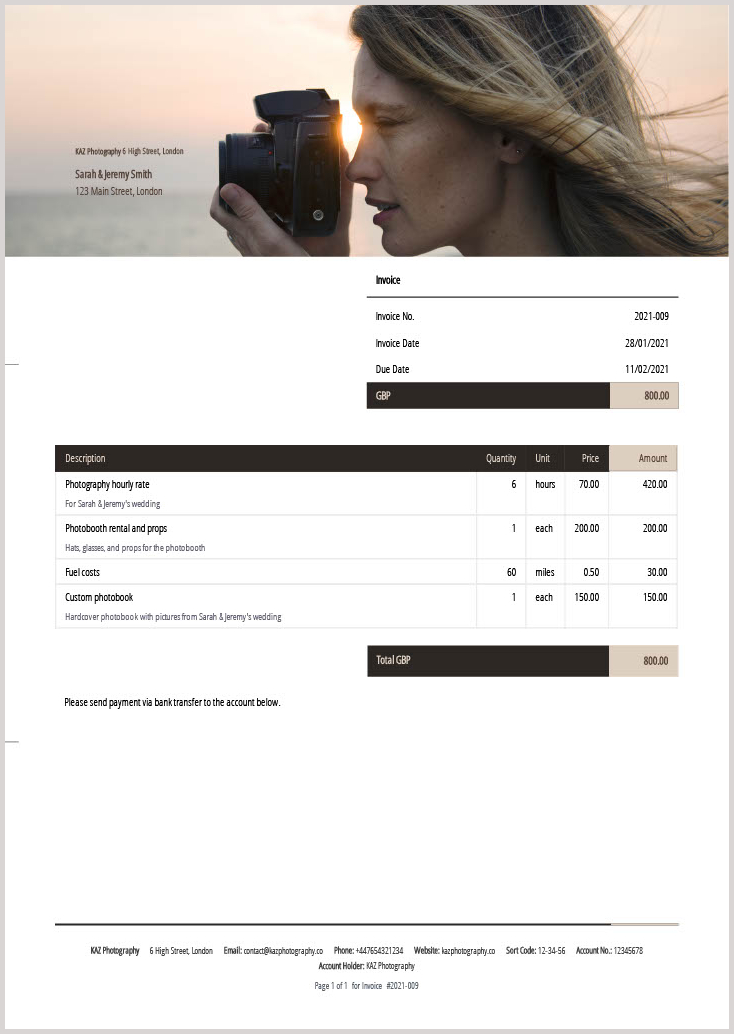 In addition to invoice templates, you have extensive accounting features to keep track of how your business is doing. You can also set up payment links on your invoices so your customers can pay the balance instantly.