When people talk about using invoicing software, they often talk about the benefits of being able to customise their invoices. But you may be left wondering what this really means. How much customisation is actually possible, and how can it be done?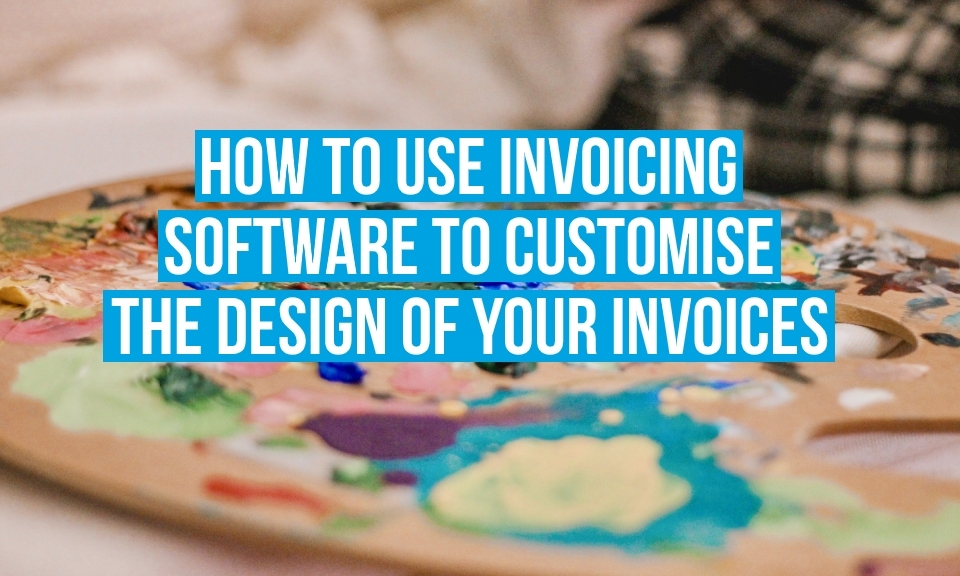 Here, we take a look at how you can customise your invoices with Debitoor invoicing software, the different options that you have, and why you should consider spending some time creating your very own, individual invoice template.
What needs to go on an invoice?
Every invoice needs to display certain information. No matter how you choose to design your invoice, it must contain the following:
The word 'Invoice'
A unique invoice number
The date of supply
The date that the invoice was created
The contact information of both the customer and the seller
A statement of payment terms, (for example, if there is any cash discount or if late fees will be charged on late payments)
Details of the products or services you supplied
The total amount the customer owes.
What other information can I choose to show on my invoice?
However, there are also a number of additional things that you can choose to show on your invoice if you would like. When you're choosing whether or not to include these fields on your invoice, what you're doing is designing your invoice template.
Your invoice template is your chosen invoice layout. By selecting the different fields the invoice will have, it makes it easier for you to fill in all of the necessary information and you won't miss anything important. Your invoice template can be saved in Debitoor, so it means you only have to design it once and then it's always there for you to use.
Alongside the essential fields of information, you can also choose to show:
The return address
Your company logo
The product number
A product image
The VAT
A signature
To include these fields on your invoice using Debitoor, you need to firstly select 'New Invoice', click '⋮', and then 'Change Design'.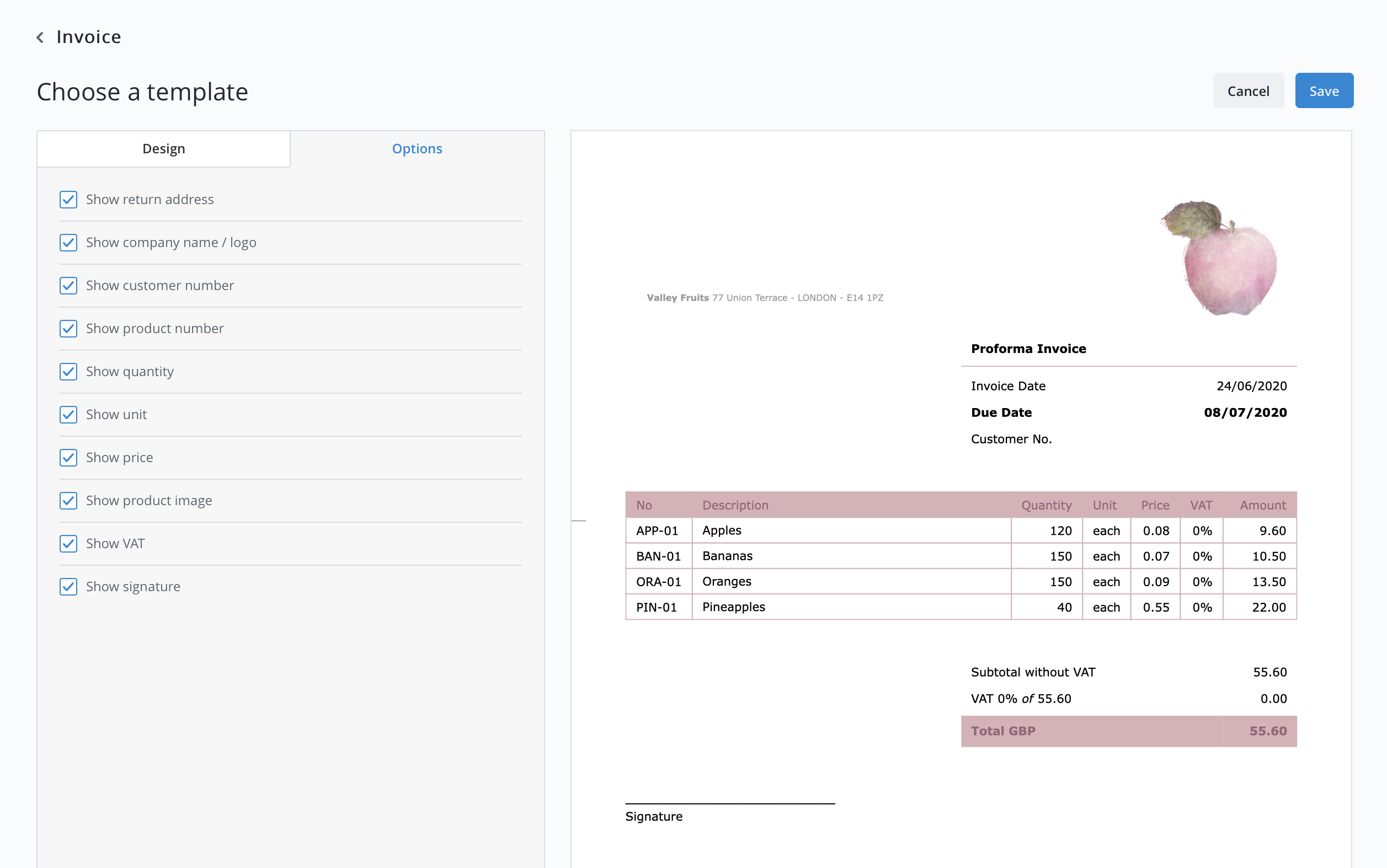 Generally speaking, the more information you include on your invoice, the better it will be for your customer. Itemising your products and providing all of the necessary information, such as the quantity and how you have calculated your prices, will make it easier for them to understand the invoice. Especially, if you are selling B2B, these additional fields may allow them to better track their expenses and avoid you having to reissue the invoice with more information.
Why should I brand my invoice?
Debitoor invoicing software will also allow you to change the style of your invoice to match the branding and aesthetic of your business. You should capitalise on this opportunity and make sure you include your logo on your invoice. It should also use appropriate colours that complement your branding.
Branding your invoice will help you to stand out against competitors. If you're operating in a highly competitive market, it's always possible that your customers know your competitors or have done business with them in the past. To help create a lasting impression and appear more professional than others, make sure that all of your communication with your customers is branded in the same way.
Practically speaking, when you're working in B2B sales, branding your invoices will also help you to get noticed. If your client has a lot of paperwork to get through, you don't want your invoice to get lost in a large pile of bills. By creating a design that is professional and distinctly yours, you will find you're paid faster for your work and you are taken more seriously.
How can I change the style of my invoice with Debitoor?
With Debitoor invoicing software, you can change the aesthetic of your invoice choosing from numerous different options. Once you have opened the 'Change Design' from the drop-down menu, you are free to play around with different looks in the 'Design' tab.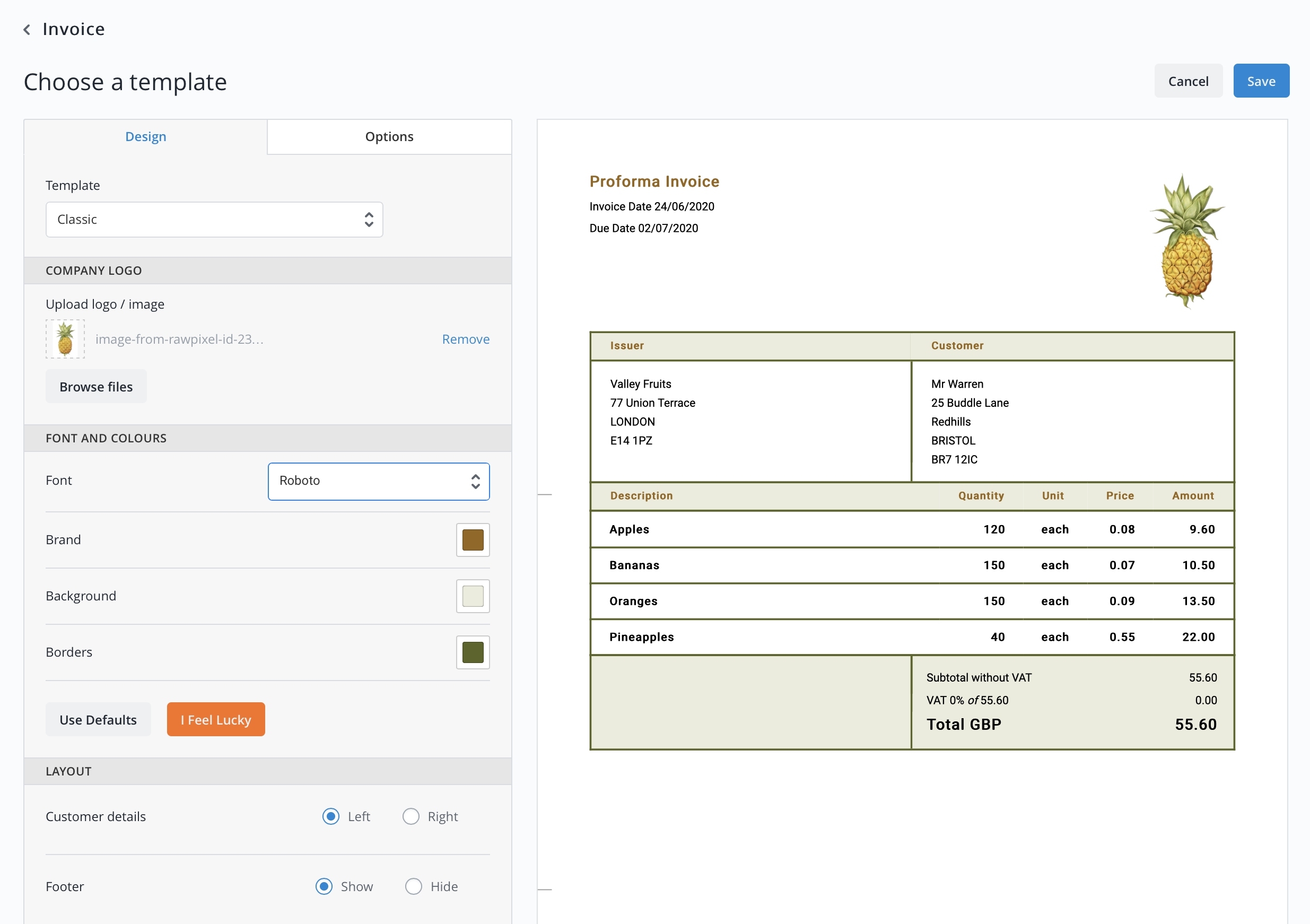 Invoice templates
Debitoor lets you to choose from 8 different template designs which are all fully customisable. For example, you can select a 'Bold', template if you want to be immediately noticeable, or something more 'Elegant' or 'Classic' if you prefer.
Logos and colour schemes
In the 'Company Logo' section, you can upload your company logo. Just click 'Browse files' to open your logo from your computer. If the logo is in colour, Debitoor will then automatically suggest possible colour schemes for your template. This crafty feature will help you to choose colours that naturally complement one another and create an overall professional look.
If you don't like what the software suggests, you can always tap 'I Feel Lucky' to see more suggestions or choose the colours yourself. Depending on the template you've chosen, there may be more or less colours you can include in your design.
Fonts
As well as multiple template and colour options, you have a choice of 13 different fonts. Again, take the time to try out the different fonts and consider how they change the style of your invoice. For example, if you are an electrician, you may want your font to convey professionalism; however, if you run a children's toy store, you may want something a little more playful and creative.
Layout
Finally, you can also customise the invoice layout. Do you want your customer details on the left or the right? Does your invoice need to have a footer with your account details? Often it will, as this is where your customer look to see how they can pay you. But, if you want your customer to make an online payment, it may also be wise to hide this information so that you don't unnecessarily confuse them.