Word & Excel invoice templates.
And what's better.
Invoice templates through Word or Excel are an easy option.
Customisable, unique invoices created with Debitoor's invoice templates are even easier.
1. Enter your company details
When you sign up with Debitoor, you'll be asked to provide some basic information about your business. This will save automatically and will be included in each new invoice you create.
Go to 'Settings' and under the Company Details section:
Enter the necessary information about your business

Upload your company logo:

Adding your logo is the first step towards creating custom invoices. With our invoice designer, you can then choose to change the template style, colours, and more.
Activate any options that you would like to be applied to all invoices:

Enter your registration information and VAT (if applicable) and choose whether to turn VAT On/Off.
Enter your banking information for your customers:

2. Add customer information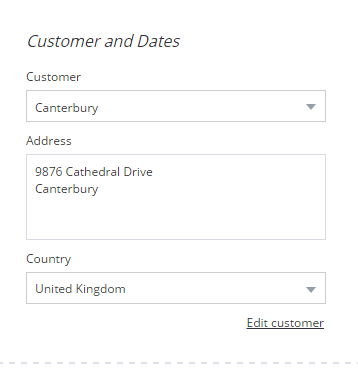 When you create a new invoice with Debitoor, you begin by filling in the information about the customer you're invoicing including their name, address, country, and VAT, if applicable.
3. Invoice date, number & due date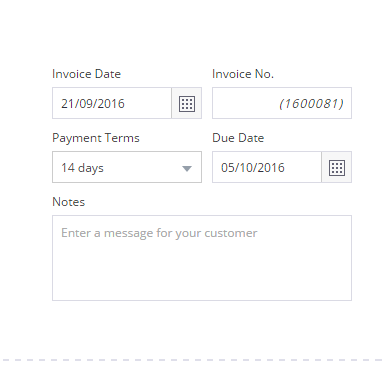 In a new invoice, Debitoor automatically fills in the invoice date, generates a sequential invoice number, sets payment terms and a due date accordingly. You can adjust any of these fields depending on what you need for that particular invoice or customer.
Set the due date manually by selecting 'Manual' from the Payment Terms menu and entering a date of your choice in the Due Date field, or select it from the calendar.
4. Add the products or services you're providing

The main section of the invoice is where you add details about your products or services provided to your customer.
For each line, enter a detailed description, quantity, and unit price.
6. Taxable amount, VAT, and total

By law, an invoice must feature a subtotal before VAT, then the application of VAT and the final total. Debitoor handles all the calculations for you, so no need to hunt down the calculator on your mobile.
7. Extra terms or notes

In this section, you can choose to enter any additional terms for the invoice, such as payment terms, return or exchange instructions, or any other important information you wish to include.
An
easier way
to invoice
Over 400.000 SMEs and freelancers manage their business with Debitoor
There is life beyond the invoice templates of Word and Excel. There are other invoicing programmes. And then there is Debitoor.
Our templates make creating an invoice simple, fast, and efficient. We aim to save you time to devote to the more important aspects of running your business.
Simply add your company name, logo, product or service, price, and let Debitoor do the rest:
✔ Send professional invoice templates with all legal requirements by e-mail or post
✔ Graphics automatically track and show the status of your invoices
✔ Invoice numbers are automatic and assigned sequentially
✔ All of your invoices are backed up in the Cloud
✔ Unlimited access to your invoices from any device - Android, iPhone or tablet
Create professional invoices
Debitoor allows you to create personalised invoices using one of our invoice templates.
Our templates include all the basics you need to build a perfect invoice:
Title

: It is important that the type of document is clearly stated. The title 'Invoice' makes it unmistakable.

Invoice Number

: Every invoice should have its own number. With Debitoor, this number is automatically assigned in sequential order for each new invoice.

Invoice Date

: Clearly indicates the date on which the invoice is issued.

Payment terms and due date

: Lets your customer know exactly how much time they have before the total payment is due.

Customer and company information

: The full name (or company name) of your customer, as well as your company's address and registration number.

Product or service

: A description of each product or service that you are selling, as well as the quantity, VAT rate, and unit price (gross).

Total

: The subtotal of all products or services without VAT added, the total VAT (and income tax, if applicable), and a final total, clearly indicated.
Too much to remember for when you create your next invoice? It doesn't have to be. Let Debitoor take care of it for you.
We want you to focus on running your business, not on taking notes. Are you ready to create an invoice?
No more Word or Excel? Really?
Word and Excel templates have gone the way of the the cassette tape and the VHS player. They're still around, but there's something better.
While some things may bring us moments of nostalgia, using Word or Excel templates to invoice for your business shouldn't be one of them.
Step out of the 90s with a cloud-based invoicing and accounting programme. Move forward with Debitoor's efficient, automatic, and organised invoicing software.
A free trial gives you time to compare. You can always go back to Word or Excel if you find you have too much time on your hands.
Or you can just turn on a throwback playlist while you quickly and easily create customised invoices with Debitoor.
Invoice template for Word
What information do you need on an invoice to make it legally compliant? There's your and your customer's company details, registration numbers, a unique invoice number, an invoice date, and payment terms. Oh, and don't forget the total amount and the VAT percentage.
Download our editable Word template so you can send your invoices with ease, and add a logo for a more personal touch.
Download template for word
Invoice template for Excel
Do you want to get an automatic estimate of the total amount on your invoice?
Then you should download our invoice template for Excel, because it automatically calculates the total net, gross and VAT on your invoice once you enter the price of your products.
Keep in mind that a clear overview of the total amount is required for correct invoices.
Download template for excel
Try Debitoor for free
No credit card required. Cancel at any time.

Dessy Mileva
Owner @ Dessy's Cakes
"I am very happy to be able to use an easy invoicing software, where I can easily fill and print my invoices! Loving it!"

Tristan Luscombe
Photographer @ Legacy Photographic
"I have found Debitoor invoice software to be excellent, I wouldn't hesitate to recommend it to a friend or colleague."

Sam Baxter
Owner @ Curvy Girls Clothing
"Ease of use and simplicity in an invoicing software."

Daniel Roizer
Web developer @ Rutland First Aid Training
"Debitoor invoicing software is so simple and easy to use, it helps me keep track of my day-to-day business accounts even with no accounting experience!"

Jeffrey Van Hees
Web developer @ Fance.nl
"Easiest invoicing software I have ever used. No fuss and does exactly what it needs to do! In this way I have more time to focus on my web development business!"

Katie Hudson
Founder @ Pro Science
"I had no idea how to do an invoice before Debitoor invoicing software - it's very simple and looks so professional!"