All you need to know about
accounting
Workflows in Debitoor are designed to get you out of your paper piles and on top of your accounts in no time.
In simple steps, you can easily take control of the basic stuff like expense tracking, VAT reporting and bank matching.
Track your expenses
Do you wait until right before a reporting deadline to get hundreds or thousands of receipts organised?
Keep track of your expenses on the fly by entering them in Debitoor and get the overview of what your business spends with the expense timeline. You can also import your bank statements; and get your transactions sorted in no time.
Keep documents safe
in the cloud
Do you hand over a shoe box of your receipts to your accountant every month? By taking a picture of your receipt while you're on the go and uploading it to Debitoor, you're documenting your expense here and now AND storing it safely in the cloud where you can easily access it any time.
So with document storage, here's your chance to get your papers organized while saving precious time.
Do your
reporting
yourself
Is the stress of reporting your VAT or getting the overview of your Profit & Loss taking your precious time away from focusing on boosting your business?
Stress no further, as Debitoor has a solution for both of these issues. The software lets you submit your VAT automatically to the HMRC and gives you an overview of your sales and expenses with your VAT calculated. Plus you get a Profit & Loss report which you can send to your accountant or attach to your year-end report.
Running a UK business and need to submit VAT returns online with HMRC-approved Making Tax Digital software? Debitoor provides an easy setup that allows you to first preview and then submit your VAT returns direct to HMRC with just a few clicks.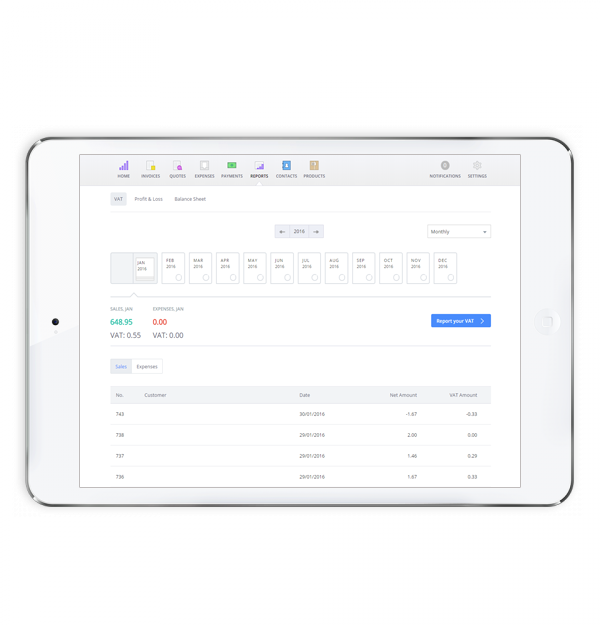 72% of our customers
would recommend us to their friends