Travel tickets, restaurant receipts, or digital subscriptions – every time you pay for goods or services, your business incurs expenses. Filing these expenses both ensures that you can easily access them at any time and gives you a clear overview of your bottom line.
---
Time saver from the beginning
Organising expenses is one of the most unglamorous and overlooked tasks in running a successful business. And no wonder: from baffling conventions to locked-up data, expense handling is riddled with mysteries and inefficiencies.
In developing the Debitoor accounting functionality, we made sure to do the heavy lifting for you, which makes the system convenient for filing your everyday expenses:
Streamlined data entry helps you get up to speed in no time
Built-in chart of accounts makes classifying expenses a breeze
Bank import feature for super easy, time-saving expense recording
The result is that you gain a clear overview of your spending without wasting valuable hours re-typing data or familiarising yourself with arcane rules of accounting. Simple workflows and immediate results – that's how accounting works with Debitoor.
Document your expenses to track your spending
When it comes to painting an objective picture of your business, every pence counts. So we made sure that all your expenses can be conveniently stored, filed, and reported right in the cloud.
To document an expense in Debitoor, attach a corresponding document – a snapshot of a receipt, confirmation email or a good old PDF invoice – to a new entry, select a few presets from the intelligent drop-down menu, and provide a short description. Thirty seconds and you're done.
Once accounted for, your expenses give you more confidence in making the right decisions for your business. Visual monthly overviews, interactive expense filters, and a powerful search feature – with these tools you can understand, compare, and track your spending like never before.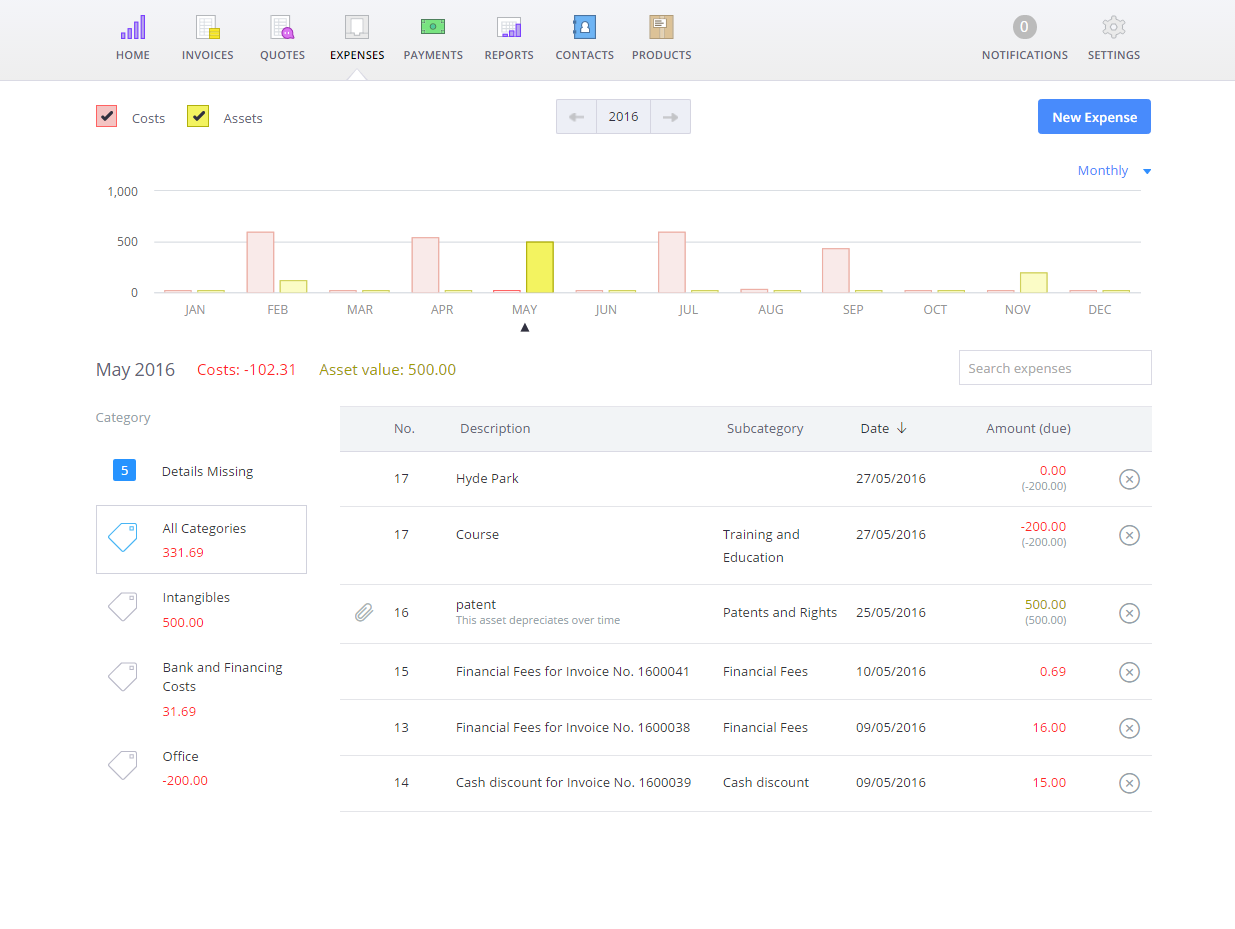 Categorise your expenses with Debitoor
Business dinner at Four Seasons followed by an invoice from Guangzhou? We have you covered.
From standard receipts to multi-line invoices, cash payments to international wires, face-to-face deals to digital transactions, Debitoor supports all types of expenses you incur:
Use drop-down menus and smart defaults to quickly determine appropriate VAT
Choose the expense category from the built-in chart of accounts
Add extra lines to sort out multiple expenses invoiced together
Indicate payment method and add a short comment when needed
Thanks to intelligent behind-the-scenes technology, you can manage all your expenses quickly and easily in one clear interface.
Export your expenses and help your accountant
Why would you lock up your expenses on your hard drive or even in an old shoe box if you can store them in the cloud and access them from anywhere at any time?
Add to that the confidence of knowing that you can always export your expenses with the click of a button if you should need to share data with your accountant or want to keep a backup.
And then there's the convenience of knowing what your business spends at all times.
Quick facts
You can enter your expenses manually, record them from your bank transactions, or send them to yourself via email. With an email subject line containing the specific information for your expense, you will only need to select the correct VAT rate and expense category next time you log in to your account.
You can record as many expenses as you like and get an overview of your expenses on any Debitoor plan. To attach documents to your expenses and to report your VAT online, you need one of our paid plans.
Get tips and tricks for handling your Expenses in Debitoor.