Submitting an annual profit and loss report to authorities is a necessary part of preparing financial statements for many businesses, especially limited companies. And if you're VAT registered, you also need to submit your VAT report on a regular basis.
Debitoor automates these tasks and provides ready-made reports.
---
Available immediately
With Debitoor, you never need to enter the same data twice or build a standard report from obscure bits and pieces. The Reports feature helps you get your figures right: All your invoices and expenses are automatically added up and displayed on the right side of the equation.
We've made sure that you don't waste time adding extra details to reports or wallow in frustration while tracking down the right fields. This way, you can focus on things that really matter – such as the numbers behind your business.
VAT Reports
Reporting VAT just got easier. Every time you add an invoice or file expenses in Debitoor, we update reports for monthly, quarterly, and annual amounts of VAT paid and received - giving you insight into outstanding/refundable VAT amounts in real time.
Confused by official tax forms? Fear not, Debitoor automatically pre-fills your VAT return form and links directly to the official tax portal making VAT reporting both quick and painless.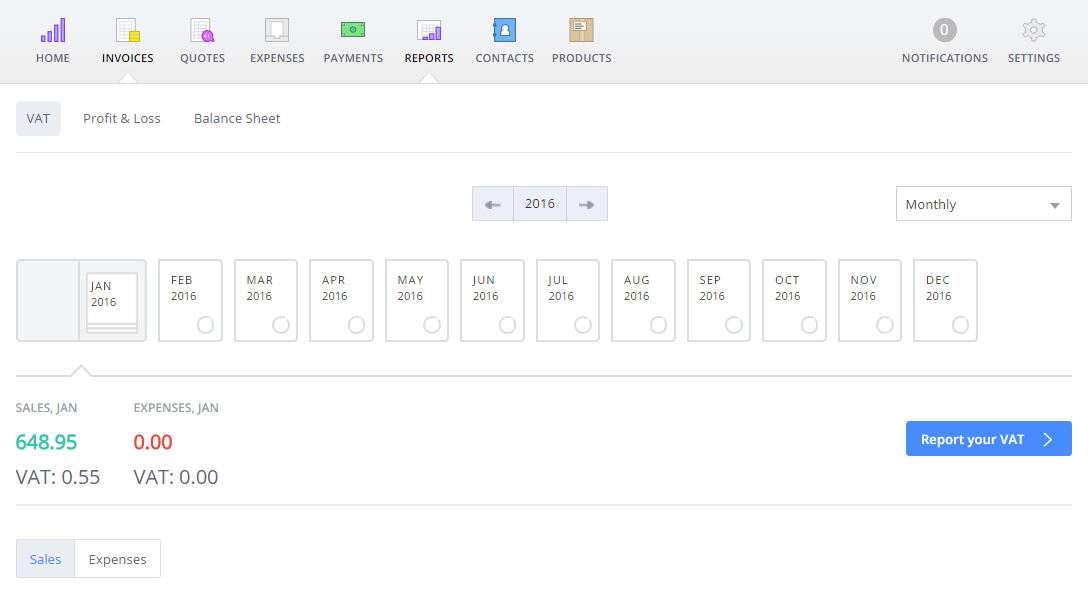 HMRC Making Tax Digital
If your business is located in the UK and falls under the requirements for submitted VAT returns online under HMRC's MTD initiative, Debitoor offers Making Tax Digital software to provide a direct connection to HMRC that allows you to submit your VAT returns with a click. Debitoor makes it easy for your business to work with Making Tax Digital.
Profit & Loss Reports
Curious about your annual income? Head over to the Profit & Loss report which paints a clear picture of your finances. The report automatically displays data for the current and previous year. Click on 'Print' when ready and your annual statement is instantly produced in a pixel-perfect PDF.
Need to understand where you stand this month? Wonder in which direction your utility bill is heading? All expenses are automatically sorted by category and the reporting form allows you to change start and end date as needed, giving you an excellent overview of your finances.
Quick facts
With one of our more advanced paid plans, you can create your VAT report in a matter of seconds.