If you're working as an electrician, you need to be able to bill your customers in a professional and organised manner. How you handle customer payments is a reflection of your standard of work, and after a long day, you need to be sure you're paid correctly.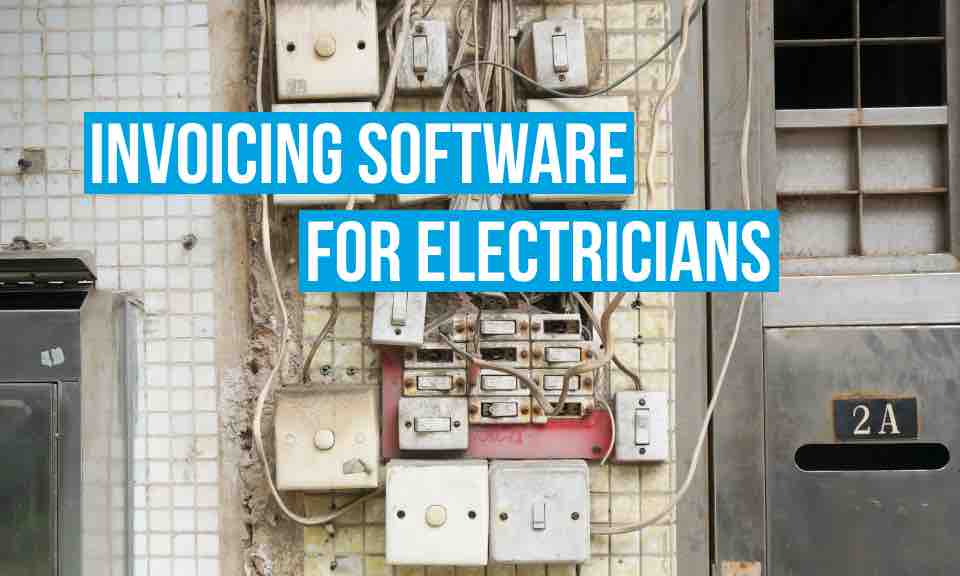 Here, we take a look at how Debitoor invoicing software can support you as an electrician and help you keep track of your finances, turning your specialised skills into a profitable business.
Why do I need to invoice as an electrician?
An immediate question you may have is why exactly an invoice is so important. The answer is simple. An invoice is used to establish what services you provided to your customer, how much is due and when, and the possible method(s) of payment. Providing your customer with a professional invoice will ensure that you're paid in the correct way and on time; you'll be able to stay on top of debts and debtors and keep track of client payments.
Not only do invoices help you manage your customers' payments, they're needed to record important financial information about your company. You can use them to get an overview of your company's finances and track its growth. With an electrician invoice, you can organise and simplify your bookkeeping.
Professional invoicing will also help you prepare the necessary information you need when you file your tax returns at the end of the financial year.
How should I invoice my customer for my electrical work?
Every invoice must capture the skill and expertise you have put into your work, regardless of whether it's an invoice for rewiring an entire house or simply installing a new porch light. And there are specific things every invoice must include.
As an electrician, your invoice needs to include a list of the materials and supplies that the customer is to be charged for. Along with the cost, a description for each thing should be shown. Commonly, your work will include other electrical services as well, such as repairs or renovation to wiring. These should be shown on the invoice in the same way as other materials: you need to provide details of the service and the cost.
With Debitoor invoicing software, you can save a list of your materials and services in the 'Products' tab. When creating your customer invoice, you can then select the appropriate materials and services from the drop-down menu, making it even easier to fill out your invoices with accurate information.
Your invoice must also include your payment terms. This includes the due date, any discounts applied, and any late fees you'll charge. Many tradesmen offer discounts in certain situations. Perhaps you have a high volume of work from one customer, or they have referred you to their neighbour or friend. Adding a discount may help build your reputation, sweeten a deal, and keep customers loyal.
How to apply a discount with Debitoor invoicing software
Any discount you apply should be clearly shown on your invoices. Debitoor makes it quick and easy for you to offer a discount to your customers. When creating your invoice, you can choose to apply a percentage discount to the subtotal. To do this, you can simply scroll down to the options and fill in the discount box.
Alternatively, you may want to discount the price of individual products or services using a line discount. This can be done by opening the drop-down menu next to the amount you wish to discount, clicking 'Discount', and adding a percentage discount to the chosen products or services.
How can Debitoor invoicing software support electricians?
Service charges and quotations
As an electrician, it's typical to charge your customer a service charge to go out to their home. This charge simply covers your expenses for going to their home and seeing what electrical work needs doing. Your customer should be invoiced for this service.
You'll then be able to give a quote for how much you expect the work to cost. Just like an invoice, you can use Debitoor invoicing software to create professional, personalised quotations. You just need to fill in your customer's details, add the materials, services and prices, and then hit send. Once you've sent your quote, you'll be notified once it has been viewed or accepted by your customer. Converting the accepted quote into an invoice is then super easy, just tap the button 'Convert to Invoice' and you're done.
Invoicing on the go
Debitoor invoicing software is ideal for electrical contractors. Whether you are on a job, at home, or anywhere in between, you can create quotes, add expenses, and invoice your customers straight from your smartphone. When you create new documents, these are automatically synced across all of your devices. Any corrections you make to existing documents will be immediately updated via the cloud as well.
Getting paid for your work
For self-employed electricians, it's vital that you're paid by your customers in full, within the given time. When you use Debitoor invoicing software, you can create a payment reminder if your customer's invoice is overdue. It's up to you whether you want to add a 'reminder fee' to the invoice. Once you've created the reminder, you can then send this to your customer reminding them to pay the invoice and informing them of how much they owe in late payment fees.
It's important to remember that it's your right to be paid. In the UK, unless you've agreed on an alternative, your customer must pay you within 30 days of receiving your invoice or your work. If a customer owes you money, you can use a statutory demand to formally request they pay you what you're owed.
Calculating your expenses with Debitoor invoicing software
There are of course a lot of expenses if you work as an electrician. These will range from costs for advertising and promotion, supplies, travel expenses, telephone and internet expenses, insurance, and many more. This is of course a lot to consider. With Debitoor, you can get an overview of your expenses by categorising these costs. On the expenses graph, you can then choose select categories to see individually or compare your expenses month by month.
Adding an expense is also super easy. Debitoor uses OCR technology. This means that rather than filling out all of the information manually, you can simply upload a picture of the invoice or receipt, and the system will add the information for you.
Simple financial reporting
Those who are self-employed or small business owners understand the importance of managing their finances and accounts carefully. Not only will Debitoor help you invoice your customers, but it simplifies your accounting processes. You can quickly create profit and loss statements, balance sheets and VAT reports using the data you've input for your invoices and expenses.
Sorting tax at the end of the financial year can often be a headache for small business owners. Debitoor therefore provides fully-compliant, HMRC-approved Making Tax Digital software that you can use to submit your VAT returns.
It's also possible to give your accountant access to your Debitoor account and let them export all of the data they need to complete their tasks.