Mobile payments - What are mobile payments?
Mobile payments are different methods of paying for a good or service using a device such as a mobile phone, tablet, or smartwatch.
Did you know that there are several ways to accept payment from your customer and mark it on your invoicing software? Read more on our blog about how to accept payment with Debitoor.
Mobile payments are becoming increasingly popular as technology advances. Most modern card readers accept NFC contactless payments which allow the customer to tap any NFC enabled device.
The different types of mobile payments
There are multiple different methods of mobile payments including:
Mobile wallets: The customer is with you and has a mobile wallet set up on their mobile phone, tablet, or smartwatch. The customer can tap their mobile phone or device on the card reader to pay.
QR codes: If the customer is with you, you can show them a QR code which they scan with their phone and will take them to a secure webpage to enter their credit card details.
SMS payment link: You can send the customer a payment link via text, whether they are with you or not. The link will send them to a secure website to enter their card details.
Shareable payment link: You can share a payment link to a customer via email, WhatsApp, Facebook Messenger, Instagram, and many other platforms. The link will allow the customer to enter their card details themselves.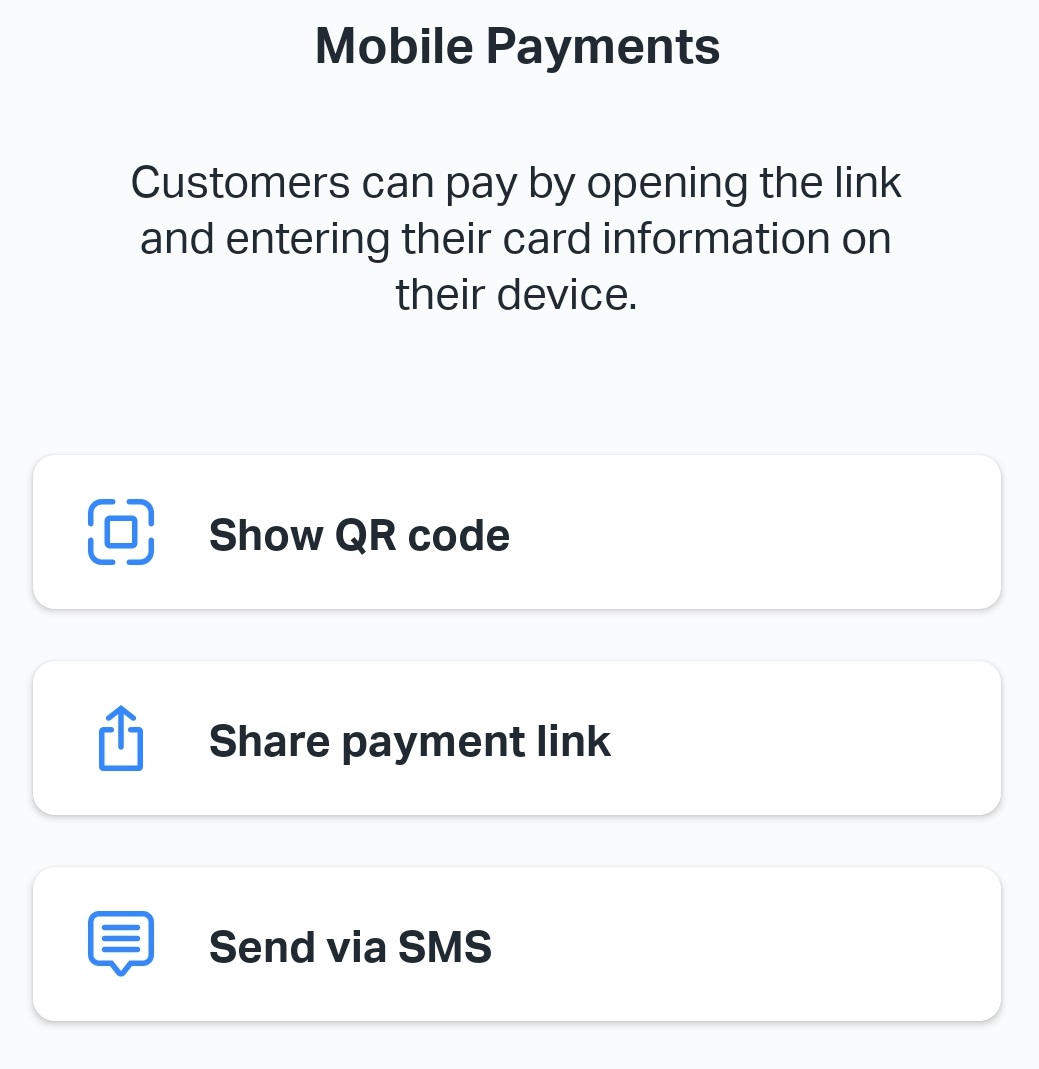 The advantages of mobile payments
If your business accepts a wide range of payment methods, you will likely gain more customers, and get paid quicker. Here are some advantages of accepting mobile payments:
Accept a variety of different payment methods that suit your customers
No need to invest in a card reader or POS
The ability to accept payments from anywhere, anytime
Accept payments from customers in other cities or countries
The disadvantages of mobile payments
Since mobile payments include remote payments, there is a higher security and fraud risk for these transactions. Here are some disadvantages of accepting mobile payments:
Transaction fees are generally higher than card-present payments
Extra security checks are needed before enabling mobile payments
There is a limit on the transaction amount for card-not-present payments
There is a higher possibility for chargebacks
Mobile payments and Debitoor
With Debitoor invoicing software, you can accept a variety of payment methods from your customer including cash, mobile, virtual terminal, direct debit, bank transfer, PayPal, and card reader payments.
We have a variety of different payment providers that you can connect to your invoicing software. SumUp offers a mobile payment option and you can connect your account to Debitoor for automatic invoice matching.
To get started, create an account with SumUp - you may have to verify your identity and go through security checks. To connect your account to Debitoor, simply login to Debitoor, go to the 'Settings' tab, select 'Receive Payment' and follow the instructions.
When a customer wants to pay for something with a mobile payment option, open the SumUp app, enter the amount, and choose one of the various payment options.
Once the transaction has gone through, you can email or text a receipt to the customer, and the payment will automatically be matched with the invoice. You will receive your payment in 1-3 business days.