Create an online invoice fast
Create and send professional-looking invoices online in less than a minute. Invoice your customers, track invoice views, and enter payments, all in one place.
It's completely free to try. Start creating invoices online today.
Create your first invoice now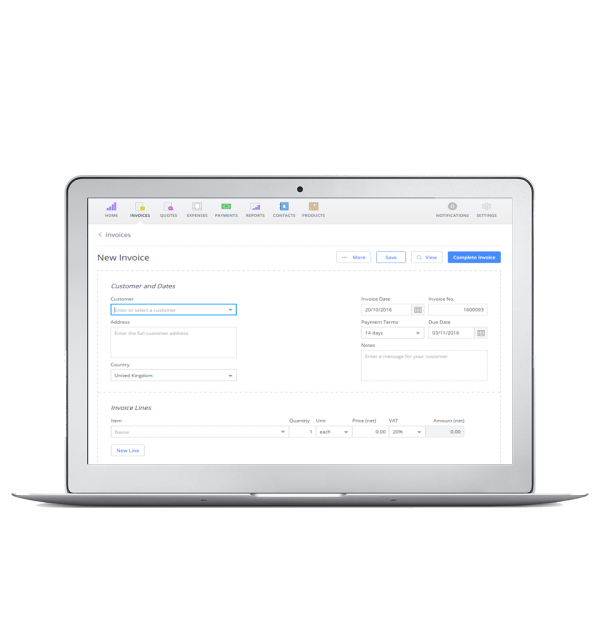 Easy online invoicing
Online invoicing is quick and easy with our invoice templates.
To create a new invoice, simply:
Fill in your customer information
Enter your product details
Set the due date & payment terms
Click 'Complete Invoice'
And it's ready to send! Our invoice templates make sure that every invoice you create has all the necessary information to help you get paid.
Online invoice with a personal touch
The invoice designer lets you upload your company logo, add your own photos, and create a custom colour-scheme.
Make your online invoice stand out from the competition by expressing your company brand.
Go bright and colourful or simple and elegant, there's no need for a background in design with our online invoice templates.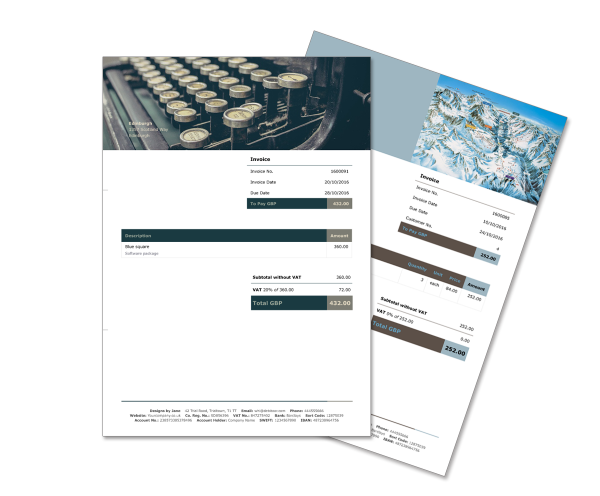 Know when your invoice is viewed
Debitoor online invoicing means that we make it easy for you to track the status of your sent invoice.
You will know the moment each invoice is opened and viewed by your customer, all but eliminating past claims that your invoice was never received.
Each invoice also features a unique history, so that only you can see when the invoice was sent, to what email address, and whether it's been viewed by the recipient.
Track due dates & send reminders
Creating your invoice online comes with the benefit of keeping track of all due dates, all in one place.
Invoices with overdue payments turn red and you can then issue and send reminders for your online invoices in just a few clicks.
With Debitoor, it's possible to add a late fee to your reminder and easy to follow up on payments due to your business.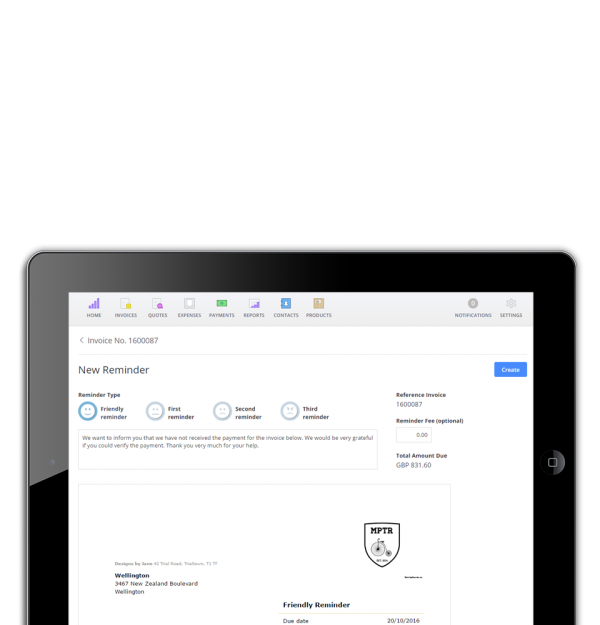 Online invoicing from anywhere
Online invoicing means you can create and send an invoice at any time, from anywhere, on any device.
Because Debitoor is cloud-based, you can:
Create and send invoices online while out and about
Enter payments on online invoices
Access previous invoices and payments
All you need is your smartphone, tablet, or computer and an internet connection. Enjoy easy invoicing with the Debitoor iOS app or Debitoor Android app.
Invoice online, get paid faster
A major perk of online invoicing? Being able to offer your customers the convenience of online payment.
With Debitoor, online payment options are integrated into your account and some even match directly with the corresponding invoice.
Send your online invoice and let your customers pay via PayPal or the mobile point of sale solution SumUp to see how easy it is to get paid and manage your accounts.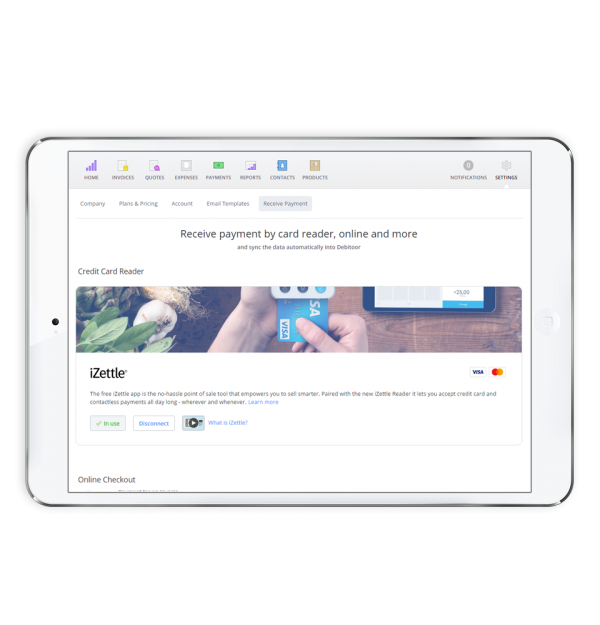 Invoicing made easy with SumUp