The invoice designer lets you customise your invoices and quotes to fit your company's image by adding unique images, logo, colours, adjusting the position of elements and more
---
Stand out by sending a personalised invoice
You put a lot of effort into creating an invoice or quote, adding the details you need and making sure that everything is correct. Yet when you take a step back to look at it, it looks exactly like every other invoice in the world.
So how do you make your invoicing more unique?
We know that a company's image is becoming increasingly more important, which is why we created an invoice designer that lets you create documents that represent the essence of your business. If your company already has a clear visual identity, you can now extend that to your invoices to stand out from your competitors.
This is particularly relevant if you're in the creative industry and want to flash your brand on your invoice or quote. The way you design your invoices says a lot about how you handle your business.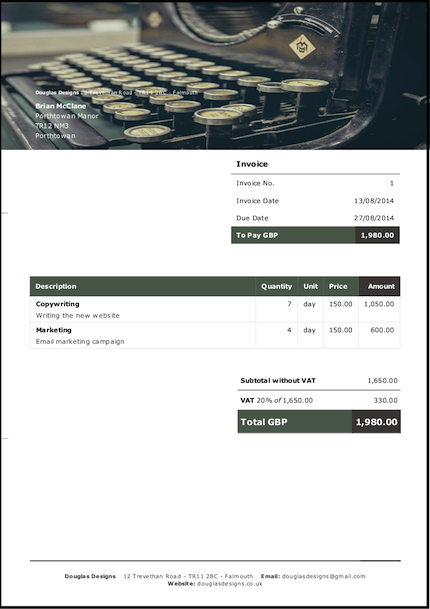 You can create great-looking invoices without being a graphic designer. Take your own photos, for example of your products or your office, and add them to your professional documents.
In addition to adding photos to your header, you can insert your logo for a more complex custom design. Choose from all the colours in the world to find the ones that fit your company profile or, if you wish, go for a simplistic, stripped-down design with clean lines and an elegant font.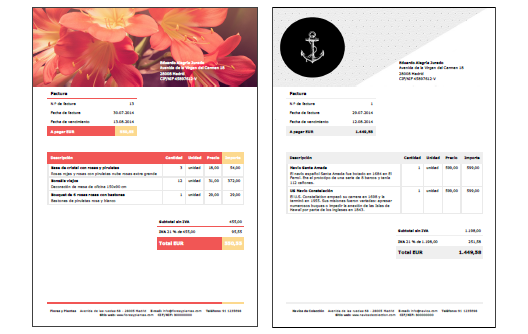 Change your design at any time
You can create a vast array of different designs. Do find yourself easily in the Christmas spirit when December comes around? If so, add a Christmas theme to your invoices if you feel like spreading the joy to the world - or at least to your customers.
Also, if you're printing out your invoice to put it into an envelope, it's important that you can customise it to ensure that the recipient's address fits the window of the envelope.
It's your invoice – you decide what fields and what information you want to include and how to arrange it. But remember, your company's visual identity should be memorable to help you stand out in the crowd.
Quick facts
Personalise your templates with Debitoor paid plans. You can design your invoice to your liking, add background images, reposition your logo and customer details at the top, apply colours to specific fields and remove fields that are irrelevant to your business