Accounting: Excel or cloud-based software?
For many, Excel is the first stop when it comes to managing business finances. Yet the downsides of Excel quickly come to light when the accounts start to get a little more complex. Cloud-based accounting software provides an ease-of-use and convenience that make it the clear choice for freelancers, sole traders, and small businesses.
---
Excel has long been considered one of the most important programs for businesses. It's a powerful software that allows knowledgeable users to manage large amounts of data.
However useful and powerful, Excel does have a rather large downside: it is an incredibly complicated program. Basic functions are relatively easy to manage, but as soon as it becomes necessary to use more advanced parts of the software, it becomes complex, time-consuming, and for many, impossible.
In fact, a small mistake can result in catastrophe. Take the case of the British bank JPMorgan, described in detail by The Baseline Scenario: one copy-paste mistake on an Excel spreadsheet cost them billions.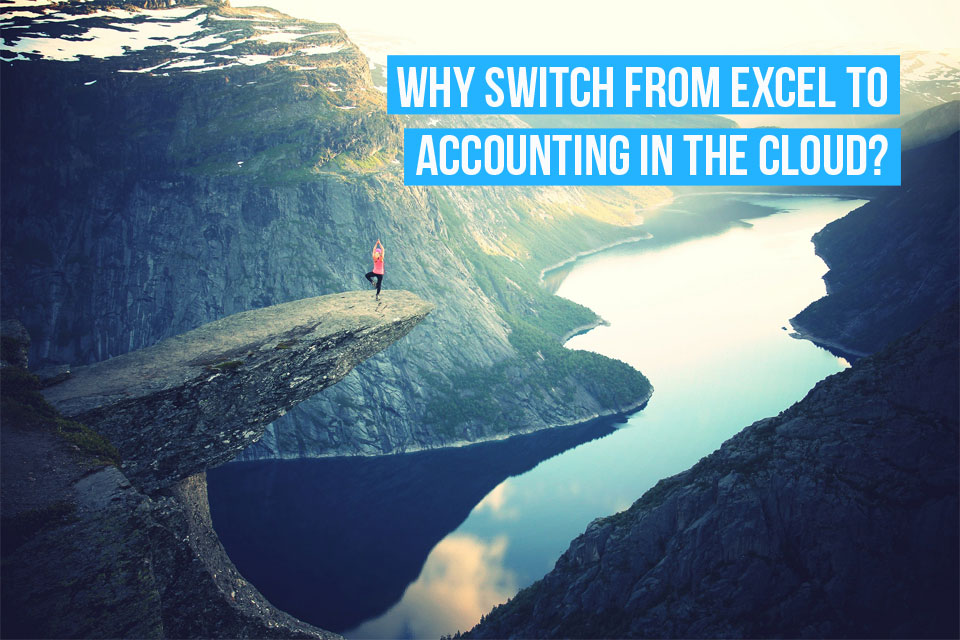 The worst part? Costly errors in Excel are often those that are the hardest to spot or prevent. So not only should you be careful when using Excel, but you should probably also have your work checked over by an expert. Or three.
Excel or an online accounting program?
It's probably not surprising that Excel is one of the more popular options for self-employed looking for an option to manage their business finances. For many, it's about ease of access, since many already have it available on their computer and because it is fairly straightforward to use in the beginning.
Excel is considered an affordable option as well, and its versatility means it can be used for other things as well instead of needing multiple specialised programs.
However, while this all sounds well and good, there are a few traps in these seeming positives of working with Excel that we'll examine more closely. But if you're already looking for a new solution fast, you can trial Debitoor accounting & invoicing software yourself.
If you're feeling a bit reluctant to part with Excel despite it becoming a bit cumbersome with a growing business, we'll take a look at some of the primary downsides of working with this spreadsheet behemoth.
Excel is difficult. Yes, it's easy to create a spreadsheet. It's even easier to make a mistake that isn't discovered until it's too late. This is where the difficulty of Excel begins.

Setting up a new spreadsheet takes time. It's quite important to have a clear system that can be scaled - how are you going to record your income? Your expenses? What about the details? VAT/GST, deductions, discounts?

Excel does not keep track of billing, tax, or other regulation changes. While Excel does offer invoice templates, they are not updated or localised. If there are any regulation changes in your country, these will not be applied to your invoice templates. In other words, it's your responsibility to do the research and update your invoices and accounting details when necessary.

No categorisation of expenses or autofills. Excel does not apply any accounting guidelines, so you must apply your own accounting knowledge in order to ensure things are calculated and filled in correctly. For many self-employed, this is a time-consuming (and endless) endeavour.

You are tied to your computer. While Excel does offer mobile versions, updating your account across all devices becomes a bit tricky. Not a problem with cloud-based software. It's always updated, no matter where you access or make changes.
These are just a few of the pitfalls of Excel that might not be so obvious when you've successfully created that first spreadsheet with calculations and all, but looking ahead to more complex formulas and additional spreadsheets and details, it can easily get a bit overwhelming.
Why is cloud-based accounting & invoicing software better than Excel?
Accounting in the cloud. What is it exactly and why should a freelancer, sole trader, or small business owner opt to leave Excel to the cell-formula-experts for a simpler and faster option?
Why should you take the leap to cloud-based accounting software, stepping away from the program you've been using since you started out? Here are just a few of the reasons:
Savings and convenience. Although good online accounting software is not free, there are affordable options for all businesses that more than make up for the cost in the long-run.

Simplicity and accessibility. Automation makes repetitive tasks more manageable and helps save time. Because your account is always synced across apps (including mobile), recording expenses and payments becomes as easy as a click or a swipe.

Always organised. There's no need to be constantly updating cells or sheets. Good accounting software makes it easy to stay organised, all the time.

Smaller margin of error. If your goal is to avoid costly spreadsheet mistakes like the one experienced by JPMorgan, cloud-based accounting software helps act as a safeguard against potentially more serious errors. And makes it easier to find and correct them when they do happen.

The cloud. Have we mentioned 'cloud-based' yet? What this means is that your data is securely stored on servers. This makes it easy to access your data from any device and protects against issues that could affect your computer or downloaded software like Excel.

Stays up-to-date. Behind cloud-based software is a team of experts and developers who are there to update as necessary, fix problems as they arise, and provide assistance. Updates are done automatically, without the need to download and install anything.
The reasons for choosing online cloud-based accounting & invoicing software over Excel can, in fact, be summed up in just a few words: convenience, simplicity, and accuracy. But above all, it helps you save time on the tedious tasks that you can then spend on growing your business and doing what you love.
Debitoor aims to provide freelancers, sole traders, and small business owners with a cloud-based accounting & invoicing solution that makes the decision to switch from Excel both easy and obvious.
If you're still unsure and prefer to base your decisions on your own experience, we support that and have made it easy to try Debitoor free, giving you the chance to see just how easy it can be to use software that makes running a business (and life?!) a little bit easier.