From Word to invoicing & accounting software
It's a programme most of us are familiar with. Whether from our school days or from the office or whether you have used it to make thank you cards, Microsoft Word is one of the best word processor systems to date.
It's also usually the first programme that entrepreneurs turn to when it comes time to start creating invoices. But how does it fare in the scheme of things? And what happens when the orders start to pile up, how can Word help you stay on top of your invoicing?
First things first.
Is Word optimal for invoicing?
Microsoft Word is one of the most widely used programmes for word processing. When you need to type something up, you don't open Notepad, but Word. It's known for its ease-of-use and is truly a tough competitor to beat in that respect.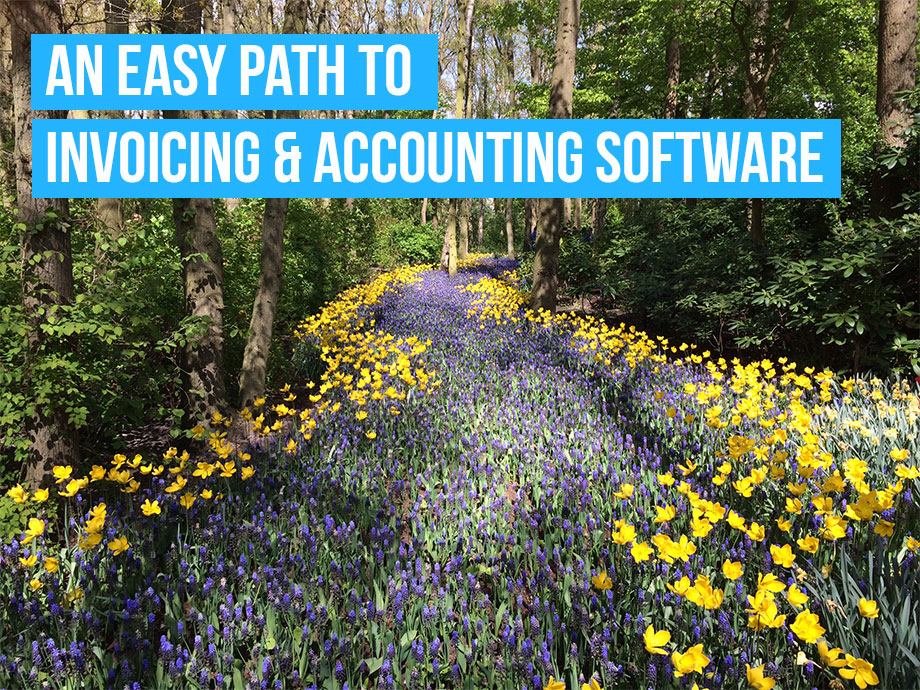 However, when it comes to invoicing, it's abundantly clear that Word is lacking features and functions that basic invoicing software makes easy and accessible. And yet, small business owners still seem to opt for Word. Why?
Word is available to all, offers invoice templates that are customisable and because it is a familiar programme, it can provide a certain feeling of security for users. Even for the least computer-savvy users, Word seems simple and straightforward, and prevents the user from needing to learn something from scratch.
But what if you were told that there is (intelligent) life beyond the confines of your Microsoft Office software? Life that keeps the ease-of-use that you love about Word, and combines this comfortably, intuitively, with accounting software?
And before you balk at needing accounting alongside your invoicing, don't worry. We will focus on the invoicing aspect. And in that sense, entering payments on invoices, managing expenses, these are the other side of your business that, at some point or another, you'll need to manage.
Whether you use it only for invoicing or also for managing accounts, give online invoicing software a try. We think you'll be pleasantly surprised. If you're not convinced, we've outlined some of the main headaches that occur when using Word for invoicing:
Your invoice template must meet all the most recent legal requirements
You must write out all your customer details correctly each time
You will need to find a way to save and organise your invoices on your computer
You need to return to your computer, open Word, wait while it starts up, and only then can you create a new invoice
Four common problems with Word
Let's take a closer look at these frequently occurring issues with raising invoices in Word. And take a look at how easily they can be solved with online invoicing software.
First. Are Word invoice templates all up-to-date with the most recent requirements? Do they adhere to the local regulations in your country? Do you know what needs to be added or removed? How often do you check up on any changes to the requirements?
With online invoice software, you have a team working with you, constantly ensuring that your invoice template adheres to all of the legal standards and will include all of the pertinent information that makes it a legal document. Localised for your country.
Second. In Word, adding the details about your customer to the invoice also involves making sure there aren't any errors, and fiddling about with the layout so the information fits and still looks aesthetically pleasing and professional for your customers. Factor in the time spent on this and you're losing money.
Your invoice design can be both custom and easy with online invoice software. Choose your layout, upload your logo or images, and save customer details so that they can be selected quickly from a drop down menu. Perfect every time, no need to mess with margins or line spacing.
Third. Once your Word invoice is completed, printed and posted to your customer, how do you keep track of that status of each invoice? Do you download it to your computer and save it into different files, always remembering to move it when a new action occurs for that invoice?
Invoicing software allows you to create, send and track each of your invoices directly from your online account. Your invoice arrives in your customer's email inbox, and you know when it's been read. The status updates automatically, and when you enter payment, it's marked as paid. All organised, all in one place.
Fourth. Invoices created in Word require a computer. They require downloaded software. They can even require extra work finding a new Word invoice template that you like for your brand. They're tied to your laptop or desktop.
Online invoice programmes today will usually provide a mobile app. That means that your invoicing and accounting is no longer tied to your workdesk, you can now stay on top of things while on-the-go, from anywhere, anytime.
Are you ready to help your business grow?
Of course you are. It's arguably the number one goal for most entrepreneurs and small business owners. Progress and growth often translate to more customers and profit. But often, budget cuts are made simply on the basis of spending, not considering the investment in tools that will help a business grow in the future.
Tools like invoicing & accounting software. For those just starting out, it might seem like a better idea to choose Word - after all, it's free (well, as long as you've already paid for it and have it installed).
But there are a multitude of invoicing & accounting programmes on the market today. These all have a variety of subscriptions designed for a business with any budget, at any point in their development, and with the potential to grow with the company.
It's therefore important to take your time to research and select the right invoicing & accounting software to fit your business. Getting set up with the right programme from the beginning will help ensure that your business starts off on the right track.
Invoice software vs. Word
If you still have doubts or if you have a deeply ingrained love for Word, you can download our Word invoice template. If, on the other hand, this article has served to make you consider improving your invoice practices, here are a few quick reasons invoice software absolutely thrashes Word when it comes to invoicing:
Invoice numbers are automatically saved, updated and applied to each new invoice
The status of your invoices is updated automatically, allowing easy sorting and viewing
Graphs and financial reports generated with a click allow you to keep a driver's seat view of your business
You can access and create new invoices from any computer, tablet or smartphone
Get invoicing and accounting out of the way of business growth, by managing both easily with online invoice software.