How to create invoices in Excel
Do you run your own business and want to create invoices using Microsoft Excel instead of through an invoicing programme? In that case you can create invoices by following our helpful steps below.
Using an Excel invoice template
As an entrepreneur, you likely want to create invoice quickly and easily, as you've got a lot on your plate and always have other things to attend to. And yet, the more invoices you create means the more you're getting paid. So there must be an efficient way to go about it.
There is: an invoice template. Debitoor offers ready Excel invoice templates, ready for download. Simply download the template with a click, open it in Excel, add your logo and fill in the necessary details, making sure to update it with your company information.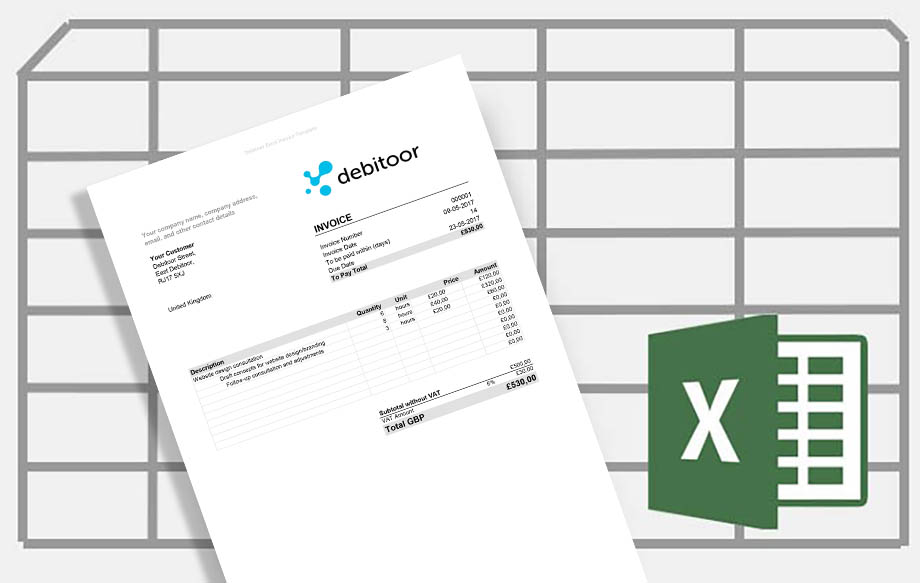 Usually, Office programmes also offer built-in templates as well, but these are rarely updated according to the latest requirements, so take care if you choose to use these invoice templates, to ensure that your invoice meets the criteria for a legal document.
If you already have a template you'd like to use, you'll need to create a new workbook in Excel. You can then try adding your template in - if it is an Excel template then you should be able to add it without too many difficulties.
Once you have the template you want to use, all you need to do is replace the necessary information to include the details to make the invoice legal from your business.
Create an Excel invoice from a blank workbook
Another option is creating a new invoice template manually, from scratch. This is not recommended, as it requires setting the parameters for the invoice one-by-one. A tedious and tricky process without a deep understanding of Excel.
But if you choose this method, you first need to select and set the size you're going to be working with for your invoice template - of course, this is typically A4. Once that's done, your invoices will all need the title of 'Invoice'.
Easy part done, next comes the content of the invoice. The mandatory fields that your Excel invoice template must have are:
The date of issue for the invoice
A unique invoice number that falls into a sequential numbering system without gaps
Your details as the issuer
The details of the company or customer you are invoicing
A description of the goods or services you are providing VAT registration details, if applicable
The total amount due
Using this system to create an invoice template is considerably more work than using an Excel invoice template. Invoicing software takes this process and simplifies it massively, allowing you to focus on other aspects of running your business.
Disadvantages of working with Excel invoice templates
Although at first glance Excel looks like a programme with just a sheet of cells that can be quickly merged and transformed into your perfect invoice, this is actually far from the reality.
Excel is a highly complex programme, built to handle complicated algorithms and make calculations. It was not designed to be easy to use for more visually appealing, potentially creative and straightforward documents such as invoices.
Knowledge of Excel's more advanced workings (well, even some of the more novice ones) can take years to study and master.
Invoicing software like Debitoor, on the other hand, is designed specifically to be highly intuitive, with a focus on the ease-of-use. That means that teams of specialists have determined the best way to make invoicing as simple and painless as possible. This is evident in features such as:
Saved information: The ability to save customer, product and supplier details that can be selected from a drop down menu when creating a new invoice.
Easy customisation: Add your logo with a click, select from a list of fonts and choose your own colour scheme or upload a banner image with the invoice designer.
Ensured accuracy: The fields required for an invoice are always up-to-date, helping to make sure that your invoice will be considered a legal document.
Improved organisation: Once your invoice is done, there's the matter of tracking it: whether it's sent, unpaid, overdue, or paid. Debitoor manages this for you.
Speed and mobility: We want invoicing to take up as little time as possible. That's also why our free mobile apps allow you to invoice from anywhere, anytime.
Debitoor is invoicing software that is built for freelancers and small businesses. It is designed to be beautiful and easy to use, even for those without any background in invoicing or accounting. Take a free trial today to see just how easy it can be to stay on top of your business.