Find out how to share and export your data from Debitoor
As your business needs evolve and personal preferences change, you might need to share your financial data with off-site professionals or store copies of your accounting data for backup. This section helps you understand how you can control and manage the financial data stored in your account.
Download data with one click
The file export functionality offers a perfect way to share your accounting data with accountants, auditors, or business colleagues who need to access your financial data on a one-off basis.
It also offers a convenient way to create additional backup copies, run batch editing operations or transfer data stored under your Debitoor account to other services.
For greater convenience, Debitoor stores all customer data in four files containing all of your entries for Invoices, Products, Customers, and Expenses since you began using the software. These files can be exported with one click from the Account tab, located under the Settings menu.
Your Debitoor account data is made available for download in a universal CSV (comma-separated value) format. CSV format makes it easy to import data into other software applications, online services, or spreadsheets like Excel without losing the original data structure.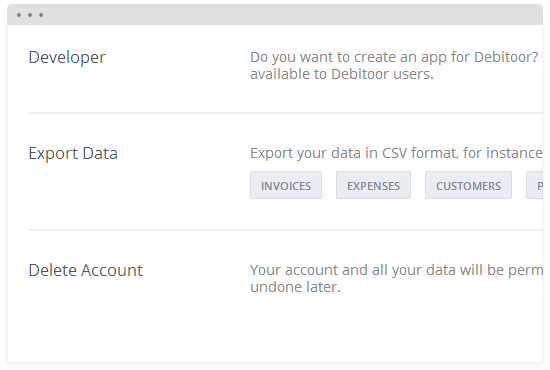 Set up web hooks for automatic data export
Creating invoices left and right? Have some programming tasks? For situations where it's necessary to ensure timely, regular export of financial data stored in your account, we recommend using the Debitoor RESTful API to run automated data export commands.
You can define specific times or service conditions, for example: first day of the month or payment confirmation received, to trigger the Debitoor API to push financial data to a specific location.
All you need to do to get started is to obtain an access token and register the external service/app you plan to use.
Quick facts
Data export in a CSV format is available in any Debitoor plan. Just go to your account settings and choose whether to export your expenses, invoices, products or customers – or all of them at once. This file can easily be imported into other systems or opened in programs like Excel.