A quote is a document you send to your customer to let them know what your services or products will cost, before you finalise the sale.
---
Make a good first impression
Sending a quote to your customer – also known as a 'quotation' or an 'offer' – is your chance to promote your products or services at the all-important start of a business relationship.
It usually follows a conversation or personal meeting with your customer and puts your business proposition in writing.
Understanding your customers' needs is key to convincing them to purchase your goods or services to eventually generate more business.
Add a personal touch to your quote
To make it stand out visually, you can customise your quote to represent your business by using colors, highlights and positioning of specific details.
Use the text fields to refer to your conversation with your customer and be sure to stress the benefits of working with your business – even if you've already given your sales pitch over the phone.
Add all relevant details of your deal to your quote and address any unspoken concerns that your customer might have, such as delivery details or what happens in the case of a delay.
The more accurate and tailored the quote, the closer you are to closing the deal and eventually turning your quote into an invoice.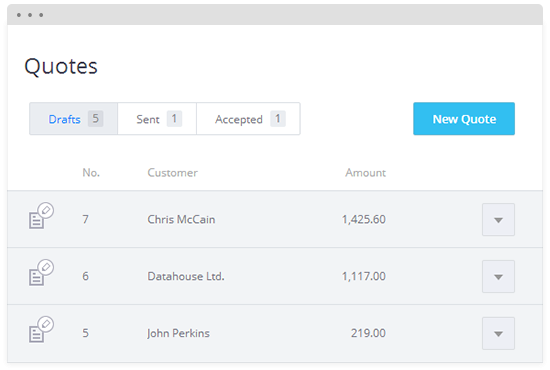 Price, delivery, quality, or?
It's common practice to ask for quotes from different suppliers, so you should always create your quote with your potential competitors in mind.
The better you know your customer, the better your chances of understanding what's most important to them. Your customer may already have a budget for what you're offering or a set deadline for it to be ready.
Quick facts
You can create a quote in a few easy steps in Debitoor, send it to your customer and track it to see if your customer has received or accepted it.
You can send an unlimited number of quotes on the free plan, but to convert a quote to an invoice, it's necessary to upgrade to a more advanced plan.
This is also the case if you want to design your invoice, which is only available in our higher plans.