Boost your brand with your invoices
Branding might seem trendy, but it's an important aspect of marketing that can have a big impact on the success of your business. Here's how to boost your brand in your communication with customers, namely, on your invoices.
---
The key to enhancing your business involves improving visibility of your brand is to increase its reach. While this might seem relatively straightforward, it can be challenging in a competitive market where there is a lot of noise for potential customers to sift through.
Thankfully, there are many ways to get your brand across to your target audience. Whether through a well-designed SEO-optimised website, word-of-mouth from happy customers, through email newsletters, and also on your invoices and other sales documents such as quotes and delivery notes.
Create beautiful invoices with invoicing software
Presenting your customers with a professional image is part of not only helping to encourage continued business, but also can have an impact on whether your customers pass along your information to others who can potentially become customers.
A professional image involves not only the sale itself, in providing quality goods or services, but also your communication with the customer and yes, all the documents involved in the sale. Each document is an opportunity to communicate and boost your brand.
Invoicing software like Debitoor gives you the tools to quickly and easily create custom invoices complete with your logo and fitting your brand. With the invoice designer, you have several formats that are customisable - from image to font, colour, format, and more. Select what to include and what to hide with a click.
Because the invoice designer is so easy to use, it's always possible to update your invoice or change it to appeal to a particular customer, for example. The ease-of-use also means that you save time and frustration in designing a professional invoice.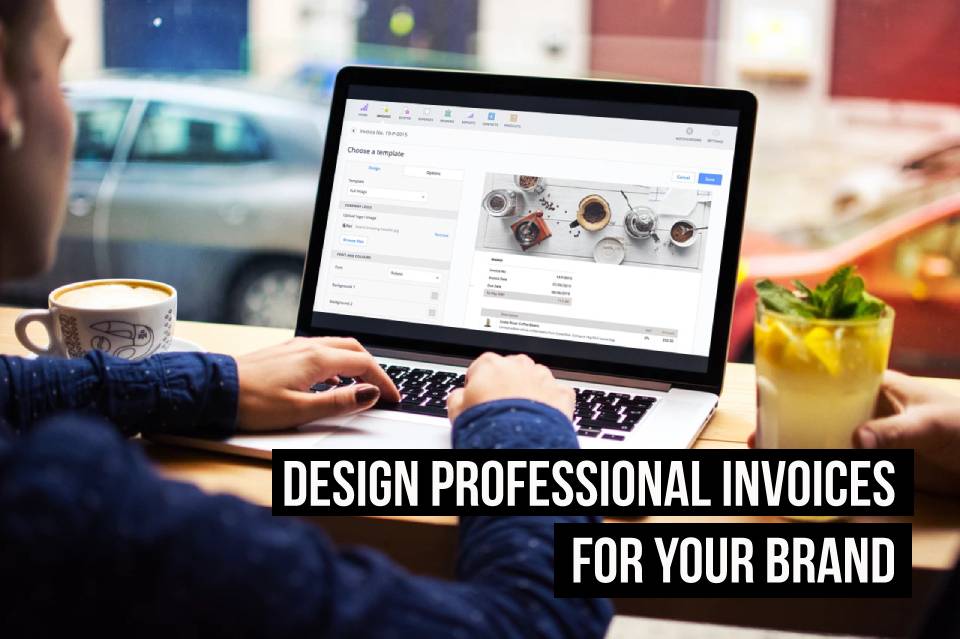 A well-designed invoice
It's one thing to talk about how easy it is to create a beautiful invoice with the right software, but what exactly does it mean to have a well-designed invoice? There are a number of aesthetic elements to consider, but there are a few key things to keep in mind, even when using invoicing software to create your invoice:
Your industry. For example, if you're in a creative field, your invoices can likely be a bit more designed. However, if you're in a more traditional field, it might be better to keep the design classic and let the simple professionalism make an impact.
Readability. When you have different fonts and colours to choose from, it can be tempting to go a little more out on a limb, after all, you want your invoice to stand out, right? But it's important that you keep your customers in mind. Will they really appreciate a loud colour or funky font? Your invoice still needs to be clear and easy to read.
Alignment. Even if you've considered your industry and your audience, it's still important that your invoice is aligned with your business brand image. After all, that's what this article is all about!
An invoice should not only look presentable, it is still a legal document with specific requirements. Therefore, it's important that in customising your invoice with your brand in mind, you don't forget the necessary information. For UK businesses, this means:
A unique, sequential invoice number
Your business contact details
Your customer contact information
A description of the goods/services being provided
The invoice date and supply date
The amount charged for the goods/services
VAT (if applicable)
The total due
It's about finding the right way for you to include the necessary information on your invoices, while also giving you the opportunity to create a memorable design that promotes your business' brand.
Designing your invoices
When starting a business, the design of your invoices is not likely to be high on your list of priorities. Many business owners simply download the first invoice option that comes up in a Google search, add a logo and quickly send it off when necessary. However, this approach can have several serious pitfalls.
An invoice template downloaded from a search can be worryingly inadequate for your business. Beyond the design elements, a basic invoice template can be missing legally required details in your country or industry, is unlikely to be updated in the case of new regulations, and can have inaccurate calculations.
Although these invoices are usually somewhat customisable (for example, an Excel invoice template) businesses that want something more easily and professionally designed will benefit greatly from online invoicing software.
Find time to sit down and consider whether your invoice is actually promoting your brand, put yourself in the place of your customer and be honest about the impact that your documents might have on their experience.
If you're unsure how to start with your invoice design, it's worth turning that Google search into a more specific search for examples of invoices in your field. What are your competitors doing? How can you help your brand to stand out on your invoices?

Once you have an idea of the elements that you like, you can preview your invoice design in Debitoor and make adjustments as needed. When you're happy with your design, it's as easy as clicking 'Save' and you're ready to start sending off your branded invoices.
Debitoor's invoices also offer some additional features that provide added customisation options, such as a 'Notes' section, where messages can be included for the customer directly on the invoice, as well as a 'Terms' field where you can include payment instructions for example, and the possibility to include attachments such as a product catalogue or promotional flyer (even as default!).
Final tips for designing your invoices
As we've mentioned, every document is another opportunity to promote your brand, make it memorable for your customer, and increase your chance of future business. Your invoices should stand out and be professional, but still include the important information that is necessary for this binding document.
Using invoice software like Debitoor makes it easy for you to try different designs and find the right one for your brand while not worrying about whether your invoice meets local legal requirements as our team ensures that every invoice meets these regulations.