The Debitoor iPhone app Version 1.2 is here with a couple of visual changes plus a new time-saving feature.
So, what's up?
You might notice some minor design changes when you log in to the new app the first time. Tap on the 'Invoices' tab and you'll find a new section to view 'All' of your invoices as well as the 'Total Unpaid' counter that tells you how much money your customers currently owe you. Neat, huh?
And it's so much easier to add new names to your customer list now. Just import details from your phone's contact list. Personally, I've been really looking forward to this feature.
I'm using the Evernote Hello app to get personal details from potential customers and now I can import these into Debitoor without typing anything at all! You can also call or e-mail your customer directly from the Debitoor app - so if you need to follow up with an order - you can do it right away with a simple tap.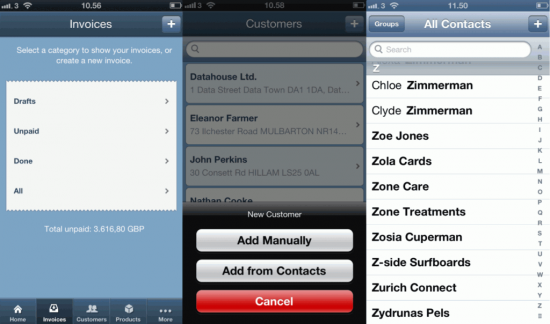 Free from the App Store
If you already have the Debitoor iOS app installed, just get an updated version. If you're not a Debitoor iPhone App user yet, you can get it from the App Store for fast and easy invoicing on the go.