Tired of your default invoice template? Want to move things around? The new Premium feature is here to change the look of your invoice.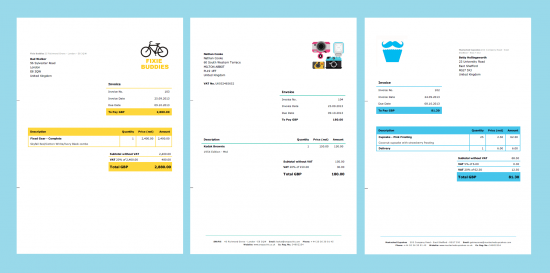 New Premium Feature
The Invoice Designer is a part of the Premium version. You can play around with this feature as a free user but for your changes to apply you have to upgrade to the Premium version at €5 per month.
The works
This new feature is available as of today and you'll notice it when you start working on a new invoice or quote.

Have you noticed the 'Customize' tab on the top left-hand side? Give it a try, and see for yourself. Please note, if you apply any design changes they will be applied to all your previous and future invoices and quotes. If you like to apply the design to your invoices remember to click the 'Apply' button.
Here's what you can do with it:

Change the header: move your address & logo, remove logo or the address and choose what you want to be displayed
Change the colours & columns: choose from four colour options, make lines thinner for a more minimalist design and remove any columns you don't want displayed
Remove the footer: if you don't want your company details displayed.
Got more ideas?
Our developers have come up with this solutions thanks to your votes on our Feedback Forum. There are a good few suggestions that fit into this update, but maybe you wanted to see something more? Your suggestions and comments are always welcome.