England is heading into a second national lockdown on November 5th lasting for 4 weeks. The government has ordered all non-essential businesses to close and issued a stay at home order that can only be broken for specific reasons.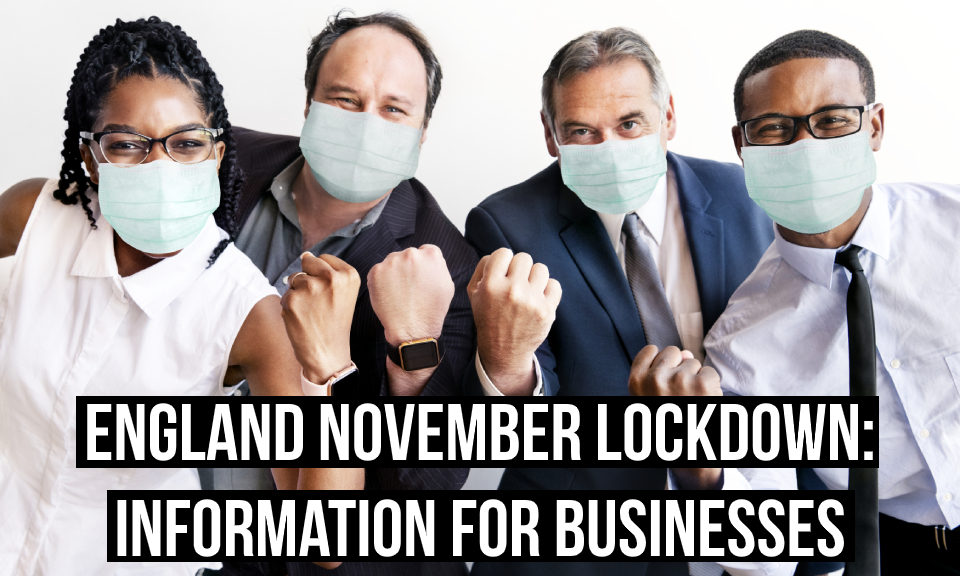 In this article, I will outline what businesses need to know about this lockdown, and what support is available to them and their employees.
Which businesses must close?
The government has instructed all non-essential businesses in England to close for the duration of the lockdown. This includes retail, leisure facilities, gyms, entertainment venues, salons, pubs, and restaurants.
Since the reason for this lockdown is to reduce the amount of social contact, non-essential businesses are allowed to stay open only for delivery, click & collect, and takeaway service.
Essential retail can remain open as long as they follow the COVID guidelines to protect their workers and customers. This includes supermarkets, food shops, and garden centres.
Some hotels and accommodation can remain open under certain circumstances which will be announced in the coming days. There are other exempt businesses including childcare, schools, and support groups which will remain open.
The lockdown regulations also state that workers must work from home wherever possible. Workers can continue to travel to their workplace if they cannot carry out their duties from home, or if they are an essential worker.
Furlough scheme extension
Before the lockdown was announced, the furlough scheme, also known as the Coronavirus Job Retention Scheme (CJRS), was due to end on November 1st. This was going to be replaced by the Job Support Scheme in which employees needed to work a minimum of 33% of their normal hours in order to receive a grant from the government.
However, now that businesses are forced to close their doors, the original furlough scheme is being extended until at least December 2nd. The new Job Support Scheme will be postponed until after the lockdown.
The Coronavirus Job Retention Scheme allows employers to furlough their staff, and claim up to 80% of their normal salary from the government.
The government has also announced that the scheme in November will be more generous to employers than in October and the previous months. The exact meaning of this will be announced shortly.
You can read more about the furlough scheme, and any new rules surrounding the scheme on the UK Government website.
Grants for businesses forced to close
Since all non-essential businesses must close for the lockdown, the government has announced new grants. These grants are only available to the businesses required to close and are based on your rateable value (RV) which can be found on your most recent business rates bill.
If your RV is less than £15,000, you will receive a grant of £1,334 per month
If your RV is between £15,000 - £51,000, you will receive a grant of £2,000 per month
If your RV is over £51,000, you will receive a grant of £3,000 per month
Support for the self-employed
The Self-employed Income Support Scheme (SEISS) will continue to run as normal. One month ago, the Government announced its Winter Economy Plan which saw an extension of the SEISS grant until April 2021. HMRC will contact you directly if your business is eligible.
These grants are available to sole traders or partnerships that are negatively affected by the pandemic to receive up to 80% of their average business income as a government grant.
The grant will be paid in 2 sums, each covering 20% or your average profit over 3-month increments.
Summary
The aim of this lockdown is to reduce the R number, control the virus, and possibly have Christmas gatherings with family. The government has mentioned that they do not plan to extend the lockdown measures past December 2nd, however, they will assess the situation in the coming weeks.
The government will continue to announce new support for businesses affected by the new lockdown. The most recent information can be found on the government website.