When you log in to Debitoor accounting software today you might notice a little change: you can now convert a quotation to an invoice in just one click! All thanks to your feedback.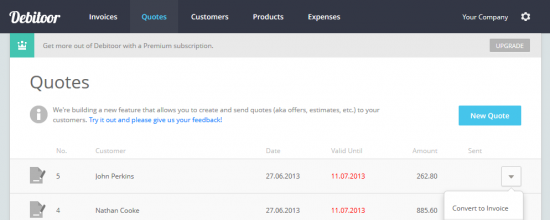 Time is money
That's why we keep on adding more time-saving features for you. To convert your quote to an invoice, just select 'Convert to invoice' option from a drop-down menu, complete the invoice details in Draft-mode and finalise the invoice. It's that simple.
The option to create quotes is still available under free version of Debitoor, but it will soon become only available under Premium plan alongside other features that will help you automate your workflow.
Keep your feedback coming - we always look forward to it!