If you work in manual labour, it's common for your customers to shop around and get numerous quotes from different companies, before choosing who they want to complete their work. This can make it more challenging for you to stand out from the crowd.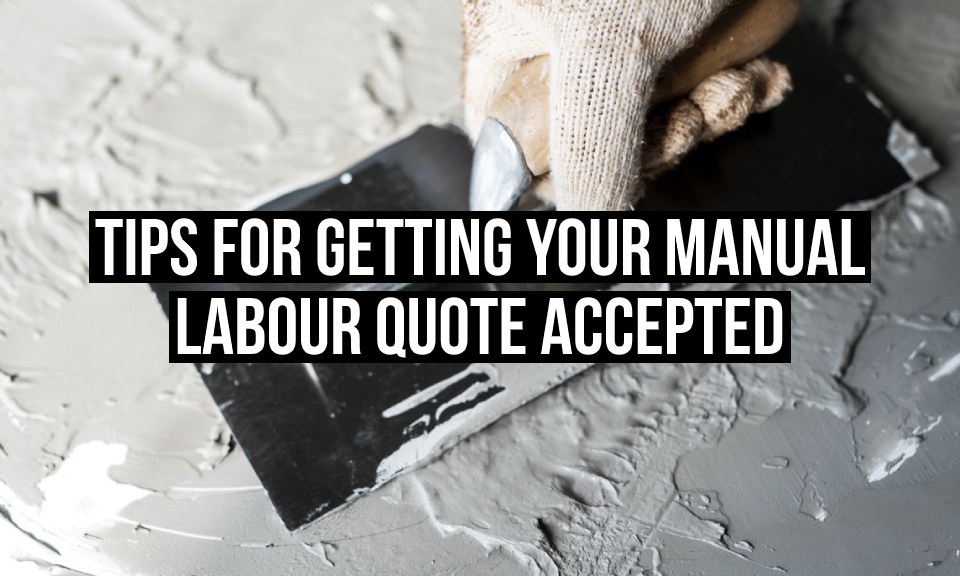 Here, we take a look at what you can do to improve the chances of your customer accepting your quote.
1. Have an ideal customer in mind
Before even quoting a customer, you should think about who your ideal customer would be. You need to consider the types of manual labour you can do, what sort of time frame you expect a job to take, and the quality of service you can provide.
Thinking about these things will help you to narrow down your ideal customer and allow you to target the type of customer who is likely to be impressed with what you can offer. If they're impressed and your expectations align, then they're more likely to accept a quote that you give!
2. Meet in person to give your quote
Arranging a physical meet up with your potential customer is a sure way to improve the chances of converting a quote into revenue. If you're able to explain what you're quoting for in front of your customer, they'll see that your business is completely transparent and there are no hidden costs.
You'll also be able to explain the project in more detail and allow them to ask any questions they may have. Visiting the job site will also give you a deeper understanding of the project's scope, helping to ensure that your quote is not overpriced, but also profitable for your business.
By creating a good rapport with your customers and showing that you are personally invested in their project, your business will thrive.
3. Keep the quote simple
When working in manual trades, it's natural for a project to include a lot of different items or services. Avoid the temptation of over itemising your quote. Doing this will signal to your customer that they can do some aspects of the job themselves and they will try to cut tasks to save money.
You should strike a balance between detail and over itemising. To do this, think about the clearest way you can explain the different services or products the project requires. For example, if you're laying a new patio with evening lighting, you're unlikely to want to quote the installation of each light separately. One line would be sufficient.
4. Maske sure the quote has all the necessary information
Of course, you don't want to over itemise your quotation, but you do needs it to have all of the important information. Ask yourself if you would understand the quote if you were the customer. Would you want to have more information about?
In Debitoor invoicing software, you can add a short description to every line of your quote. Use this to give all of the details your client needs so that they can decide whether they want to proceed. Don't, for example, just add the item 'lighting' without any explanation. Rather, take the time to say, 'installation of 6 outdoor lights around patio'. Being specific will instil your customer with confidence in your service and make them more likely to accept your quotation for the work.
5. Demonstrate your work's quality with clear accreditation
If you want the customer to accept your quote, they need to be assured that you can deliver what you promise. If you're accredited in your trade, have won awards for your work, or have excellent reviews from previous clients, make sure that they know this when you issue them with the quote.
Of course, this information should be displayed clearly on your website and your marketing materials. Remember however, the quote you issue be the first point of contact they have with your company so include your website address so they can do some more research into you and see how great your business really is!
6. Follow up quickly after giving your quote
Once you've given your customer a quote, it's always a good idea to follow up to check they have received and understood everything. Usually, following up within two to three days after issuing the quote is an acceptable amount of time. You don't want to come off as overly pushy, but you also want them to remember you clearly.
By following up, you give your customer a gentle nudge, and allow them to ask anything else that they may be concerned about. By following up promptly, you again demonstrate you're an organised and professional company, and this gives the quote the best chance of being accepted.
Creating a quote with Debitoor
To create a quote in Debitoor, you need to first open the 'Quotes' tab and hit 'New Quote'. Fill out the customer information, list of items, and remember to select how long the quote is valid for. When you're ready, select 'Complete Quote'. Your quote will then be ready to send to your customer.
If the quote is then accepted, open it, click 'Accepted by Customer' and then 'Convert to Invoice' to automatically transfer the information over to a new invoice. Once you've checked all the details are correct, just tap 'Complete Invoice' to then send your new invoice to your customer.