Whether you own a small business in the trucking industry or are in the finance team of a moving company, it is important to have reliable invoicing software to keep track of your company's finances. Invoicing software can help you create invoices and delivery notes, track expenses, generate income reports, receive payments, and save you tons of time and stress.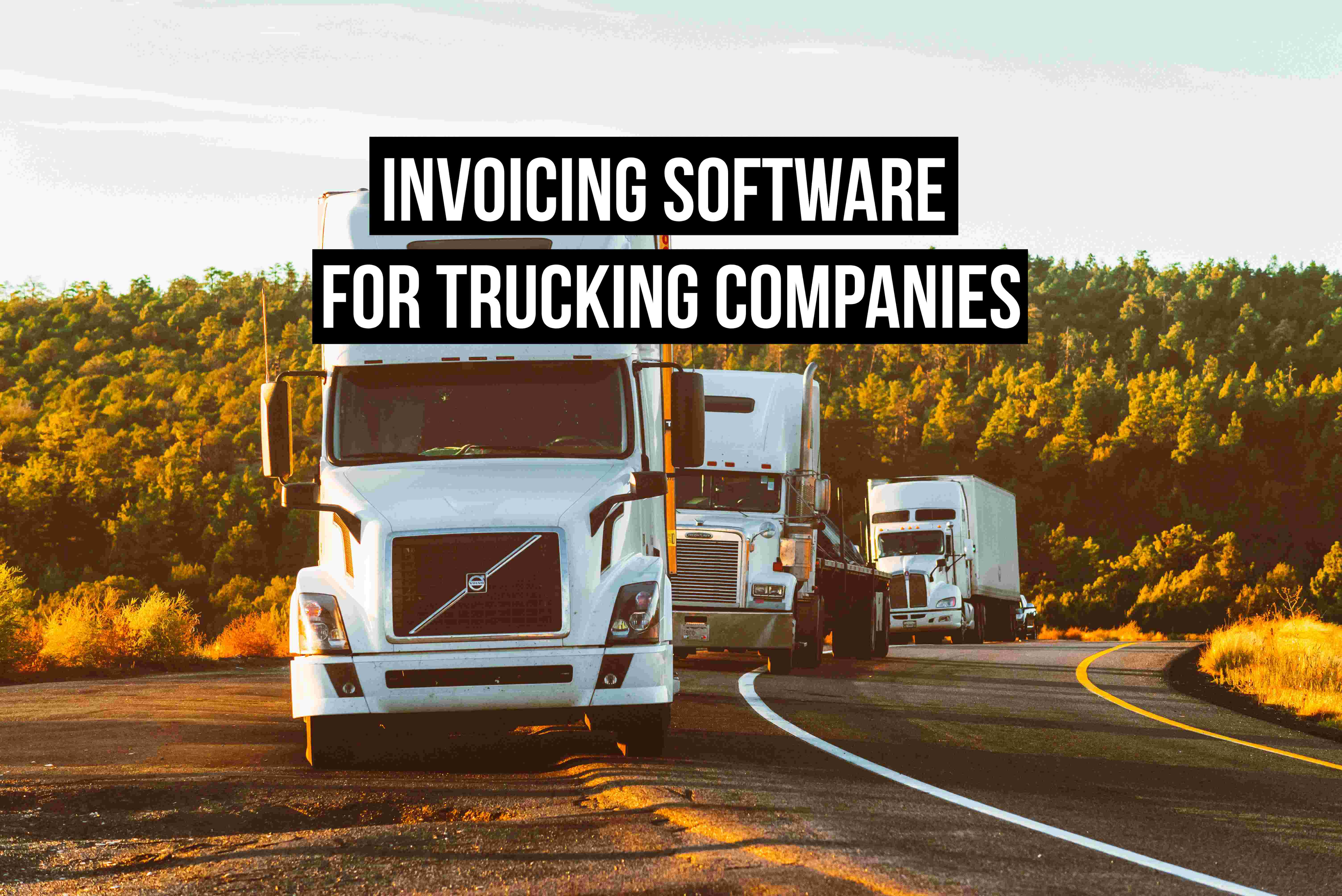 Choosing the right invoicing software for your trucking company can be tough when there are so many options out there. This article will help you decide which features your company needs and how to get the most out of invoicing software.
Creating trucking invoices
Invoices are important for keeping track of what customers owe you, having them pay on time, and for generating important accounting reports for your records. Sending your customer a professional invoice will ensure that you are paid on time.
Invoicing software makes it quick and simple to create and send invoices to clients. You can create or import customer, product, and supplier lists that can auto-fill the details on the invoice.
If you have recurring clients, you can set up recurring invoices so that invoices are automatically created and sent to your customer at a specific time interval.
Invoices need to have specific details in order to make them legal. Details like your company name and address, the customer's name and address, your company registration number, an invoice number, the date, a description of the goods or services provided, and the total price are a few things that need to be on a legal invoice.
Invoicing software makes sure that all required details are on the invoice for you. All you have to do is fill in some boxes and then you're all set to send the invoice to your customer!
There are optional extras you can add to an invoice such as discounts, late fees, and details of how to pay. If there is anything else you want to add to your invoice, it is possible with invoicing software like Debitoor.
If you're not ready to send an invoice, you can easily send a customised quote to your customer and negotiate the terms before issuing an invoice.
Customise your trucking invoices
With invoicing software, you can customise your invoices to make them unique and professional.
With Debitoor, you can choose from multiple templates, add a logo or pictures, change colours, and choose what details are shown on the invoice. Customising your invoice will set you apart from your competition and help promote your brand.
Here's an example of a customised trucking invoice: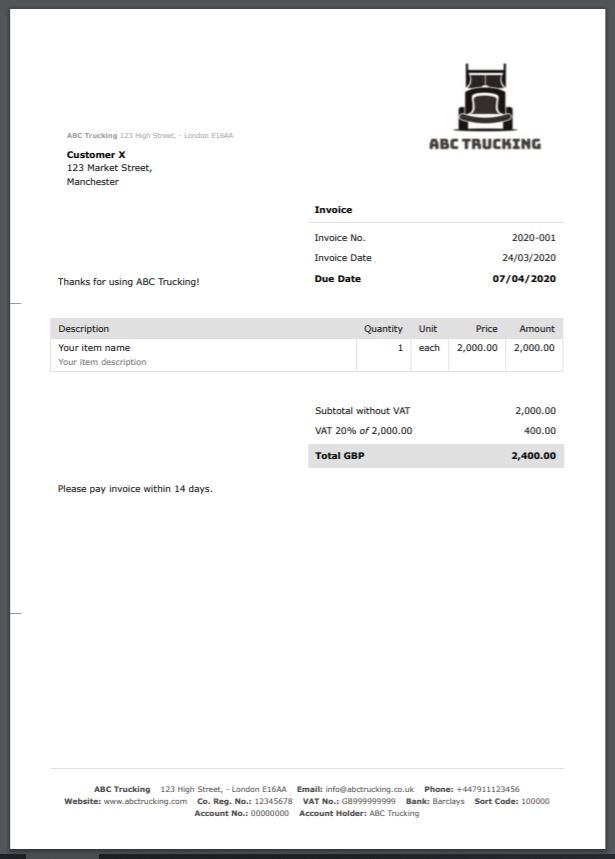 Trucking expenses and invoicing software
In the trucking industry, we understand that there are many expenses to keep track of, such as parking, fuel, new trucks, and tolls. Invoicing software makes it simple to add these expenses to your account, and to your reports.
Let's say you have a driver on the road who stops for gas. The driver can easily snap a picture of the receipt and the software will do the rest!
Debitoor uses OCR technology which can read text from pictures. The system can automatically fill in the details from the receipt, like that the expense was from 'ESSO Gas Station' on 'March 24, 2020', for '£296.72', and will mark it as an expense for 'vehicle operating costs'.
You can also mark expenses such as employee wages, vehicle purchases, car insurance, etc. In Debitoor, you can mark certain expenses as an asset, and set the depreciation of the asset over time. This is especially useful for vehicle purchases.
Trucking delivery notes with invoicing software
In the trucking industry, it is very important to always have a delivery note to accompany your shipment to provide the description and quantity of goods included in the delivery.
A delivery note should always include the name and details of your company and the customer, the date of issue, the date of delivery, a description of the goods, and the quantity of each type of product.
Invoicing software makes it easy to manually create a delivery note, or automatically create one from an existing invoice. It is also possible to customise your delivery note layout and include or remove certain information from the document.
Tracking trucking income with invoicing software
Tracking your company's income and payments has never been easier with online software. Invoicing software can help you bill customers immediately after a load has been delivered or shortly after. The software shows real-time profit and loss and can run reports for specific time periods.
If you have a regular client, you can also run a report showing what invoices the customer has paid and how much they owe you. This way, you can send an account statement to the customer who can pay you in one bulk sum instead of paying each invoice separately.
Debitoor has the option for automatic bank reconciliation which can match deposits and payments from your bank account to invoices and expenses in your Debitoor account. If a deposit matches an invoice, it will automatically mark the invoice as paid.
Receiving payment with invoicing software
With invoicing software like Debitoor, you can accept payment from your customers either in person or remotely with online payments.
SumUp offers card readers, POS systems, and online virtual payments so you can accept money from your clients from anywhere. The card reader accepts chip & pin, contactless, and mobile payments, whereas the virtual payment option sends the client to a secure link to input their credit card information. Payouts normally take between 1-3 days to reach your account.
You can also connect your Paypal account to Debitoor to accept remote payments. This allows you to accept credit card payments online which will be deposited into your PayPal account.
Accounting reports with invoicing software
Accounting reports can be daunting to create if you have little to no accounting knowledge. Invoicing software automatically creates reports like the balance sheet and profit & loss statement so you don't have to worry about it.
Anytime you add a payment, create an expense, or add assets, the reports automatically update and save. When it comes time to file your tax return, you just need to download the documents and you will have all the details you need to file your return.
Whether your drivers are on the road and using the Debitoor app, or you're in the office sending invoices through the online platform, Debitoor will save you loads of time and worry.
We have an excellent multinational support team who is available to answer any questions, receive feedback, or just chat about life! Feel free to test it out with a 7-day free trial, or send us an email to team@debitoor.com if you have any questions. Happy Truckin'!