Did a customer of yours ever claim not to have received the invoice you sent them? Are you sometimes curious about whether your customer has viewed your quote?
With this week's update to Debitoor, you can now send your invoices, quotes and credit notes as links instead of PDF attachments, allowing you to track their status.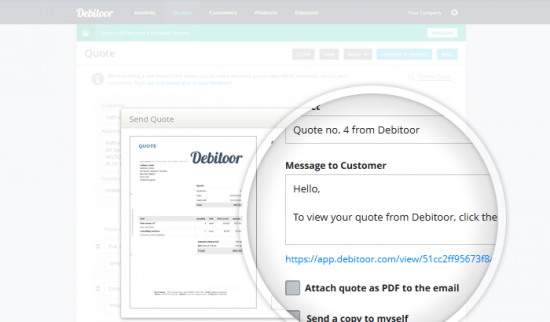 Tip: You can customize the text in the message field to personalize it or include more details.
Note: If you tick the 'Attach quote as PDF to the email' box, you will not be able to track your quote. Remember that your customer still receives your quote or invoice in PDF format, they only have to click on a link to get it.
Following the life cycle of your invoice - aka Getting Paid
An icon in your Invoices or Quotes overview will tell you the status of your document, so you can follow the stages of your invoice from 'sent' to 'viewed' - and ultimately 'paid' (for invoices).
We're working on adding more stages in the near future, such as 'accepted' for Quotes.
Meanwhile, we'd be happy to receive your feedback on this new way of tracking your invoicing. Or any suggestions to improve Debitoor in general.