You know when we say "Simple Invoicing & Accounting" we really mean it, right? You create an invoice or a quote with your product & customer details and just hit "Send". Easy peasy!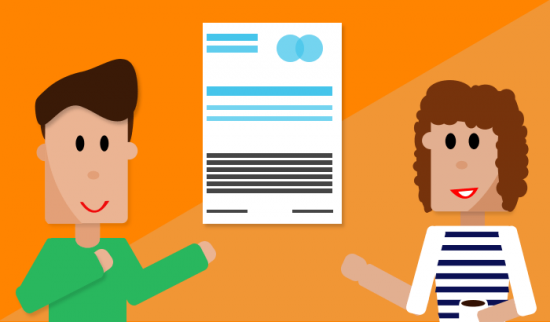 But sometimes you need to go beyond a simple estimate or confirmation of the purchase or a finished project. If you're a designer, chances are you want your customer to see the exact details and the process of the project you're quoting on.
And if something you're invoicing, has to include the shipping details, you'd like to leave a note for these on the invoice too. If we'd add all the little features that are very specific for you business, it would make the application a bit hard to understand to those who are not in the same field as you. And that's why there's an additional message field with 5000 characters to your disposal. It's a simple and easy solution. So, let's see what you can do with it. 1. Bigger font for your company & bank details So, you want to have larger font for your company address, bank details or any other element on the invoice? Just include it in the additional message field like an example below: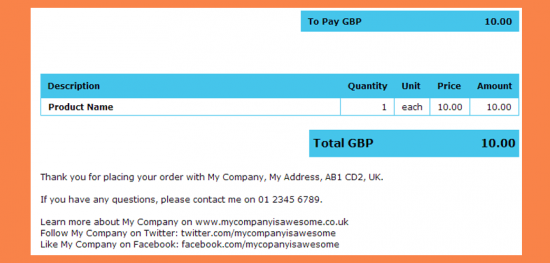 2. Partial Payment & Receipt Did you already receive a payment or part payment for the project? Or perhaps, you require a part-payment for this project before it's completed. Mention it on the invoice before you send it to the customer. You can send a Draft invoice with the acknowledgment that the invoice has been partially paid and that a final invoice will be issued once it's paid in full.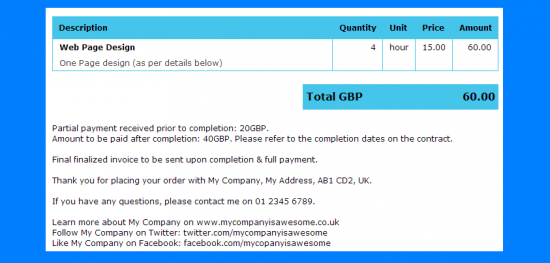 3. Specify unit type for special requirements If you have some special product unit types that are not included in Debitoor at the moment you can outline them here as well. Just like on the example below:
4. Payment details Got special payment terms? Do you want to let your customer know that you will provide a completed order after the payment has been made? Or there's a particular way that your payment has to be processed? Let your customer know if the additional message field: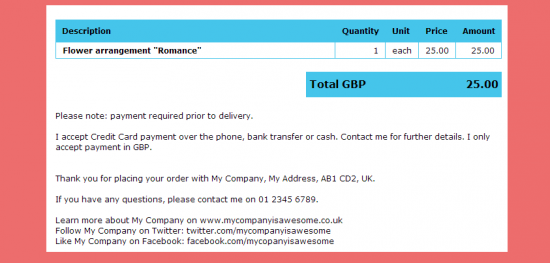 5. Shipping details If you're selling a product that includes shipping it would be great if you could also outline it on the invoice, right? What are your shipping rates? What are the lead times? You can also improvise a little and add "_" symbol, so that your customer could sign the invoice (if you're including a physical copy) - that would turn your invoice into an improvised Delivery Docket. Here's an example: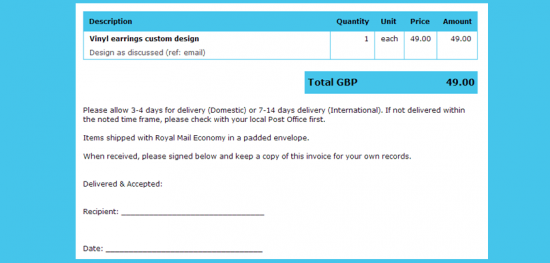 6. Job docket & Project Description When you work on a freelance project you might as well let your customer know exactly what happens if they don't pay on time, if you're required to work additional hours & also clarify any details of project: what you're willing and what you're not willing to do etc. You have 5000 symbols in the additional message field - that's enough to fill about 2 pages. So use these to give as much detail on the project as possible.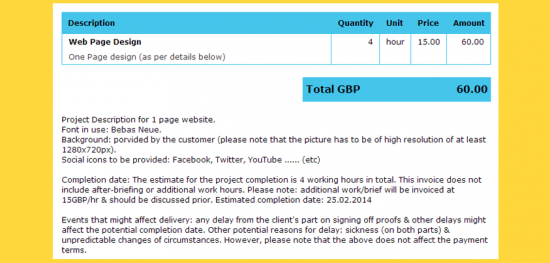 7. Personal Message You can also just leave a personal message for your customer. Just like David does in Debitoor support videos. And also if you have any seasonal greetings for your customers - this would be a the space to express these. 8. Anything else You see, once you know that you have all this space (5000 spaces to be precise) you can let your imagination flow. Of just be extremely practical and outline any particular details you want to discuss with the client at the door: travel arrangement, expense arrangement and other terms & conditions. The space is open to your disposal. And remember that you can save the message - so it appears on all of your invoices or stays as a template for your future arrangements. Are you already using the additional message field? What do you use it for? Do you have any suggestions for your fellow users on what they should mention on their invoices?