On Monday, the Welsh government announced a fire-break lockdown lasting from October 23rd to November 9th 2020. This strict national lockdown will affect all aspects of our daily lives from travel, work, education and exercise. Due to the nature of this lockdown, the government has announced new schemes to support businesses that are forced to close their doors.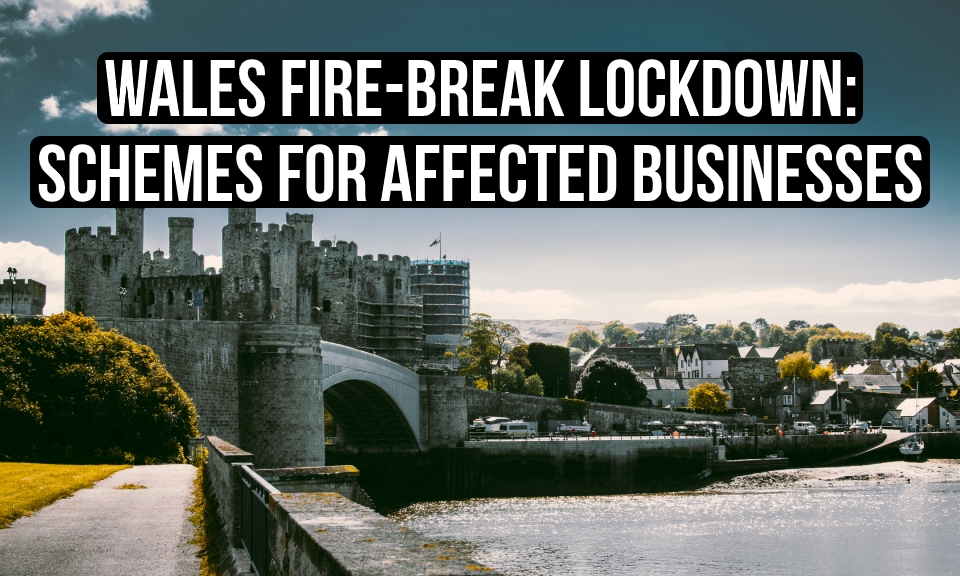 What is the Wales fire-break lockdown?
Coronavirus cases have been spiking in recent weeks across Wales which resulted in several local lockdowns. On Monday, the First Minister announced that a nation-wide "fire-break" lockdown will begin on October 23rd and last for 17 days.
This strict lockdown was introduced to bring the R number down, ensure that the NHS is not overwhelmed, and to avoid a longer, more damaging lockdown.
During this 17-day period, the government has asked everyone to stay home, insists that all pubs, restaurants, and non-essential stores close, and bans meetings with people you do not live with.
Financial support for Welsh businesses
This will be a difficult couple of weeks for everyone, and the government realises that this will have a huge impact on Welsh businesses. Therefore, they have announced financial assistance for affected businesses which includes both UK government schemes, as well as Wales-specific support.
The Welsh government has said that £300 million will be included in the 'Economic Resilience Fund' which is used to support businesses alongside the UK government wage support schemes.
Small business rates relief payment
If your business is eligible for the small business rates relief scheme, you can receive a £1000 grant from the government. Your property must have a rateable value (RV) below £12,000. You can find your RV on your most recent business rates bill.
Payment for retail, hospitality, and leisure businesses
The businesses most affected by the pandemic are in the retail, hospitality, and leisure sectors. Now that all non-essential businesses must close for 17 days, these businesses will receive a one-off grant from the government of up to £5000.
To be eligible for this grant, you must have been operating prior to the lockdown and only closing due to the fire-break restrictions.
If your rateable value is between £12,001 and £51,000, you will be eligible for the £5000. If your property's rateable value is less than £12,000, your business will be able to apply for a £2,000 grant.
If your business was affected by local lockdown regulations prior to the fire-break lockdown, you may be eligible for a £1000 grant along with other support that your business is eligible for.
UK Job Retention Scheme and Job Support Scheme
The UK Job Retention Scheme, also known as the furlough scheme, is due to end on October 31st. After that, the new Job Support Scheme (JSS) will take its place. The Welsh government is currently trying to get early access to the new JSS scheme prior to the fire-break lockdown. That should be decided in the coming days.
The current scheme, available until October 31st, enables employers to furlough staff and claim up to 80% of their normal wages from HMRC. The new Job support scheme is a less generous version of the furlough scheme but it still helps businesses retain employees.
Under the new scheme, employees must work a minimum of 33% of their normal hours, and the government will provide a grant worth one-third of the hours not worked. The employer pays for the hours worked as well as one-third of the hours not worked. However, due to the lockdown rules, these figures may change in the coming days.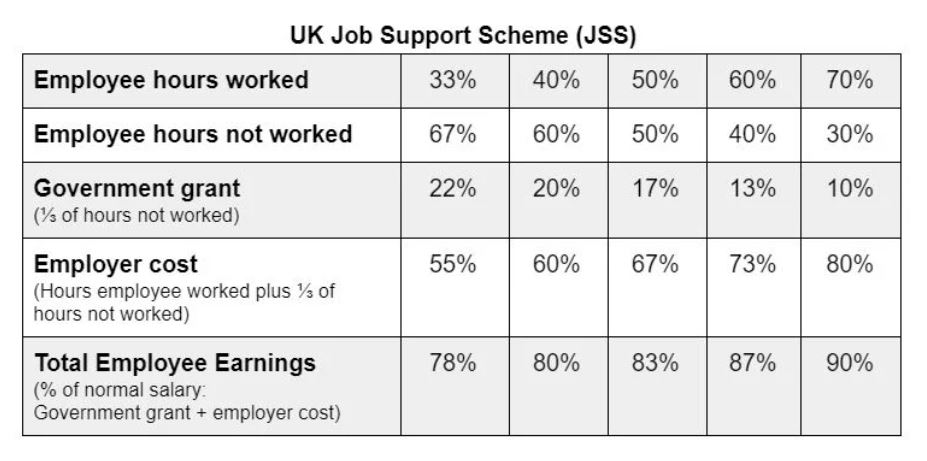 You can read more about the eligibility of the JSS scheme on our blog: 'New Job Support Scheme in the UK'. For the most up to date information regarding wage-support in Wales, you should visit the Welsh Government website.
Additional grants for struggling small businesses
The Welsh government has ensured that they will support affected businesses in any way possible. They are currently in talks to provide more financial support to help SME's most affected.
The information will be posted on the Welsh government website once it is available.
Summary: support for Welsh businesses
This article covers the new schemes and support available due to the fire-break lockdown. However, there are still several other grants, loans, and deferrals available to UK businesses affected by the pandemic. You can find more information on our blog: 'Winter government support for small businesses and the self-employed'.
For the most recent information, I would suggest speaking to an accountant or visiting the UK Government website.
Hwyl am y tro.