For the past few weeks we have been asking for your opinion. We asked what you thought of Debitoor and if you would recommend it to your friend or a colleague.
I have personally read through all your messages and tweets and they have made my day on several occasions. We have received some very high praises and also a some suggestions for improvement - and it's great! This way we can tell what we can improve on.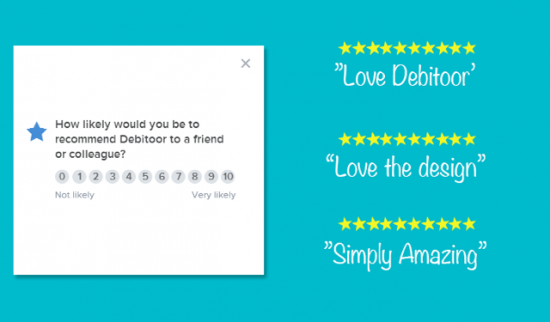 The net promoter score so far for Debitoor is 65 - a great number to be at. This number measures the likelihood of anyone recommending a product to a peer based on a scale of 100.
There's always a room for improvement and we're currently working on a bunch of interesting features coming your way very soon.
What's on your mind
There was a great variety in comments you have left us through the feedback widget in Debitoor.
Some comments were singing praises:
"Because your site works extremely well it's a work of art / genius"
"The software is not complicated and it is simply amazing"
"Cause this is the simplest and most helpful tool for enterprises"
"I love this service. Its reliable and generates high quality invoices. I love that its paperless and secure. I recommend it all the time"
"LOVE Debitoor"
"Debitoor is an awesome web app which we use to create quotations and invoices for our clients"
Some were more suggestive:
"Cant print customer statements"
"It would be great if the customers could be saved in alphabetical order. Makes it easier to trace"
"More reporting exporting of data"
"Would like to be able to redesign layout of my invoice so address and banking info larger as I want it"
"Because there is always room for improvement"
"No facility to auto send monthly DD invoices"
We also loved your tweets:






You can get in touch or follow our tweets on @debitoor.
The outcome
At the end of the day we're happy to see so much positive feedback. A lot of comments with the low scores have contained questions with the answers that could be easily found on our website.
A few users were seeking for support and didn't know that they could request support on the Feedback Forum. You could also get in touch with us on Facebook, Twitter, Google+ or email us at team@debitoor.com.
And if you have more feedback or suggestions - just keep them coming!