At Debitoor, we get a lot of questions about proforma invoices. Most businesses are aware of the term but are not entirely sure of how they fit into the sales process. In this article, I will describe when you should issue a proforma invoice instead of a quote or completed invoice.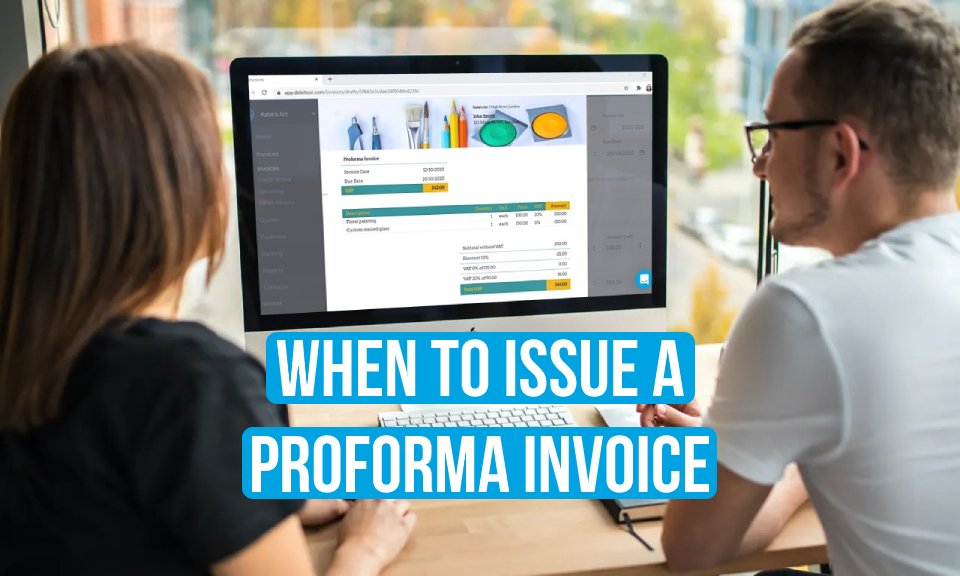 A proforma invoice is essentially a 'draft invoice' that is issued when a customer has confirmed that a sale will occur but has yet to finalise the details.
When to issue a proforma invoice
A proforma invoice is usually sent after a quote has been issued for a new customer and they would like to proceed with the sale. If it is an existing client, you may issue a proforma invoice instead of a quote because you know that the sale will eventually be confirmed.
A proforma invoice is not a legal document and payments cannot be made on them. It is sent as a preliminary invoice to later be converted into a full invoice once the details have been agreed upon.
Some details that the customer may be waiting to finalise are the quantity of products, the payment terms, or the date of delivery.
What is the difference between a proforma invoice and a quote?
Proforma invoices are quite similar to quotes in that they are issued prior to the sale being confirmed. However, quotes are generally sent when someone is initially enquiring about your products and/or services.
It is less common for quotes to become finalised sales than proforma invoices. But quotes can be converted into proforma invoices or completed invoices if the customer has expressed interest in continuing with the sale.
What is the difference between a proforma invoice and an invoice?
Again, this comes down to which stage of the sales process you are in. An invoice is a legal document issued to a customer when payment is due.
Invoices are the final stage of the cycle when the buyer has confirmed the sale and the seller is ready to accept payment from them.
Proforma invoices, on the other hand, are not legal documents and payments cannot be made on them. They are instead used to give the buyer an idea of the total price if they were to confirm the sale, but the details still may change.
Proforma invoices can be converted to full invoices once the customer has given their consent.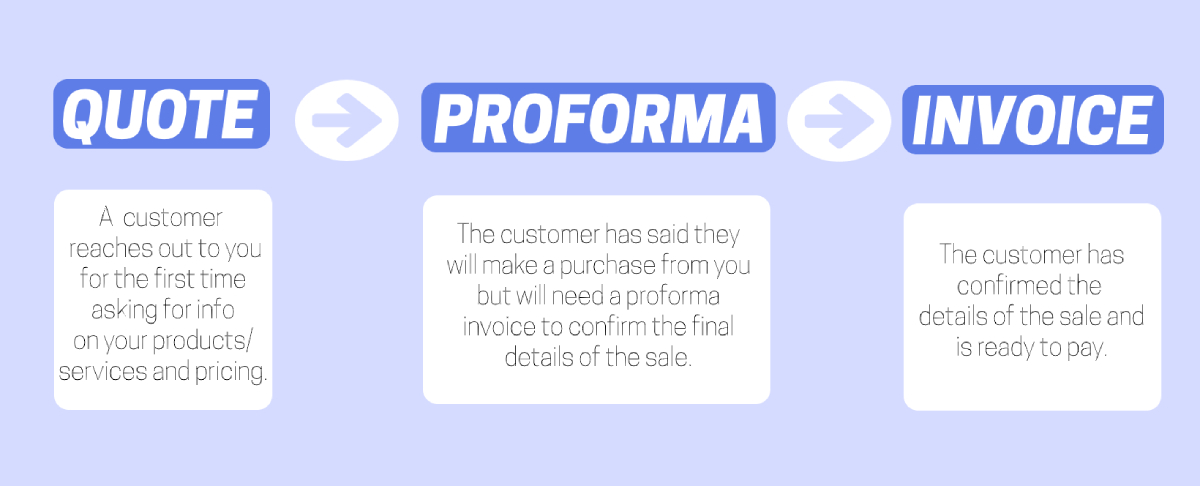 Example of when to issue a quote, proforma invoice, or invoice
Let's say that you own a company that creates custom t-shirts. A potential buyer reaches out to you from your website contact form asking for pricing information as they are looking for new company t-shirts for their staff. They ask how much it would cost to purchase 200 t-shirts with their logo.
You create a quote for 200 custom t-shirts, but advise them that the cost may vary depending on the different t-shirt sizes he requires. The potential customer responds saying that your prices were the best but he will need to confirm the t-shirt sizes and estimates that it will be 50 small, 100 medium, and 50 large.
Based on this information, you convert the quote into a proforma invoice, edit the price based on the sizes he provided, and send it to the customer. A few days later, he comes back to you with the final size numbers which were slightly different than what he had estimated. He says that he is ready to pay.
You then convert the proforma invoice into a full invoice and edit the final details as per the information he provided. The customer then pays the invoice as per the payment terms.
Invoicing software for proforma invoices
By its name, invoicing software may just seem like a program where you can create invoices. But some of these programs are much more powerful! With invoicing software, like Debitoor, you can create, send, and convert quotes, proforma invoices, and full invoices.
Essentially, you can take care of the entire sales process from one easy-to-use platform which updates and saves all of your data automatically. You can communicate with your customer directly from the software, and convert a proforma invoice to a full invoice with just one click.
On top of that, you can keep track of your expenses, deliveries, and accounting reports with Debitoor.
Create a proforma invoice in less than 1 minute with our 7-day trial.