During our annual team days, we set aside time to contact users directly and discuss their specific usage of the software and the workflow for their business.
We contacted a user located in Reykjavik, Iceland, who works in costume design and production for various theatres, television programmes, and film. An artist by trade, but still using a simple pen and paper for invoices before he found Debitoor.
Hard to believe, isn't it? He explained to us that since using Debitoor and the invoice templates and designer to create professional-looking invoices, he's found that he gets paid faster than before.
Need more reasons to design your invoices? Here are just a few:
Provide a clear purpose
As seen above, a piece of paper with notes about an order can easily be mistaken for something other than an invoice. However, a sheet of paper with your company's logo, customer details, and itemised product list is easily recognisable as an invoice.
This can have a big impact on how seriously your customers take your business and payment expectations.
Improve payment reliability
We all know that beauty often brings unfair advantages. It's no different with your invoices. A beautiful invoice design brings credibility and professionalism to your business and helps you stand out from the competition.
An invoice that looks like it could have come from anyone is easily discarded or forgotten. Presenting an official invoice helps your brand be recognised and gets you closer to getting paid.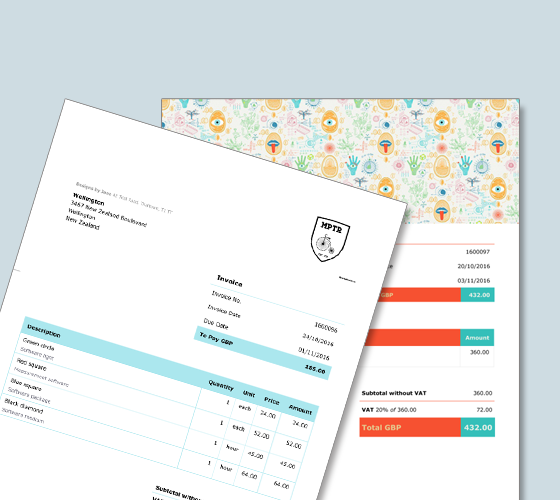 Align your brand with your invoices
Branding may be trendy but it's also an important part of running a business. By providing your company's unique logo on each invoice, you work to establish your brand image and keep this in line with all invoices.
Your invoice says a lot about your brand so it's important that the two are presented together, professionally in order to win the trust of your customers.
Design is important
Apple changes the appearance and feel of their iPhone each year. They could continue releasing the same phone with the improved capabilities, yet they also choose to change the design. This helps indicate a 'new and improved' image.
Staying up-to-date on the latest in invoice design is also crucial in order to be noticed in your field.
These are just 5 basic reasons to start working on a custom design for your invoices.
Worried it might be too time consuming? Not a concern with Debitoor's invoice designer. In just a few clicks, you can upload your logo and custom photos or designs and instantly change the layout and colour scheme of your invoices.
No more excuses not to create those beautiful, professional-looking invoices that your business deserves. Debitoor invoicing software makes it fast and simple.