Accepting partial payments on invoices and offering instalment plans can be highly beneficial for small businesses. Allowing customers to pay their invoices in instalments can offer customers more flexibility, and help businesses to collect money that is owed on overdue invoices.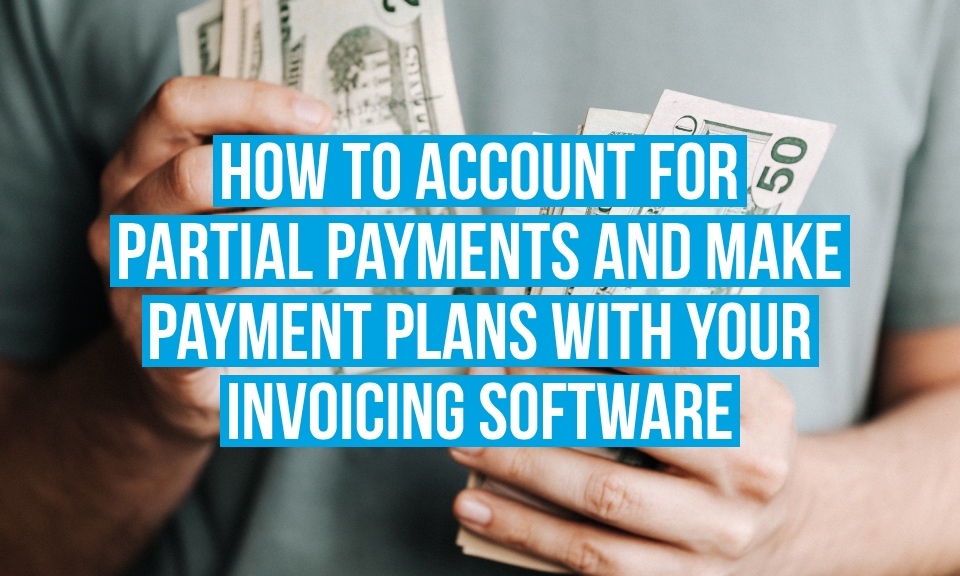 A partial payment refers to any payment made on an invoice that is less than the total amount due. Businesses can use partial payments in two ways, either by offering clients the possibility to pay their due invoices in instalments, or by requesting a percentage of the amount due to be paid upfront as a deposit.
This article explores the advantages of allowing customers to pay in instalments and how you should record these transactions in your invoicing software.
Benefits of allowing customers to pay in instalments
There are numerous advantages to allowing customers to pay in instalments.
If a business allows its clients to pay the total amount they owe in instalments, they will naturally get more business. This is because it will enable customers who cannot pay upfront for a product or service to still buy from that company. Most customers will be able to afford monthly (or weekly) payments and offering this payment option will open the door to more customers.
By providing the option to pay for an invoice in instalments, you can also help your business increase its cash flow which provides a steady income in times of fewer sales. Suppose that your company makes most of its sales over the summer, by allowing customers to pay in instalments throughout the year, this stabilises the business's finances and guarantees future income.
Offering customers different payment options is an important convenience and increases the customer's perceived value. If a customer feels that they can work together with a business and make personalised payment arrangements, they are more likely to commit to a sale and remain loyal.
A business can also offer instalment payment options for customers who have been unable to pay for an invoice and it becomes overdue.
Using partial payments to collect what is owed
Whenever you create an invoice, you must specify your payment terms. Sometimes, the customer cannot pay the invoice in its entirety before the due date. Therefore, you may accept payments in instalments until the debt is paid off.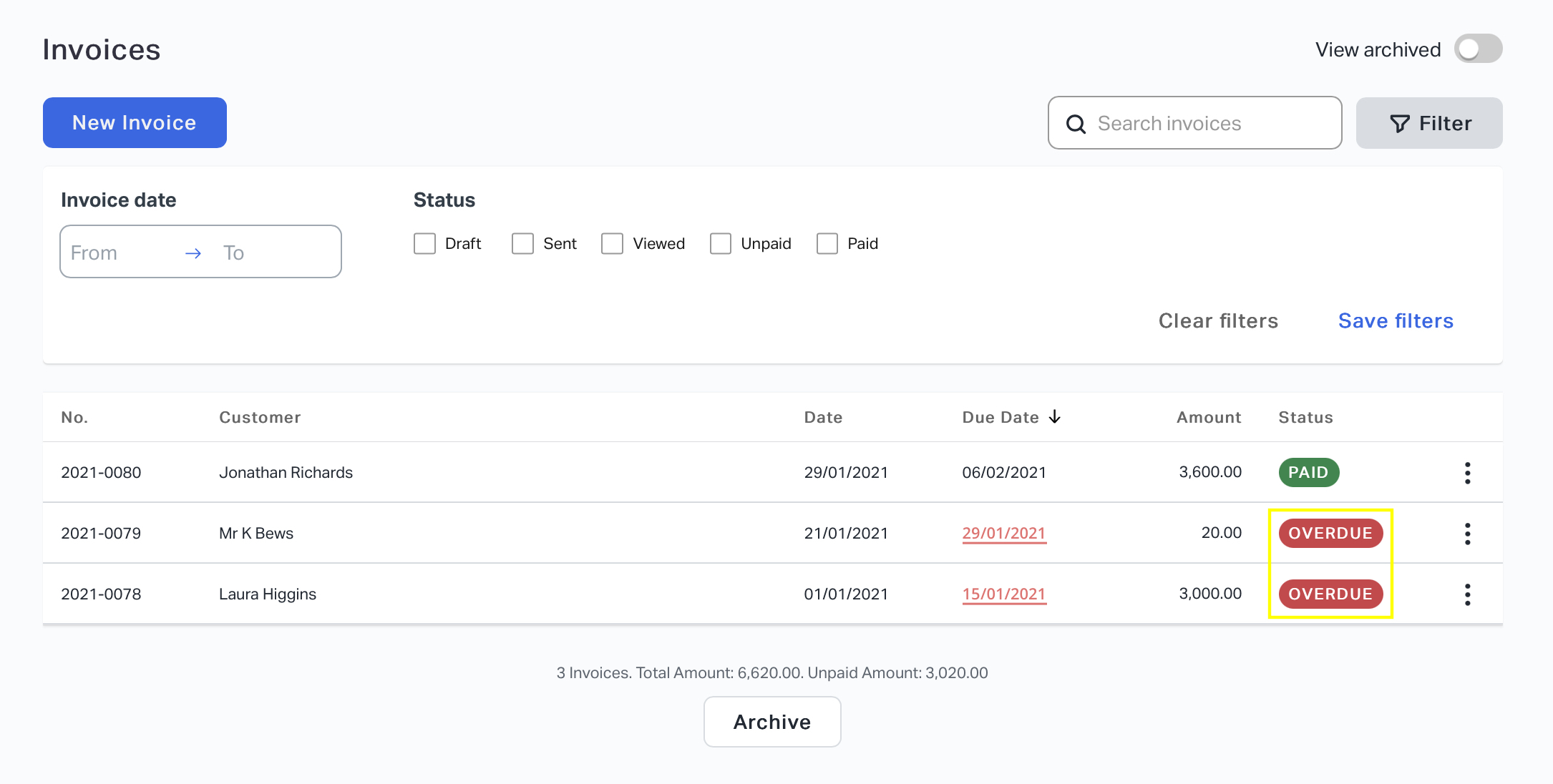 If you accept payments in instalments, you need to specify how this is to be arranged. You will need to work out an instalment plan together with your customer. This plan should break down the total amount due into smaller, more manageable payments the customer makes over a set period. When you invoice your customer, this plan should be clearly stated in the terms and conditions on the invoice.
The terms of an instalment plan should include specific payment deadlines. If for example, your customer owes £10,000, you may agree to a payment plan that includes 10 monthly payments of £1,000. The specific dates each of these payments is due should be clearly stated. If payments are not met, it is common for a business to charge a late payment fee or apply interest. Including this information on the initial invoice will avoid any confusion later on if the client defaults on payments.
Accounting for partial payments with your invoicing software
With Debitoor invoicing software, it's easy to accept a partial payment on an invoice. When you add the payment, the software will autofill the payment with the full invoice amount. Simply delete this and add how much the customer has paid you, and then hit 'save'. The invoice's status will then be marked as 'partial' and you will be able to see how much more is owed.
This is the simplest way to record a partial payment from a customer if it is expected that they will pay the full amount quickly, and before the due date. This is a suitable option if you do not have a instalment plan drafted with your customer.
Creating payment plans with your invoicing software
However, it may be that the customer wishes to pay their invoice in instalments over a longer period. In this case, it is better to discuss a payment plan with your customer and then create a recurring invoice that will be sent every time an instalment is due.
Suppose for example a customer buys a piece of furniture from you for £3,600. You may suggest that they pay for this in instalments throughout the year. You could therefore set up a monthly payment plan of £300 for one year. This would consist of 12 invoices, sent monthly.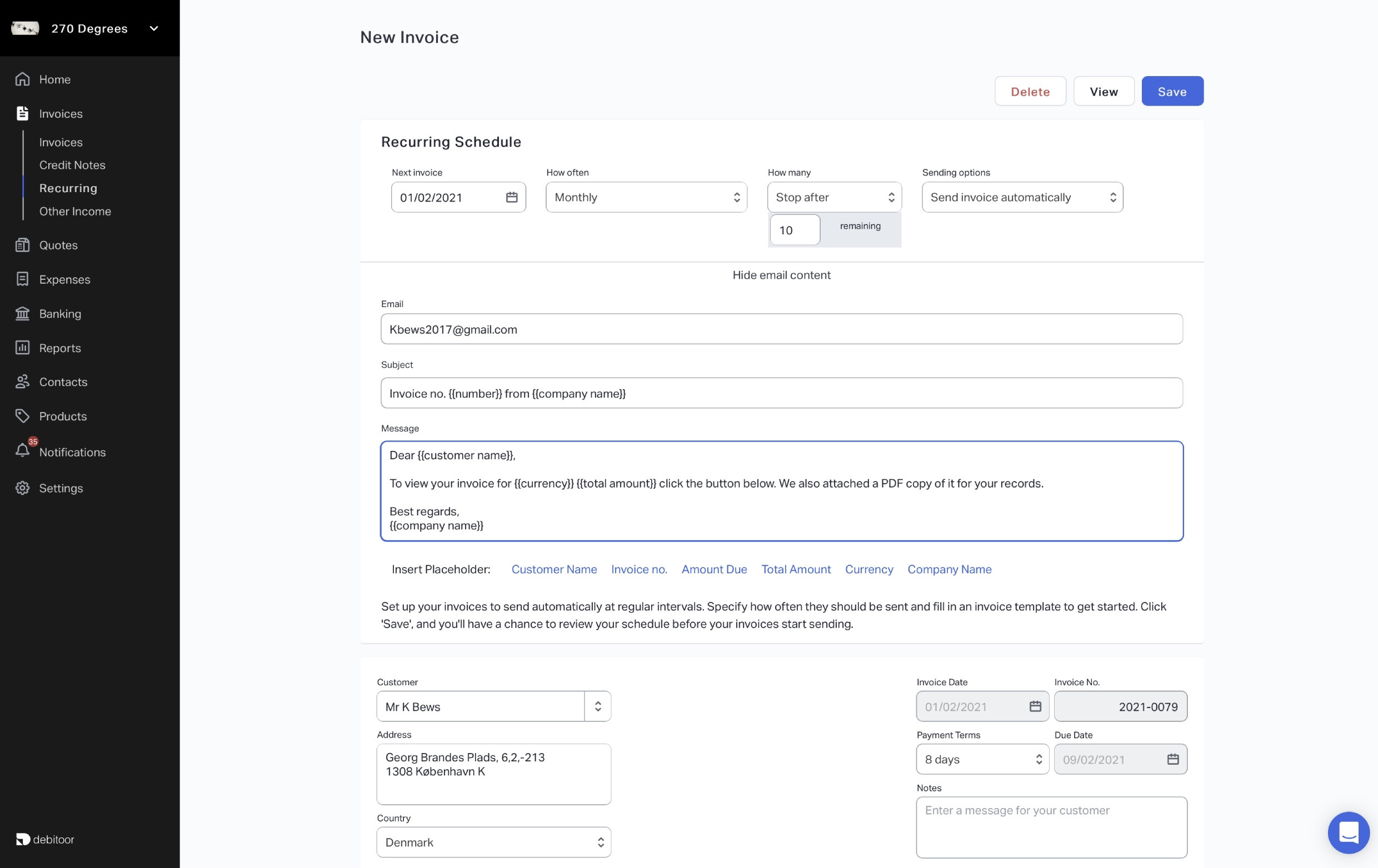 Remember to always include clear terms and conditions of payment on the invoices in the event that a payment is not met. This will help you if there is a dispute between you and your customer over what is owed.
Collecting payment on overdue invoices with your invoicing software
In Debitoor, if an invoice has not been paid before the due date, it will be marked as overdue. Once it is overdue, you will be able to issue the customer with a friendly reminder, telling them they still owe money. It will be up to you how you want to send this message, depending on how much you have already tried to contact the customer. It is also possible to add a late fee to the invoice.
As explained, it may happen that a customer cannot pay for an invoice, and it's necessary to set them up with a new payment plan. If this is the case, it's best to cancel the overdue invoice with a credit note and then set up a recurring invoice until their debt is paid off.
Maintaining communication with your customers
Naturally, if you accept partial payments on invoices, or create personalised payment plans for your customers, it is harder to keep track of what is owed. Whilst your invoicing software may take care of this for you, your customer may need clarification. It's therefore important you maintain clear communication as this will help to ensure timely payments.
Debitoor offers you the option to download an account statement for a customer with a detailed list of every invoice you have sent to them. To create an account statement, open your contacts tab and select the customer you want. You can then see all the invoices you have sent them and download their account statement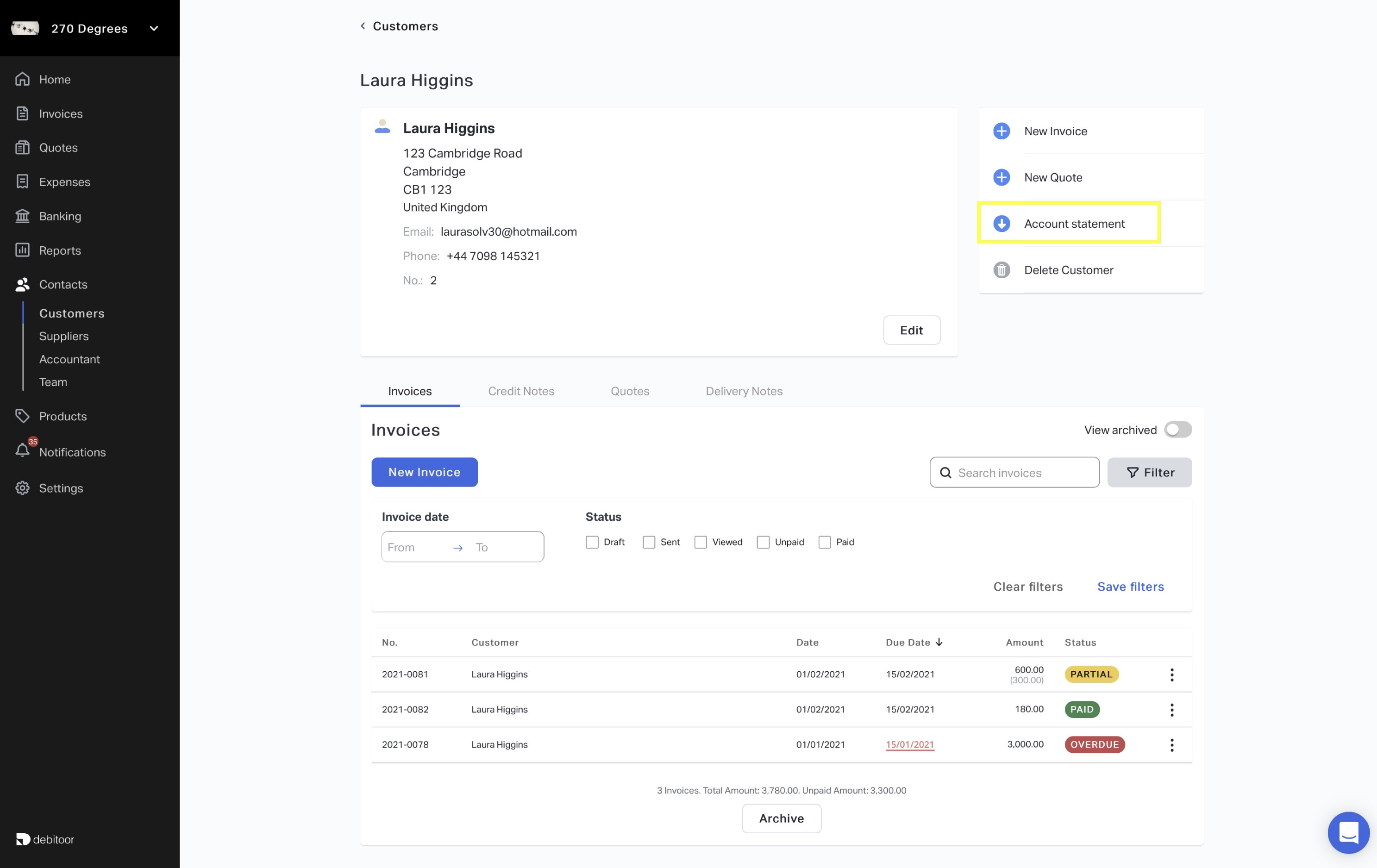 By providing them with their account statement, they will be able to see what invoices they have received, what has been paid, and what they still owe.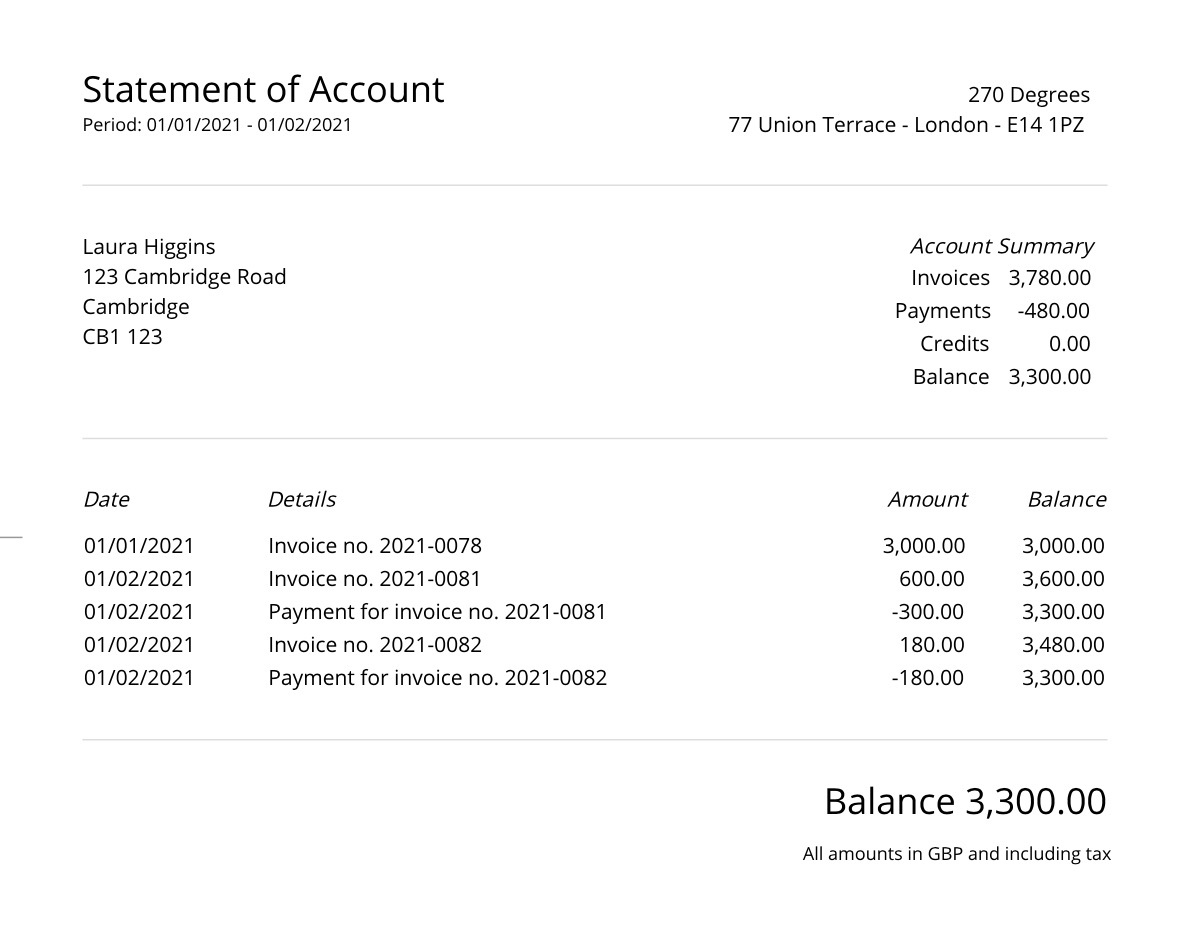 Of course, you can also use your invoicing software to directly email your customer if necessary. Perhaps they have misplaced an invoice and would like to have another copy, or, they have missed a payment, in which case you need to send a reminder.
Partial payments and payment plans – a summary
Your invoicing software can do a lot. It allows you to work with your customer so you can come to a suitable arrangement for payments.
Sometimes, an invoice might not be paid all at once. In these cases, you can add a partial payment and your invoicing software will calculate what is still owed. At other times, it may be necessary to create a recurring invoice and create a personalised payment plan for customers.
Offering different payment options for customers will help to preserve customer loyalty and can open the door for more customers. More payment options can ultimately lead to more profit.