Cloud-based invoicing software gives you many advantages - from preventing the hassle of downloading and installing a program, to increased security and safety for your documents. It also means that your data is more mobile: available wherever you have an internet connection.
With the new Debitoor iOS app, not only can you create and send invoices and manage your expenses, you can now also enter payments from different manual bank accounts.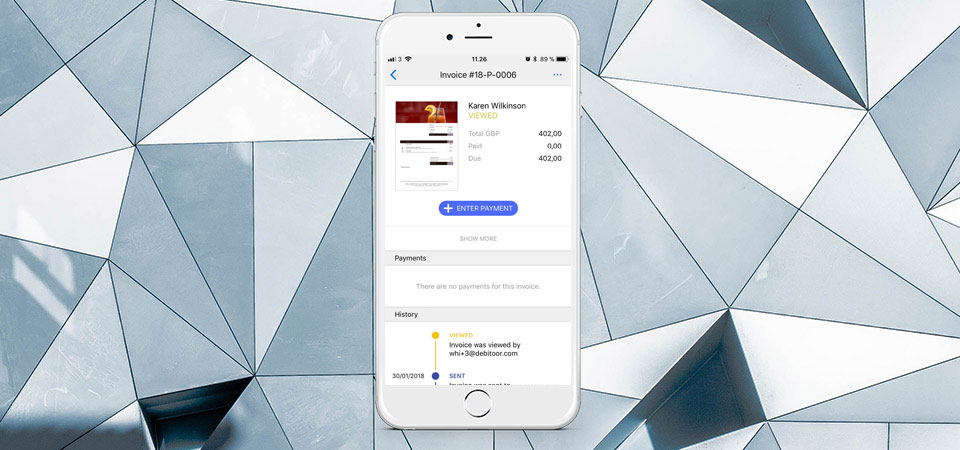 Adding a payment in the new iPhone app
Using the new options in Banking in the Debitoor iPhone app is easy. Here's how:
Complete an invoice or open a previously completed invoice from your invoice list
Tap the blue button labeled '+ Enter payment'
Select the account with the payment from the drop down menu
Choose the appropriate payment (from a .csv upload) or enter the details and amount of the payment (from a manual account)
That's it! The payment will be applied to the invoice and it will automatically be marked as paid if the full amount has been entered.
Why use the mobile app for your invoicing software?
Managing a business usually involves daily activities that are at the core of keeping track of your sales and expenses. Keeping track of these as soon as they arise can be an easy way to increase efficiency and save time.
In addition, by managing invoicing, expenses, and payments online, you have access from any device and have no need to worry about hardware crashes or viruses invading your computer. Your data is safe and backed up in the cloud.
And it's not just invoicing and payments! With the mobile app you never need carry around stacks of receipt again, simply snap a photo on your phone with the app and add them instantly. See how the mobile app can streamline your business.