Good news for all Android users! Debitoor invoicing software has just released a completely redesigned app for Android.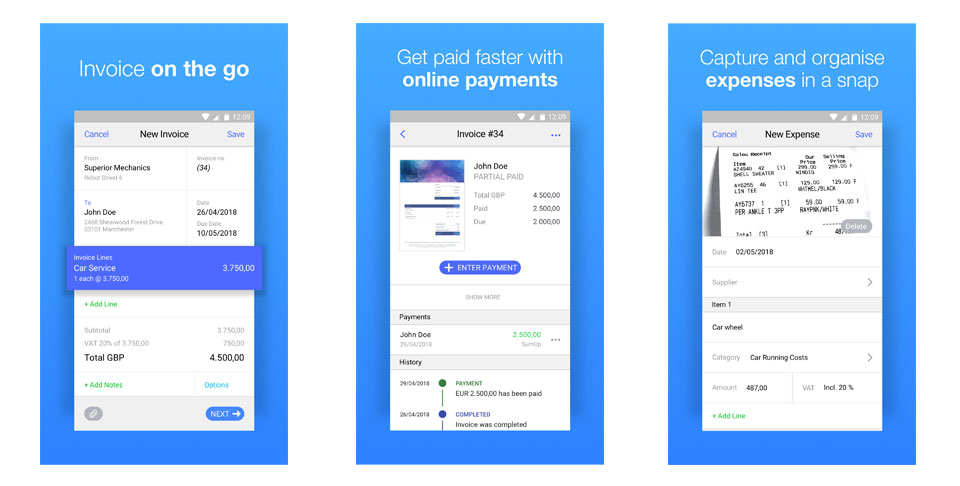 Our mobile team has been working hard for the past few months and has finally released a completely new, faster, better, more beautiful Debitoor Android app for your invoicing & accounting needs.
What can the new Android app do?
What awaits you in the brand new Android app? One of the first things our team tackled was fixing the bugs that had cropped up in the previous app. The new platform makes it easier for our mobile tech team to investigate and get any problems solved fast.
But they didn't stop there. With the new platform came an opportunity to create an app with more capabilities and options than the previous app, while still keeping the user-friendly design. Here's an overview of what's new:
General
An optimised interface that makes the app faster and easier to use
Increased security thanks to the introduction of TouchID
Invoices & payments
A simplified invoice form with the ability to add notes and attachments
The ability to match invoices with payments in your account
Sending invoices not only via email, but also via WhatsApp and SMS
Change your invoice design with a tap
Expenses
But we also improved the inner workings of the new app. Niklas Stokkebro Gundlev, Tech Lead for the Mobile Team explains:
The app is built on a new, significantly better framework compared to the old Android app, making it easier for us to add more, improved features in less time.

This framework (React Native) has already proven itself with our new iOS mobile app, released last year.
Invoicing and accounting like never before
The best thing about the new mobile app?
Niklas shares his thoughts: 'I like the combination of the UX and features. Each feature provides a great user experience and is really easy to understand".
A good mobile app like the new Debitoor Android app can reduce complexity, making work easier and saving you time.
Invoicing and accounting are not easy or intuitive topics. But I think the UX design in the new app makes it easier and more enjoyable to work on and with it.

How do I get the new Android app
Do you have an Android smartphone or tablet and haven't tried out the Debitoor Android app yet? This is the perfect time to give it a try. Download the app free from the Play Store.
I've you've been using the old Debitoor Android app, there's no need to do anything - a recent update will automatically replace the previous app with the new version of the Android app. And not to worry - your data will still be there as soon as you log in to the new app.