Becoming your own boss, whether as a full-time position or a part-time, is an undeniably empowering and exciting step. This move towards independence, towards pursuing your own agenda, towards a new lifestyle is what we all strive to find in building our own business.
No matter the size, the thrill of running a business can sometimes be overshadowed by the more tedious and often intimidating aspects necessary to ensure that it's on the right track.
Business finances are a common culprit for stress with freelancers and small business owners. Especially for those without much experience in handling business accounts themselves.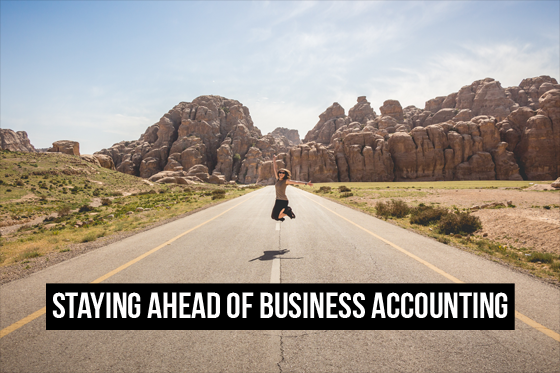 Do your research - Even if economics wasn't your favourite course in school, it's still possible to brush up on your knowledge of handling the financial side of a business.
This means get to know your market and your competitors, understand how your current financial situation will allow you to grow within your field and find the best ways to build a competitive advantage within your budget.
There are literally thousands of great (and free!) resources at your fingertips.
Consider registering for the daily newsletter of an entrepreneur-focused website, enrolling in an online course, or joining an online startup community and participating in forums where experts can weigh in on your specific questions.
Create a realistic budget - Once you've got a road map in mind and have an understanding of your current financial situation and your resources, you can begin to build a budget.
There are several different types of budget depending on how established your company is, but one of the most common approaches to budgeting is the 'cash budget'. This budget allows greater insight into whether your company's income will cover its spending.
A budget can be adjusted accordingly as circumstances change throughout the year, but it is important to have set guidelines to avoid common financial pitfalls and to provide extra incentive to stay on top of your accounts.
Use online accounting software - Today, cloud-based accounting software is readily available and is catered to freelancers and small business owners who might not have a background in bookkeeping.
These programmes aim to simplify the financial side of running your business by offering clean interfaces, easy-use-functions, and friendly support.
An online accounting programme makes keeping your records up-to-date as painless as possible through automation, effectively balancing your accounts with just a few clicks of your mouse.
Schedule time for your accounts - Whether it's daily, weekly, or bi-monthly, depending on how busy your company is, setting aside specific times to register payments and expenses will make a big difference when tax season comes around.
While not the most exciting part of your day, taking even 15 minutes to catch up on the most recent invoices and adding that new printer as a business asset will likely save you hours of work and headaches in the future.
Hire an accountant - At the end of your accounting year, it's important that all your hard work pays off. By simply transferring your well-kept records, you can cut the accountant fees and make both their life and yours easier.
Hiring an accounting takes the guesswork out of filing your tax and ensures that your financial records are complete and correct, providing you the peace of mind and that satisfying sense of achievement that comes from successfully managing your accounts.
While this may seem like a lot of (less than fun) work, once you have a grasp of managing the your company finances and have made a habit of keeping up with your records, you may find that this once painstaking aspect of running a business becomes a source of pride.