Thinking of creating your first online store? There are several factors to keep in mind, choices to make, and steps to follow to ensure your online business takes off running! To get started, you need a computer, a great idea, some tech skills, and a go-getter attitude.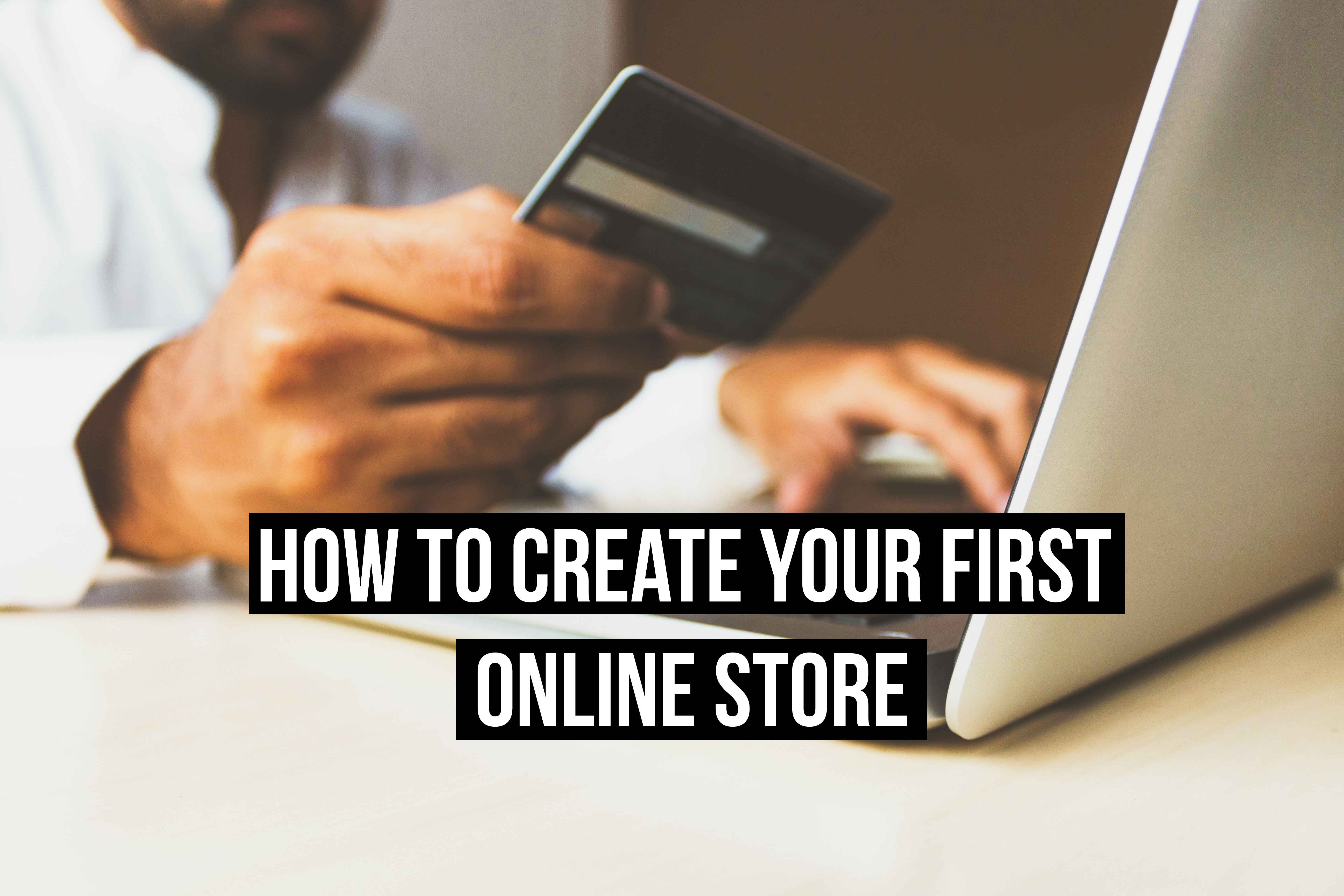 Creating your first online store takes some time. First thing is to decide what you are going to sell and who your audience is. Second thing is deciding if you will be using a supplier, or if you will be holding your own inventory. Once you have those things figured out, it's time to get to the nitty-gritty of creating your online shop.
Create a business name and domain
Choosing a name for your business can be overwhelming. I'd start with writing down about 10 solid ideas (making sure they are not already in use) and over the course a week, narrowing it down to one.
Some things to keep in mind when choosing a name are your audience, the significance to your products, if it's easy to pronounce, and if it's original.
For instance, if you plan on selling homemade wool hats, using the business name 'Homemade Wool Hats' does not really set you apart from other companies doing the same thing. It will also make your store difficult to find online, and is arguably not very original. Try to add some flair by naming it 'Wool-ly Mammoth Homemade Hats', or 'Crochet Queen Hats'.
Make sure that the name you choose has a .com domain available, regardless of your country or market. Lots of people instinctively type in .com and it will make your company more popular, and more accessible to your customers.
Once you've got your business name, it's time to purchase a domain. You can either purchase just a domain, or a whole hosting package to create and run your business.
There are many domain providers out there with different options and prices. I would spend some time researching the different options and choosing the one that suits you best.
Domains are usually purchased on a yearly subscription, so make sure that you check if the price remains the same for the following year, or if it gets more expensive!
If you purchase a domain, you often have the option to purchase a hosting and website building platform to start creating your website. This can be useful if you have limited web development knowledge.
Create your website
Once you've got your domain, you can start creating your website. If you have web development skills, you can always create your own website. However, it can be very difficult and time-consuming, especially if you have several items for sale. If you do go down this route, make sure your website is secure with SSL Certificates.
The alterntive is using an e-commerce software to help you build and market your online store. These platforms come at a price, but make the whole process very simple.
With some e-commerce platforms, you can purchase a domain, create your website, add your products, market your business, issue invoices, and accept payments all with the one tool. I would suggest signing up for some free trials to decide if it will work for your business.
Register your company
If you run an online business in the UK, you will need to register with the government. Luckily, registering your company and getting a registration number is a rather easy process in the UK.
The first step is going to the UK Government website, and reading about what you will need to register.
You can register as a limited company through the website by submitting 3 pieces of personal information, paying £12, and BAM - within 24 hours you'll have a registered company.
If you do not want 'limited' in your business name or do not want to apply online, then you can also apply by post, use an agent, or use a third-party system.
Market your new online store
It's one thing to create your online store. It's another to get people to visit and make purchases!
If you create your online store with an e-commerce company, like Shoplo, you can market your business within those platforms. They offer Facebook, Google, and Email campaigns to help give your business a jump-start.
I would suggest setting up your business on as many platforms as possible including Instagram, Twitter, and Facebook to get your brand out into the world. You can set goals with each platform to decide how much you want to pay and what you want to achieve through social media.
Email marketing may seem like an outdated tool, however, depending on your audience it can be a really effective way to gain more traffic and boost your profits. In fact, many small businesses find that Email marketing campaigns produce the most revenue! Email marketing is one of the cheapest ways to gain customer relationships, gain traffic, and improve sales conversions.
If you created your online store through an e-commerce company, it will likely include SEO capabilities. That being said, there is always more that you can do to improve your rank in search results. When you start adding products to your online store, make sure you write a detailed, clear, and thorough description of your products, and add a professional picture. Make sure you use keywords!