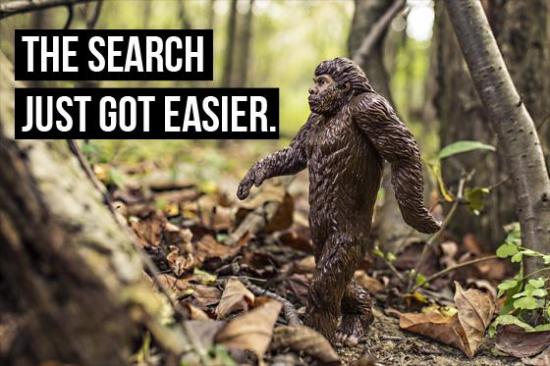 The new search and filter options have added another level of organisation to your invoice experience. With these two features, you can effortlessly sift through invoices by date and status, as well as search by customer name or invoice number.
While change can be a bit difficult to accept, we believe these features provide a better way to sort your invoices and stay on top of your accounting.
Haven't had a chance to explore the new search and filter features yet or wondering how they work? Here's a little introduction on how to use these solutions.
Search across all invoices
When you click on your 'Invoices' tab without any filters set, you will see a full list of all invoices, regardless of their status. While this may seem a little overwhelming at first, there are a few quick changes you can make depending on which invoices you need to work with.
You can use the search function to sort invoices by a particular customer name or invoice number. Typing the customer name into the search bar will immediately show all invoices issued only to that customer, regardless of payment status:

Filter your search
Adding a filter is a quick and easy way to narrow down your invoices even more, or to simply view a total list of 'Draft/Unpaid/Paid' invoices. Click the '+Filter' button and select the filter or filters you wish to apply. To select the filters, click the box to their left. The box will then sport a '✓':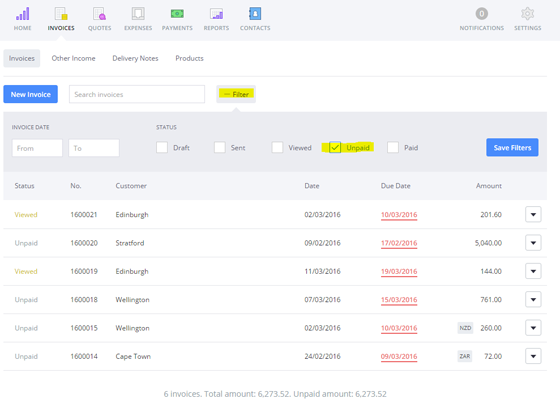 You can click 'Save Filters' to collapse the filter menu and keep the options you've selected. Don't worry, you can change the filters at any time!
You can further narrow down your invoice search by applying multiple filters, or by combining a search with a filter. For example, if you only want to view paid invoices from a specific customer: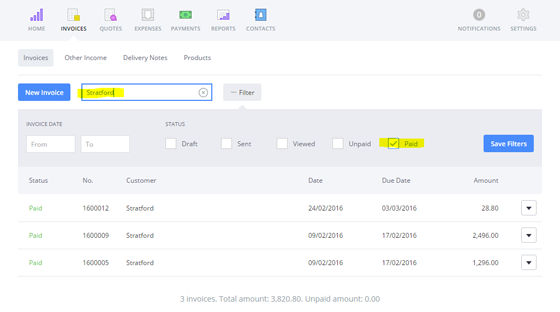 Running totals
You might have noticed that underneath each search and/or filter, there is running total of the number of invoices in that particular selection, the total amount, and any unpaid totals. No need to break out that calculator app on your phone.
Try it out
Take a moment to check out these new features in your invoices, apply a few filters, try the search function and get to know this great new approach to invoice organisation!