The complexities of installing and repairing pipes may come naturally, but invoicing for these services may not. Fortunately, there are many invoice templates for plumbers out there that can help you bill your customers for your work, allowing you to focus your energy on more interesting plumbing problems.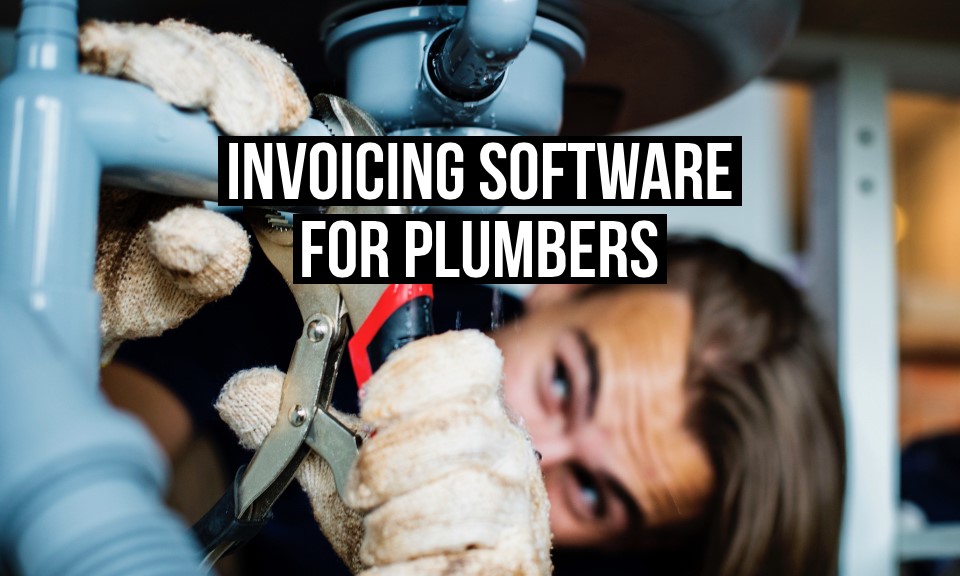 Invoices help you and your customers
Whenever you've unblocked a drain, fixed a leaking pipe, or completed any other form of plumbing work, you'll need to send a plumbing service invoice to bill your customer. By providing a detailed invoice, your customer will know exactly how much they owe, the date it must be paid, and what exact services and products they have been billed for.
Issuing an invoice is not only necessary from the customer's point of view, but also helps you to keep track of your business. Invoicing your clients allows you to record all of your transactions and income from jobs, as well as other financial information that you will need when it comes to the end of the tax year.
Plumbing invoice template
When you create your invoice for your plumbing services, the most important thing is the descriptive list of the plumbing services that you have provided and a breakdown of the cost. Stating this clearly will avoid any confusion between you and your customer and it helps to minimize the risk of not to getting paid.
As well as the descriptive list of your products and services, your invoice also has to include:
The name and contact details of your business and your customer
A unique invoice number
The date the invoice was issued
The cost of each product and service you provide
Your VAT number
The date you provided your goods or plumbing services
The due date.
Different types of invoices for plumbers
Every plumbing job is different. Therefore, you need to have a customisable invoice template that can be adapted for any situation. For example, one day you might be fitting a new bathroom for a customer. Another day may be a very different situation: someone may call you in a panic as their kitchen has flooded.
The way that you invoice for these services is very different and you need your invoicing software to be flexible enough to accommodate these various scenarios. Whenever you're making your invoice, think about the type of service you're providing and how you will calculate the cost of the work.
'Standard invoices'
A standard invoice will list exactly what a customer owes you for your plumbing services. There are different ways of calculating this. If you have invoiced your customer for a new bathroom, you will have supplied some products and these will appear on the invoice as a price per unit. Included in this category are plumbing fixtures like toilets, bathtubs and sinks.
Remember that these things take time to install and an installation cost should also be shown on the invoice. Depending on the job, this may be a fixed cost or a cost per hour.
'Time-based invoices'
This type of invoice is used when you want to charge your customer for the number of hours that you have worked. In this case, you have a set hourly rate and invoice the customer at the end of the job. A time-based invoice is more suited for unexpected call-outs than a standard invoice, as you haven't had the time to assess the work that needs to be done.
'Prepayment invoices'
You can use a prepayment invoice when you want to collect a deposit or down payment from your customer before you complete the plumbing work. Perhaps your client's plumbing job is very big and therefore requires you to order materials that you otherwise wouldn't use. Requesting a down payment before the entire payment is due can help you minimize risk and ensure that even if the customer changes their mind, you have not lost money.
Issuing quotes for plumbing work
For non-urgent repairs and bigger jobs, customers may request a quote before they hire you for your services. Whilst an invoice has a lot of legal restrictions and requirements, you're far freer to decide how you want to give a quote to your customer. Nevertheless, following a similar format to the invoice is advisable.
You need to give an estimated price, along with a breakdown of the individual products and services you will provide. Once again, you need to include your customer's details, along with your company details. Also, make sure you provide a way for your customer to contact you if they want to accept the quote.
Importantly, your quote should also have an expiration date which tells the customer how long the quote will remain valid for. This gives you some flexibility to change your prices if needed and prevents you from being obligated to offer your services at that price if a customer gets back to you many months later.
Using Debitoor invoicing software, it's very easy to manage your quotes and turn them into invoices. Simply click 'Accepted by customer' and then 'Convert to Invoice' to automatically transfer the information from the quote over to a draft invoice. Once you're ready, tap 'Complete Invoice' to send the finished invoice to your client.
How to get the most out of your invoicing software
Invoicing software is a great tool you can use to help organise your business. It not only allows you to create invoices; it can be used as an overall scaffold that informs how you approach different tasks within your company.
Create a price list of your services
If you're offering plumbing services, you may want to create a list of the different services you offer and their respective costs. This will make it easier for you to provide accurate quotes to customers and charge your clients consistently.
The prices for your services should be determined by your experience, speed and location, the complexity of the job, and whether you are working individually or as a team. You shouldn't just assume that all of your services are worth the same and good invoicing software will allow you to differentiate the skills needed for each task. After all, an impromptu call out over a burst pipe may be less conveniently timed for you than a scheduled installation. Allow your prices to reflect this.
Creating a sold price and services list is vital for plumbers. You will be able to calculate costs with ease, manage the expectations of your customers, and therefore avoid unnecessary complications. However, this doesn't mean that you can't be flexible. You should still judge each job individually, and if a project doesn't fit your existing pricing strategy, create a new service cost. This allows you to negotiate with your client and possibly score a bigger job.
Manage late payments with ease
At some point, every plumber faces this problem: a customer has not paid on time. Fortunately, invoicing software can help you deal with this problem head-on and solve the issue before it becomes more serious.
In Debitoor, once a payment deadline has passed without a payment, the invoice will be flagged as overdue. Once this happens, you'll have the option to send a reminder to your customer, pointing this out. Simply click the overdue invoice and select '...More', then 'Create' and choose 'Reminder'. Debitoor lets you select from different levels of severity, based on whether it is a first, second, or third reminder, or you can create your own, personal message.
It's also possible add late fees if necessary. When you send your customer their reminder, the charge for late payment will have been added to the invoice.