As a small business owner, you're continuously busy and have to take on a lot of different roles. You have to manage projects, employees, suppliers, and customers and their requests, all whilst keeping track of your finances. This is time-consuming, and at times, it can be stressful.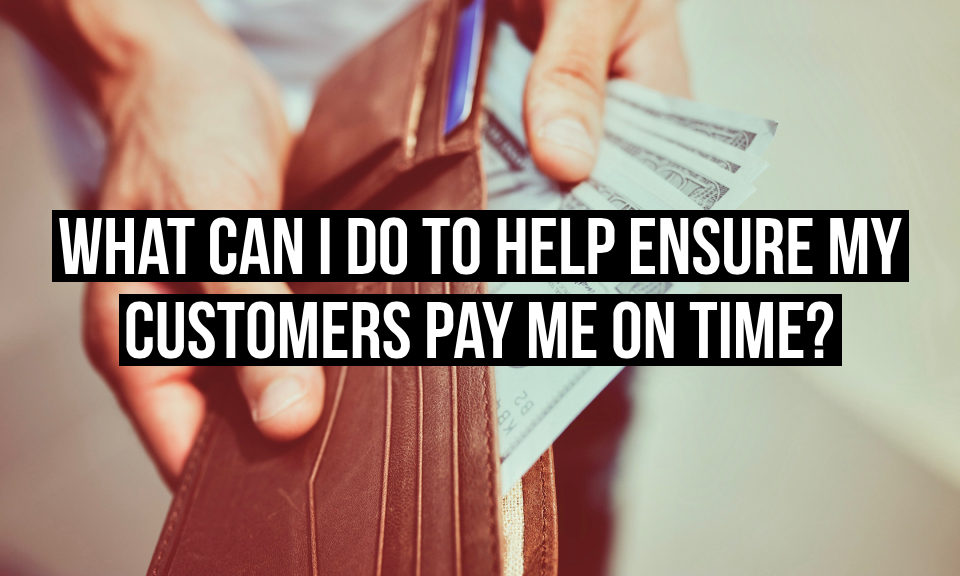 However, worrying about whether you're going to be paid by your customers on time shouldn't need to be an additional concern. This blog post discusses this issue, offers some useful tips and tricks, and explains how your invoicing software can help to ensure you're paid on time.
Use an appropriate invoice template
Whenever you create an invoice, the first thing you must check is that all the information is correct, and no details are missing. If information is omitted or simply wrong, your customer may be confused, and you may have to issue an updated one. This will of course delay any payment.
Invoice templates are great for small businesses, as they provide you with a framework that can be filled out for each new invoice. This helps to minimise mistakes. However, depending on your business and your customer, different elements may be needed. If your customer is an EU company for example, you need to also include your intra-community VAT number and the VAT number of your customer on your invoice.
Check your customer's data is up to date
It sounds simple, but you have to make sure that you've got your customer's most up-to-date information. You need their correct address, email, and phone number so that you have multiple ways to contact them if necessary. Good invoicing software will allow you to save your customer's data, and it will automatically import this information when you create your customer's invoice you don't have to add it manually.
It's important to remember that sometimes the person who you dealt with when completing the job, may not be the same person you need to send the invoice to. Make sure to check that the person who has authorised the job is also the person who handles the payment. If not, ask for their details. Emailing your invoice to the wrong person will slow down your business.
Use your invoicing software to monitor progress
With Debitoor invoicing software, once you've emailed your customer their invoice, you can keep track of any correspondence below. If they choose to reply to your email, it's shown in the 'Comments' section below the invoice. This means that if they email back because they think there may be problems with the payment, you'll be notified immediately and can clearly see which invoice they are referring to.
Having the correct phone number for your customer is very important. We all have emails in our inbox that we don't open, and there's always the chance that your invoice was missed. Debitoor invoicing software allows you to see when a customer has viewed your invoice, and so, if it hasn't been opened after some time, be proactive and contact your customer over the phone. This can speed up the payment and allow you to establish a personal connection, which is always a good thing.
Don't delay in sending your invoice
A common mistake small businesses make when invoicing is not doing it right away. As soon as you've completed the work, send the invoice! This way, your work will still be on your customer's mind and so it's more likely they'll pay immediately.
If you delay in sending your invoice, you run the risk of them forgetting who you are. You'll then create extra work for yourself by having to remind them of the job and the agreed-upon price. If you've done work for larger companies, this problem may be magnified if different people or departments have been involved in your contract.
Be clear about your terms of payment
When you create your invoice, be sure to mention your payment policies and any late fees you'll charge. It's also not uncommon to offer discounts for early payments. Sometimes, just offering a small discount for early payments is enough to incentivise your customer and save you the hassle of chasing them up.
Accept multiple payment methods
By offering multiple methods of payment, you make it easier for customers to pay you. If you accept online payments, cheques, and cash payments, you cover all possible options for customers, and they can choose whatever suits them best. If they can give you the cash immediately for example, their payment is made in a second and you don't need to chase them up.
Connecting your Debitoor account to PayPal or SumUp will definitely help some customers to pay you faster. With both of these payment options, your transactions will automatically be matched with invoices and expenses in your account.
Treat family and friends as normal customers
If you run a small business, you may well find yourself doing jobs for family and friends. Whilst this can be nice, the expectations of you and your family member or friend may not be aligned, and it's important to remember that your business comes first. You should still treat them as you would any other customer.
This doesn't mean that you should never offer a good-will discount on your product, but it does mean that when it comes to payment, you need to be paid on time. Offering different payment methods and allowing late payments will only hurt your business, and lead to problems in your accounting later on.
What do I do if I haven't been paid on time?
Even if you've done all of these things, you may still find your customer's payment is late. Don't panic. There are still things that you can do to get paid.
First of all, you'll need to contact your customer. Again, this is when it's essential you have their correct contact information. Often a simple call or email can remind a customer that their payment is overdue.
Secondly, Debitoor gives you the option to send a reminder email to your customer with different levels of severity, or you can create your own custom message. For this option to become available, the invoice must be marked as overdue. Simply open the overdue invoice, select '...More', then click 'Create' > 'Reminder'. Once your email is drafted, just hit send.
Thirdly, there is also the option to add an additional late fee, if desired. When your customer then receives their reminder email, the late fee will have been added to the invoice.
Takeaways
Communication is key to a timely payment. From creating the initial invoice to explaining the possible payment methods, and following up on late payments, you need to remain organised and communicate with your customer in understandable and professional ways. If you don't think an invoice has been received, use the features of your invoicing software to check, and if necessary, gently remind your customer.
And remember, even if a payment is late, it's often an unintentional mistake. Don't burn bridges with loyal customers, family or friends. After all, you need to maintain a good reputation, and should always handle the situation with care.