Discount. When you're shopping, it's always a good thing. But when you're selling your product or service, something that you work hard to provide for your customers, you might wonder why on earth you would charge less for it. Because, well, if they pay less, you earn less.
However, discounts can be a useful tool for a growing business. There are in fact, many reasons to offer a discount to customers. Check out our article 'Offer a discount and get paid faster' for a few ways discounts can benefit you.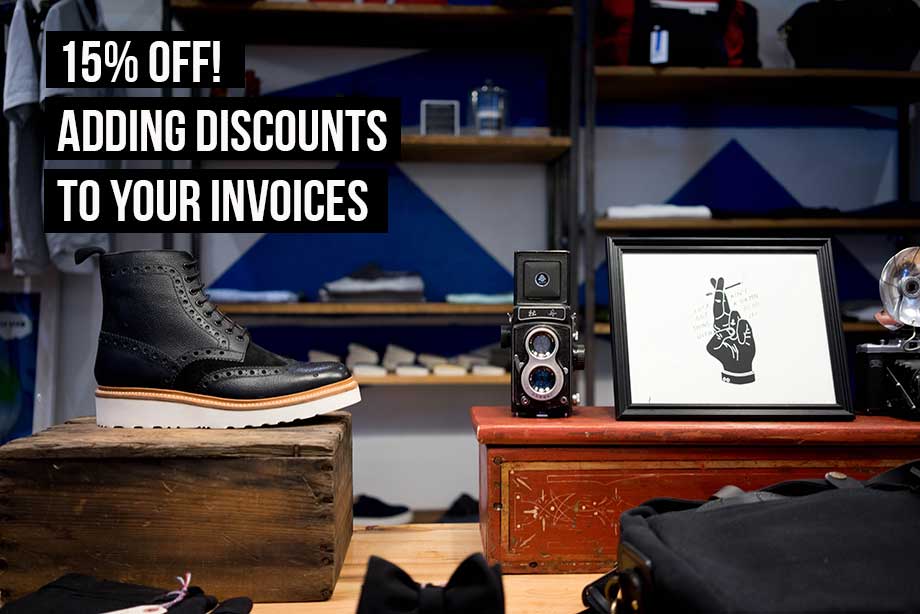 It can sometimes be appropriate to grant your customers a discount. When it comes to your invoicing, it's easy to calculate and add discounts if you have the right tools. That's where invoicing software comes in useful.
What kinds of discounts can you give?
Not only are there many different amounts you can discount, but there are also many different reasons to provide a discount, such as:
A loyalty discount
A seasonal discount
A quantity discount
A cash discount
A special discount
Not all types of discounts will be useful for you or applicable to your business. If your work is not affected by seasonality, for example, then it would make no sense to offer seasonal discounts.
But maybe your regular customers include students, in which case it could be nice to offer a special discount for that customer group.
How do I calculate discounts with my invoicing software?
Once you've decided on the type of discount you'd like to offer, you'll then need to go about determining how much it should be for and calculating it based on your totals. For more about how much to discount, check out our article 'How much discount should I grant on my invoice?'.
With invoice software, there's no need to get out the calculator app on your phone. Simply enter the discount you've chosen and the software will take care of the rest. For example, if you grant a 10% discount on an order of £150, the discount will be £15. In invoicing software, just put in 10% and the program takes care of the rest.
Invoicing software: single line discounts
With software like Debitoor, you can easily add something called a line discount to your invoices. What this means is that you can provide a discount for only one item. For example, if you run a webshop and a customer orders different products but only one is on sale, you can easily discount only that item.
Invoicing software: overall discount
Invoicing software like Debitoor also makes it easy to apply a discount for the full amount of your invoice.
When creating a new invoice in your invoice template simply click the box next to 'Discount (%)' and enter the percentage that you would like discounted from your invoice. It will be applied automatically and deducted from the total.