Proforma invoicing is an essential feature of any good invoicing software. But did you know that you can create proforma invoices from your phone as quickly and easily as from your computer or laptop?
As well as looking at the advantages of sending proforma invoices from a mobile device, we explain how to create a proforma invoice anytime, anywhere with our free, intuative invoicing apps for iOS and Android.
Proforma invoicing on the go
A proforma invoice serves a similar purpose to a quote; representing a seller's commitment to providing certain goods or services at a particular price, it is sent from a supplier to a customer before the details of a sale are finalised.
As a small business owner, it's important to stay ahead of the competition. With invoicing apps that let you send proforma invoices, you can send a proforma invoice in seconds. If you're in a meeting with a client, you can send a proforma invoice as soon as you agree to a sale. If you get an email from a customer who's interested in your products, it takes just a few taps to send a proforma invoice – no need to wait until you have access to a computer or laptop.
And because proforma invoices aren't finalised invoices, you can still correct the invoice at a later date if any details change.
How to create a proforma invoice with Debitoor invoicing apps
Whenever you create an invoice with Debitoor invoicing software, it's saved as a proforma invoice until it's finalised. This means that your document won't have an invoice number and will contain the words 'Proforma invoice' rather than just 'Invoice'.
Available on iOS and Android, our mobile invoicing apps make it quick and easy to create proforma invoices on the go. To create a proforma invoice from the Debitoor iOS app or Debitoor Android app, simply:
Tap the '+' icon in the top right corner of the screen of the home screen
Select 'New invoice'
Fill in all the necessary invoice details (products, price, quantity, VAT, customer details, due date, etc.)
Tap the '... More' icon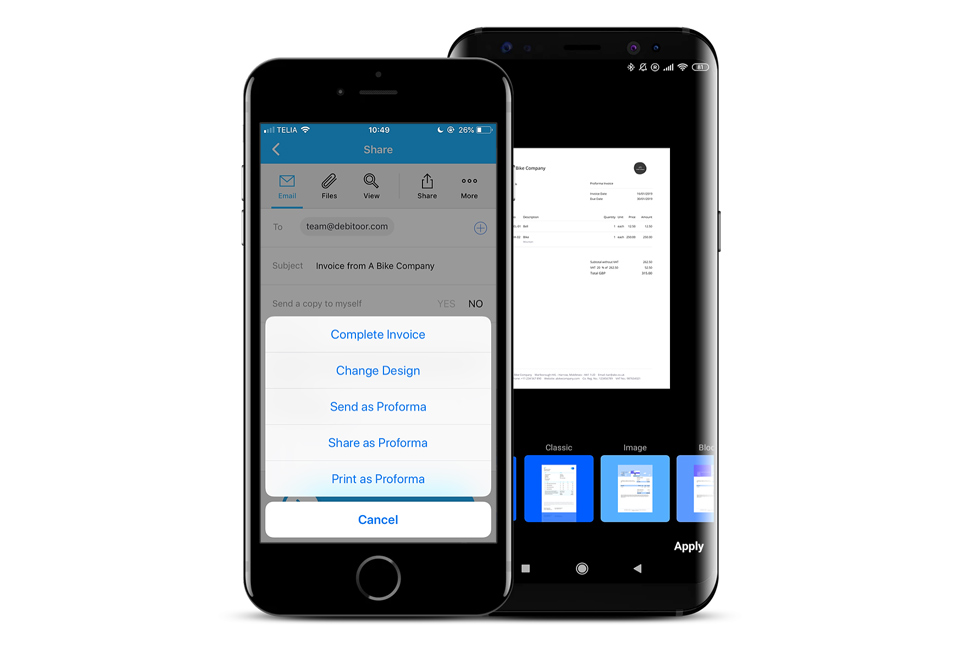 You'll then be able to choose 'Print Proforma', 'Send as Proforma', and 'Share as Proforma':
Choose 'Print as Proforma' if you want to print out physical copy to sent to your customer via post or in person.
Tap 'Send as Proforma' to send the proforma invoice to your customer via email.
Select 'Share as Proforma' if you'd like to send it via text, WhatsApp, Facebook Messenger, or another messaging app.
When you're ready to send a finalised invoice, all you need to do is go to the proforma invoice, tap the '... More' icon, then select 'Complete invoice'. Your new invoice will automatically take all of the details from the proforma invoice, but will also be assigned a unique invoice number. If you finalise the invoice at a later date, you'll also be asked whether you want to change it.
Download the Debitoor iOS app from the App Store or Debitoor for Android from the Google Play Store to start sending proforma invoices from your phone or tablet.