Last week, we ran an exciting user testing session in Copenhagen. The participants, who had volunteered to help us out, were freelancers and project managers who were not already familiar with accounting as such, nor with Debitoor.
And like our recent user testing session in Berlin, observing and listening to users engage with the software was a bit of an eye opener to us.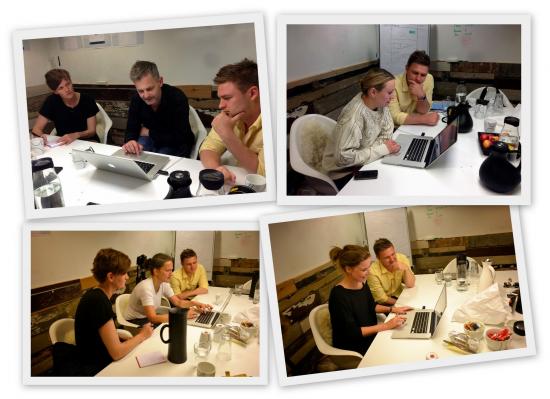 Keeping a low profile ourselves during the actual tasks (Mette in black, Mads in yellow, Inger behind the camera), we learn valuable lessons from just observing.
Connecting with my bank? Just like that?
In this particular session, we tested the new bank import feature which was released in a beta version to German users last month. It allows you to transfer your bank transactions to Debitoor for further processing, such as matching with your invoices.
A super handy feature which lets you combine simple accounting tasks in one system.
And a highly controversial one (so we learned!), because the idea of pulling your bank transactions into your accounting system is uncommon to certain cultures - at least to the Scandinavian candidates of this session.
But even so, all of our test persons expressed their positive feedback at this new feature, describing it as 'easy', 'time-saving' and 'refreshing'.
Lessons learned, back to work
We returned from this session with super valuable input ranging from text on buttons, menus and fields, over workflows which need clarification and optimization to design that needs tweaking.
All of which has been put into our development plans for the final touches to this new bank import feature which will also make it ready for launch in new markets.
With more user testing along the way of course - remote as well as on-site.
How about testing Debitoor in London?
We're planning a series of on-site user tests in the near future, so if you're located near London and wish to influence the further development of Debitoor, use the comment field below or drop us an email and we'll make sure to add you to the list.