When we launched 'Quotes' earlier this summer, we asked you to try out Quotes and give us your feedback.
What we learned was that many small businesses would save valuable time if they were able to convert their quote to an invoice really easily, once their customer had accepted the offer.
So we made this happen.
Get the extra time-savers
As of today, when you log on to Debitoor to create your quotes, you'll find a limitation of 3 attempts for converting quotes to invoices on the free plan.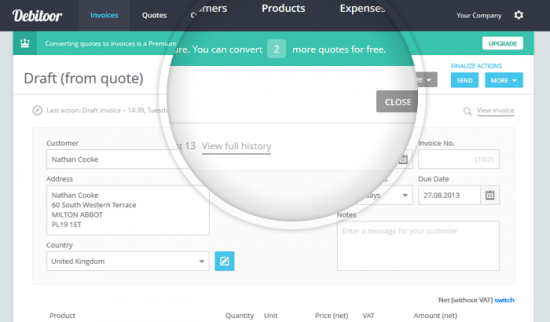 This supports our principle of providing our basic services for free, while charging you for the automation and convenience which ease your regular workflows and hopefully make your life a whole lot easier.
So to be able to convert more than 3 quotes to invoices, you'll have to upgrade to the Premium version. You will also be able to copy invoices, create and send reminders and your invoices and emails will be devoid of any branding.
Note that you can still create and send quotations as a free user. But if you want to transform your quote to an invoice, you'll have to copy everything over to the 'Invoices' tab.