We've gone into detail about the benefits of working with an accountant. While it can be tempting to try to handle your business accounts yourself, finding the right accountant can help set your business on the right track from the beginning.
If you are working with an accountant or looking to get started with one, establishing good communication is, as with all business relationships, essential for a useful interaction as your company develops. Read more about how working with an accountant can help your business: 'An expert in your corner: why hire an accountant'.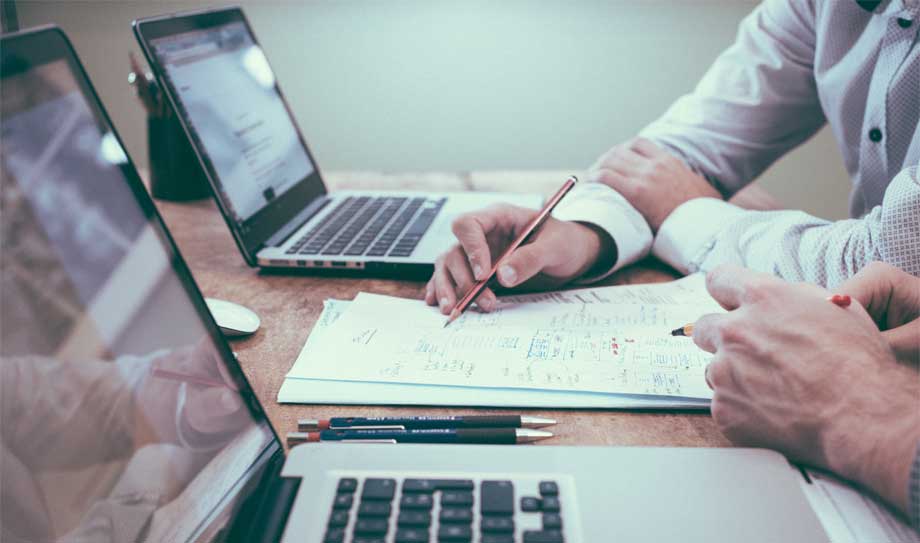 Accounting software & your accountant
Online accounting and invoicing software like Debitoor can simplify the process of working with an accountant. Debitoor does so by allowing users to invite their accountant to collaborate in their accounts.
Anyone with a Debitoor account can invite their accountant. This will send them an email inviting them to sign up for Studio Debitoor, access designed specifically for accountants and allowing them to create their own log in details to have access to their clients' accounts.
How it works in Debitoor
When your accountant accepts your invitation to collaborate, they will need to set up their own account with their own details through which they can then manage the Debitoor accounts of their clients.
A connected accountant will be able to:
View your invoices
View your expenses
View accounts and matched/unmatched payments
Export your data in Excel or .csv format
Access your financial reports (depending on your plan)
By having a unique log in, your accountant will be able to access your data when necessary, without risk of miscommunication, lengthy & complex phone calls, or emails full of disorganised information.
How to get started with your accountant & Debitoor
If you already have a Debitoor account, inviting your accountant is easy and quick. After log in, click on your 'Contacts' tab, then click on 'Accountant'. You'll see the screen below: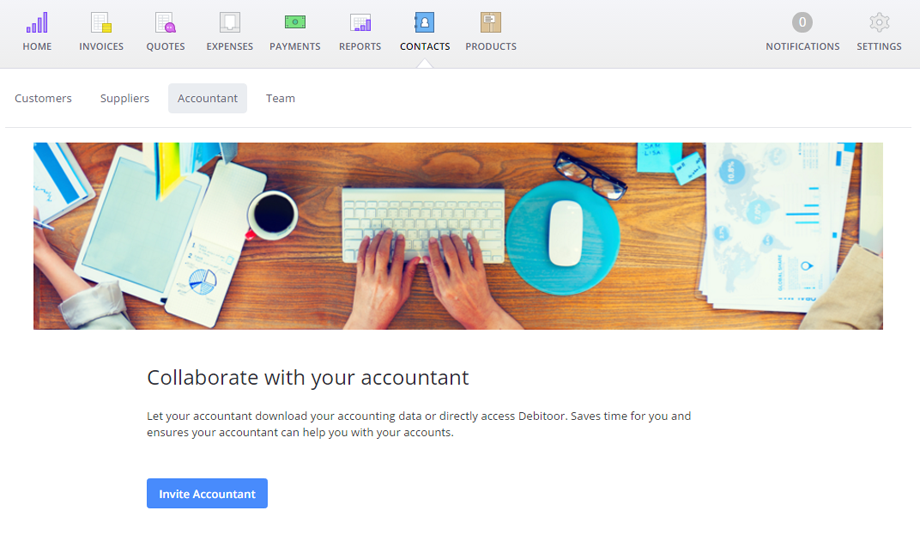 Click the 'Invite Accountant' button and enter your accountant's email address. You can also customise the message in the email that your accountant will receive regarding access to your account.
When your accountant receives the email, they will be prompted to set up their own Studio Debitoor account (designed for accountant access), where they can then access your data when necessary - for example when it comes time for your VAT returns.
Most invoicing and accounting software is not meant to replace an accountant, rather to make it faster and easier to work with your accountant: minimising communication issues, ensuring data is fully and correctly recorded and making sure that your accountant has what they need at their fingertips, or can help you catch errors before they get out of hand.