Invoicing. It's an aspect of being self-employed about which many have conflicting feelings. Invoicing is a crucial, necessary part of what is arguably the most important part of your work: getting paid. Yet it is also often a time-consuming, tedious lot of paperwork that is easier to set aside to tackle another day.
The invoicing process doesn't need to be a drain on your time or patience. Today, there are a number of ways to streamline your invoicing process to make it not only faster but much less complicated. At the same time, you can ensure that your invoices look professional and meet the current legal requirements.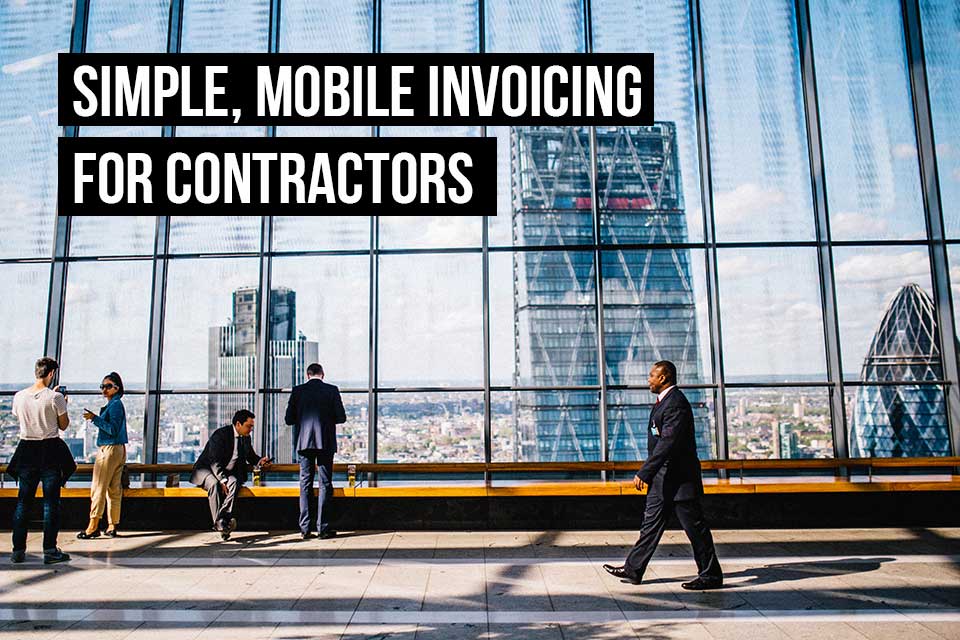 Self-employed invoicing
The pains of invoicing as a contractor have not gone unnoticed when it comes to current technology. Resources and tools for self-employed workers have been rapidly developing and are regularly updated thanks in part to the recent increase in the number of contractors, freelancers, and SMEs in the UK.
Here are three tips for making sure your invoicing is optimised:
1. Use online invoicing software
Taking advantage of the technological advancements in invoicing means finding an invoicing software that meets the needs of your work. Cloud-based, online invoice software gives you the convenience of accessing all of your data in one place. All you need is an email address and password.
Cloud-based invoicing software has the added advantage of being location independent - like your email you can access it from any device, not only your home computer. This means no more complex folder filing systems full of Word or Excel invoice templates that require constant updating.
In addition, your documents are stored securely and backed up in the cloud so you essentially eliminate the worry of losing your records to a computer crash or software malfunction.
2. Set up autofill invoice templates
Good online invoicing software not only allows you to create and store your invoices, but should also give you the option to import and save your customer and service details. When you have this information saved, creating a new invoice can be as fast as selecting your customer from a dropdown menu. Settings such as payment terms as well as contact details are then filled in automatically.
The same goes for the services you offer. As a contractor, you likely have a variety of different services that you provide to customers. By saving these details in your account, all you need to do is select the particular service from a drop down menu, adjust the number of hours, for example, and the invoice will calculate your totals, subtotals, and VAT (if applicable).
The invoice autofill option has another, hidden benefit. By filling in customer and service details once and using the autofill for each new invoice, you significantly reduce the chance of error.
3. Take it mobile and offline
Contractor work often involves on-site jobs, working remotely or even out of service range. For this, invoicing software that offers a fully functional Android and iPhone app is an advantage for helping you take care of the important job of invoicing.
Mobile apps that allow you to create and send invoices on-the-spot can give you a professional edge, not to mention save you the hassle of remembering to invoice your customer later that day, or even later that week.
Even if you're out of range and offline, some mobile invoicing apps give you the option of accessing your customer details and drafting your invoice, ready to complete and send the moment you've reconnected.
Faster, simpler invoicing
As a contractor, your main concerns likely centre around your jobs. Getting new jobs, completing current projects, and getting paid for finished work. Inevitably, invoicing is a pillar of being self-employed, even though many have conflicting feelings about the process - after all, this dull paperwork is key to getting paid.
Fortunately, invoicing no longer needs to involve finicky Word or Excel invoice templates that require double, even triple-checking for mistakes and saving as PDF, uploading and emailing...you're likely familiar with the process.
Now, invoicing can be as easy as opening an app on your phone, selecting your customer and service, adjusting your hours and completing and sending right there from the palm of your hand.