If you're a sole trader or a small business owner looking for an invoicing and accounting solution, you've probably realised that choosing the right one can be a bit overwhelming. So you might be wondering what kinds of features you should be looking for. This article aims to give you an outline of the important things to look for in your accounting & invoicing software.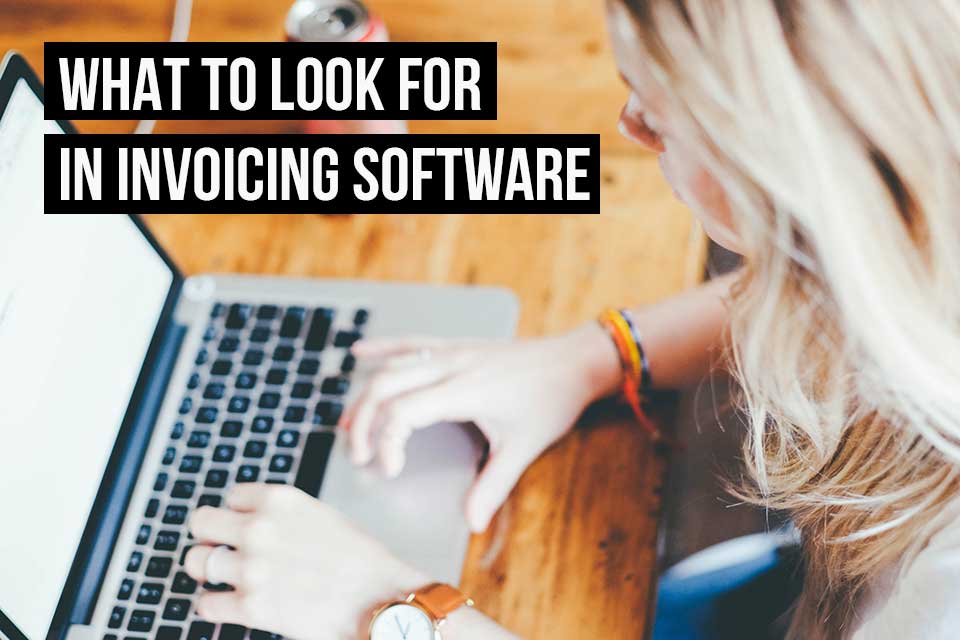 1. Legally-compliant invoice templates
Before purchasing software or subscription to an invoicing & accounting program, one of the most important aspects to look into is whether the invoice templates are legally compliant in your country.
Every invoice template must contain the following:
A unique, sequential invoice number
The name and contact details of your business
The name and contact details of your customer
The invoice issue date
A description of the product/service you're providing
The subtotal
The VAT (if applicable)
The total amount due
For VAT invoices, a number of more details are required.
Invoicing software like Debitoor can provide you with an invoice template so that you do not miss any details necessary for creating a legally compliant invoice each and every time.
2. Invoicing software with invoice designs
While it may seem more like a perk, the option to change the design of your invoices can be important to how you wish your company to be perceived.
Good invoicing software will provide a variety of different designs and customisation options so that you can be sure you're communicating your brand image in a professional way. Debitoor offers different invoice designs with a click, with additional customisation such as font and colours, also available.
3. Automated invoicing software
Invoicing software that looks good and ensures your invoices are legally compliant is one thing. But for the self-employed, time is always of value. So it's important to look for invoicing software that allows you to work quickly. The best solution for this? Automation.
Good invoicing software will speed up your invoicing with:
An autofill function on your invoice templates
The ability to send an email to your customers with a click
Instantly convert accept quotes to invoices
Create and send reminders for overdue payments in seconds
Automatic bank reconciliation
Automatic status updates on your invoices (Unpaid, Sent, Viewed, Paid, etc.)
These types of automations make invoicing faster and easier. In addition to these, Debitoor also offers:
Changing the invoice language with just a click
Automatically calculating discounts
Creating and sending recurring invoices
4. Automatically balance your accounts
Of the automated features above, arguably the most time (and headache) saving option is automatic bank reconciliation. Once you've created and sent your invoices, the next step is to manage incoming payments from customers.
Each of these payments should be matched to the correct invoice - bank reconciliation. This is where good invoicing & accounting software can help. By automatically matching the payments to the corresponding invoice when a bank statement is uploaded, meaning you don't have to go through them one-by-one, and saving you a considerable amount of time.
5. Manage expenses from anywhere
So far we've only covered the invoicing side of running a business. But there's another side to accounting: managing the expenses.
Invoicing & accounting software like Debitoor gives you the tools to easily register and track your expenses both online and from your iOS or Android device. With the Debitoor iOS app and Debitoor Android app you can:
Upload receipts via scanner, email, or smartphone
Watch the details autofill with the OCR function
Select the right category instantly with the auto-suggest feature
When you choose your software, make sure that both invoicing and the expense side of running a business are covered, as they're inevitably interlinked.
6. Reports: keep track of your finances.
And the final feature that you should look for when considering an invoicing & accounting software is whether any reports are available. Financial reports that can be generated for your account can be immensely time-saving and provide you with valuable insight into your business.
Depending on your subscription, with Debitoor you can access:
These help you keep an overview of your finances at any given point, letting you see income and expenses and stay on top of your business.
By keeping these six points in mind, you're sure to find the accounting & invoicing software that's the right fit for your business.