A lot has happened in 2020 and I think we're all excited to get back to normal life in 2021. We've had a busy year at Debitoor, and we're ready to celebrate! Let's take a look at what has changed with your invoicing software in 2020, and what to look forward to in 2021.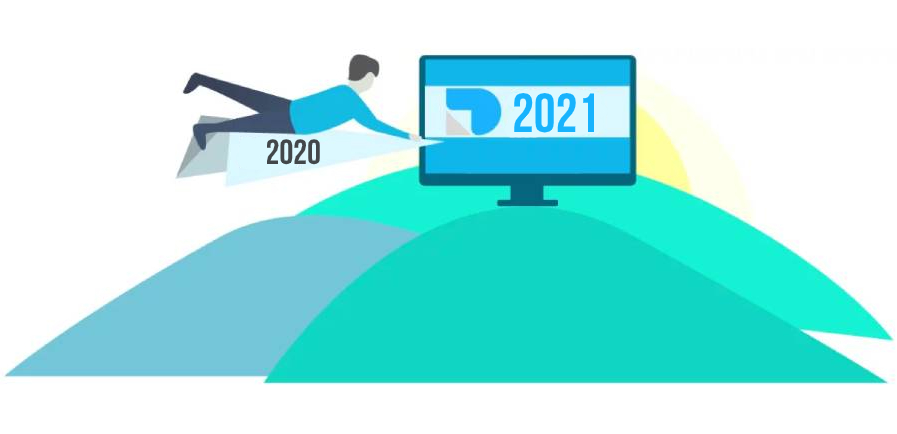 2020 has been a crazy year, and with most of the Debitoor team working from home, we also had to make some changes to how we operate. Nonetheless, we had one of our most productive years and implemented some amazing new changes.
Here are just a few things that we've updated or added to Debitoor in 2020:
New navigation bar design
In order to make Debitoor as simple and intuitive as possible, we updated the navigation menu with a slick, dark background. Although it's a purely aesthetic update, our designers put a lot of time into researching and testing this new design.
Compared to the former light grey background, the dark navigation provides a clear separation between the menu and the tab you are viewing. Because of this, the tab seems centred, rather than an extension of the navigation menu.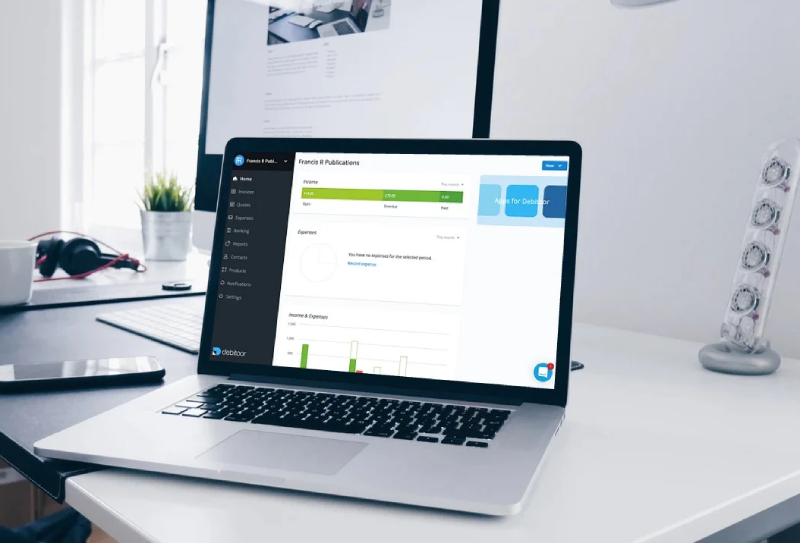 Although this may seem like a small change, our research suggests that it improves readability, usability, and aesthetic appeal.
Separate "Export Data" tab
In addition to the dark navigation, we also created a new tab specifically for exporting your data. Previously, the data export option was under "Settings" > "Account". However, since this feature is extremely important, we created its own tab under "Settings" so it's easier to find.
The export data option allows you to export CSV lists and PDFs of your important documents from a time period of your choosing.
New credit note tab with independent numbering
We also introduced a new tab specifically for credit notes. Previously, your credit notes were saved within the invoice list, and the credit note number followed in the same sequence as your invoice numbers.
When we decided to have a separate tab for credit notes, we also decided that they should have their own numbering system distinct from the invoice numbers. The new credit note numbers start with "CN", followed by the year, and then the number of the credit note within that year.
Similar to the invoice numbers, you can manually change the credit note numbers to a format of your choice, and Debitoor will automatically learn the pattern and follow the sequence.
The reason we made this change was to clearly distinguish credit notes from invoices. They're now easier to find, and easier to identify within your accounting records.
New design for the "Customers" tab
The "Customers" tab also received a design facelift. The customer card has a fresh new look so you can find your customer details quickly and easily.
In addition, you can enter a due date and multiple email addresses from within the customer card, and even add notes to yourself about the customer.
Filter option for quotes
As per popular demand, we added filters to your quote list making it even easier to search and organise your quotations. We wanted to align all of the lists in Debitoor to be as flexible and intuitive as the invoice list.
Now, you can enter filters such as "Sent", "Accepted", and "Invoiced", as well as apply a date filter, so you can easily see which quotes need further attention.

If your business sends a lot of quotes, this will save you time by simplifying your list by status and date. You can also set the filters as default so you do not need to apply filters each time you enter the quotes tab.
Brand new design for the mobile app
One of our biggest achievements in 2020 was implementing a completely new design for your mobile invoicing app. The mobile app for Apple and Android is useful if you are not always near a computer, or have colleagues who invoice from the road.
This update was one of the most significant design changes we've ever done, making the mobile app more intuitive, and attractive than ever before.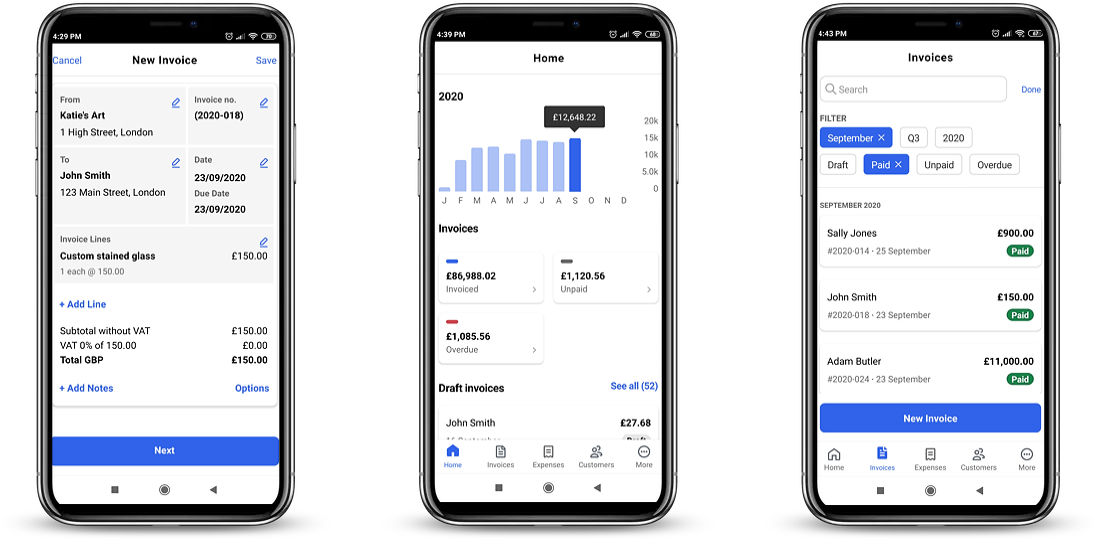 Almost every aspect of the mobile design was changed, with the most noticeable being the home screen and the lists of invoices and quotes. We also changed the invoice edit page to look more like a paper invoice, dividing the different fields into blocks on the page.
This update not only made mobile invoicing simpler, but also improved the user experience through a beautiful, clear, and intuitive interface.
What's to come in 2021?
We've made some amazing progress this past year, but let's take a moment to look at the year ahead. In 2021, our goal remains unchanged: To help small businesses thrive.
Our plans and updates for 2021 depend on you, the user. We check and organise all of the feature requests we receive, and make changes to the software based on those requests. For that reason, we ask that you reach out to us if you have any suggestions or feedback.
Some things we already have planned in the near future include a new banking integration and an update to the customer account statements. We'll keep you posted on when those features are available. :)
We will also be implementing some minor changes due to Brexit surrounding how you record expenses as an intra-EU reverse charge. These changes will be clearly communicated before the end of the year.
On that note, we wish you a happy and healthy new year, and don't forget to update your invoice numbers for your first invoice in 2021!